Movie Magic In NZ
James Draven discovers no trip to New Zealand's north island would be complete without these lord of the rings experiences.
"Don't drop that," says our guide with a broad, friendly grin but fear in his eyes, "it's worth a gazillion dollars."
Wellington's Weta Workshop is the worst place on Earth to not be allowed to take photographs. Literally everywhere you look there is an awesome Instagram opportunity. Including the gazillion-dollar blade I hold before me that isn't shimmering with hues of blue, warning of nearby goblins, but merely reflecting my grin-spattered face.
After being shown Weta Workshop's pioneering method of hand-knitting chain mail with lightweight plastic and seeing the formidable, unyielding Sauron suit of armour, and realising it's also made from pliable polymer, I'm delighted to feel the weight of a real, metal shortsword in my hand. And not just any shortsword, this is Sting. It's not a reproduction or a replica; this is the actual weapon of Frodo Baggins, used on film in the Lord of the Rings movies. And I'm thinking about using it as the ultimate selfie stick.
Being a fan of the genre, I'm channelling my inner geek, trying to use telepathy on my companions, silently screaming, "Somebody, please take a sneaky picture of me!" Nobody does. Elven royalty, Galadriel, can rest assured I'll not be troubling the good people of Middle-earth with my powers of mind control.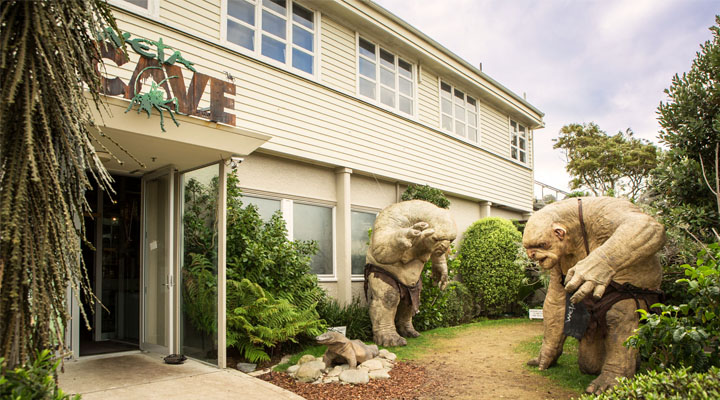 Inauspiciously located in a residential neighbourhood in the suburb of Miramar, just outside Wellington and a jaunt from Weta Workshop, you might walk right past the Weta Cave if it weren't for the three larger-than-life stone trolls standing petrified in the front garden. They do tend to catch the eye.
Inside you'll find a tiny museum featuring Bilbo's brogue-busting prosthetic feet from The Hobbit movies, as well as some genuine Elven armour and ... well, let's not forget that Weta is about more than Lord of the Rings: expect goodies from their other projects like King Kong, The Chronicles of Narnia, James Cameron's Avatar, Stephen Spielberg's Tintin, and, erm, pre-schoolers' TV show, The WotWots. The adjoining shop sells all the usual LOTR souvenirs along with some unexpected, hand wrought, limited-edition goodies exclusive to Weta.
Go nuts getting pictures of yourself here with a life-size and lifelike model of Gollum or Lurtz, the dirty-great Uruk-hai (that's a big orc), that stands sentinel beside a variety of Middle-earth mementos. There's also a minuscule screening room, showing a genuinely interesting documentary featuring Richard Taylor and Peter Jackson. All of this can be accessed for free, but since you've come all this way you might as well fork over the NZ$25 to go on the behind-the-scenes tour.
Don't arrive expecting a Hollywood-style veneer of glamour, Weta Workshop is a real-life, working effects department, and a much more authentic experience because of it. Here you're likely to see members of the design and production teams working on movie projects or private commissions. It's a diminutive space crammed full of incredible, genuine movie memorabilia and tours are led by actual members of the Weta team who are themselves part of the creative process and can give meaningful and technical insights into the secrets behind the silver screen.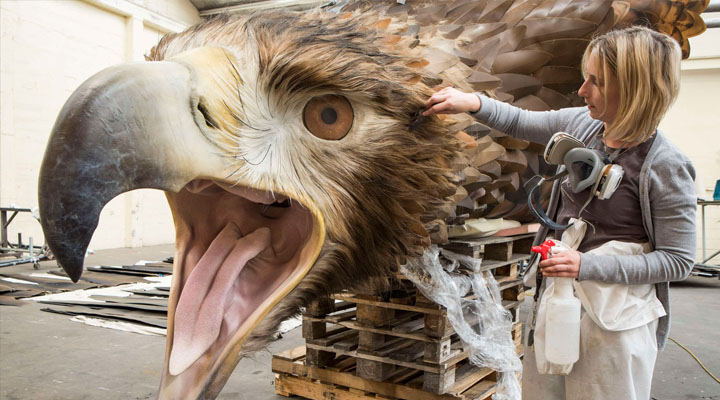 For example, did you know that there was going to be a movie based on hit video game series, Halo? Directed by Neill Blomkamp, produced by Peter Jackson and scripted by Alex Garland? Well there was – until the project was shelved – and Weta went so far as to design and build a fully functioning Warthog (a fictional, machine-gun-turret-equipped light reconnaissance vehicle) to promote the video game, Halo 3, and tease the movie that never was. It's currently parked in Weta's workshop.
After being shown its step-by-step design and manufacturing process, I'm allowed to pick up and tote a plasma rifle from Neill Blomkamp's gritty sci-fi classic, District 9: the film that resulted from the axing of the Halo movie … And then, of course, there's that sword.
JRR Tolkien described Sting as practically a dagger by Elven standards, though the perfect shortsword for Frodo Baggins, and Bilbo before him. The latter is said to have been able to conceal Sting 'in his breeches,' and he was still able to run about stealing dragon treasure unhindered, and unpierced, by its legendary prick.
I'm still considering if I could get Sting into my trousers, personal legend intact, when my furtive glances are noticed and I'm disarmed, with a smile.
TONGARIRO NATIONAL PARK: SURMOUNTING MT DOOM
There's no way Frodo and Samwise would have made this climb, stopping every five minutes for a cuddle and a pep talk, or a tiff about who's eaten all the sammies. The magic of the movies is the only way those two vertically challenged ring-bearers didn't meet their vertical limit and actually made it to the top of Mount Doom to chuck that abominable golden band into its fiery, volcanic depths.
Sure, Mount Ngauruhoe, to give it its actual name (but don't ask me to pronounce it), isn't raining lava down upon me – it hasn't erupted in the real world since 1975. But – as a loose rock comes gambolling down the 45-degree incline towards me, bouncing within a few feet of my head before gleefully prancing towards some other foolish climbers below, like an enthusiastic puppy greeting newcomers – I'm starting to think this little perpendicular detour wasn't such a great idea. Then the peak becomes engulfed in cloud and it starts to rain. Great.
This optional side-schlep from the Tongariro Alpine Crossing – which is one of New Zealand's ultimate tramping adventures through the eponymous national park – climbing the 2,287 metres up the cone of Mount Ngauruhoe is made more challenging by the shifting volcanic sands that slip underfoot, giving way with each step. There's no marked track; you find your own way up, if you can. Make it to the top to see its steaming volcanic vents though, and you can bask in the knowledge that you too could have defeated Sauron … and that you're probably a good metre higher up than any hobbit would be.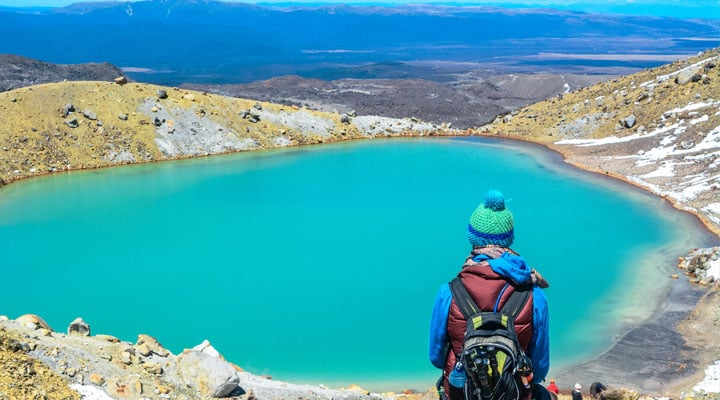 3-STEP PERFECT HOBBITON PHOTO PLAN
1. Get there early
So you're in Hobbiton (on picturesque private farmland in the locally known town of Matamata) and you want to capture the peaceful, bucolic beauty of the Shire on camera.
Save yourself hours of trying to Photoshop grass over dopey-looking tourists by turning up as early as you can by getting on the first tour of the day.
2. Get the ultimate selfie
There's a moment on the tour when the group stops to take some pictures of visitors peering out of a random hobbit hole; the guide will tell all those who finish to continue up to Bilbo's house and await the rest of the group.
Assuming you've followed tip #1, skip this photo op and head up the hill quickly to be the first of the day to arrive at Bilbo's, giving you the chance to get a sneaky (read: forbidden) picture behind his garden gate.
3. One GIF to rule them all
Remember when Bilbo slipped the One Ring on and disappeared in front of the Party Tree on his eleventy-first birthday?
Well bring a tripod and take two photos of the tree, one with you in it and one without, then make an awesome animated GIF of you disappearing just like Mr Baggins.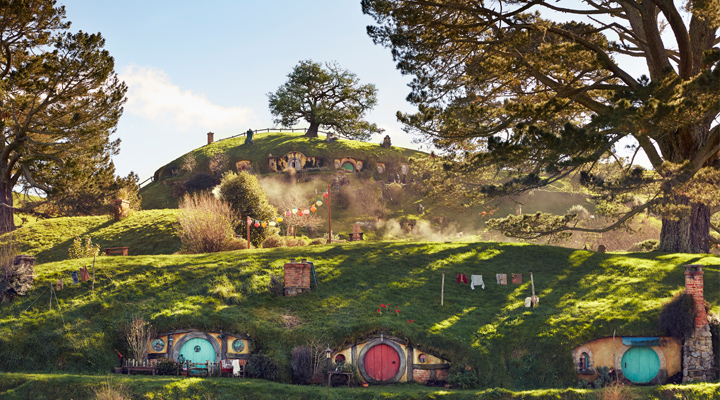 Key Facts
Find out more about Weta online.
WHERE TO STAY
+64 4 801 7280
+64 7 378 9292
+64 6 385 8797
+64 7 892 2870