Mt Cook On Ice
Treading warily over the swing bridge – the first of many – it becomes clear to David Whitley just how special Aoraki Mt Cook National Park really is.
The stream barrelling through beneath me has a staggering purity to it, freshly dropped rainwater running together with snowmelt from the glaciers. All around, high alpine mountains shoot up from the valley floor, temporary waterfalls gushing down their sides.
Most of the country's 3,000 metre-plus giants are clustered around the tallest of them all, Mt Cook, and it only takes a look at a map to see how formidable they are. The Fox and Franz Josef Glaciers are just on the other side, but accessing them requires a five hour detour by road.
The Hooker Valley track is a relative baby steps walk. A three hour return trip from the campground car park, or four hours return from Mt Cook Village, the hike threads through the lower reaches of the rubbly landscape. Aside from the bridges, there's very little to hint at human impact – it feels like the sort of place where Mother Nature is very firmly in charge.
After skirting along ridges and over surging streams, a corner is turned. Suddenly, out in front is Hooker Lake, and icebergs are floating across it. Some are an eerie blue, others dirt-blackened like slush that has overstayed its welcome on a pavement. But with the mountain backdrop, they look incredibly otherworldly.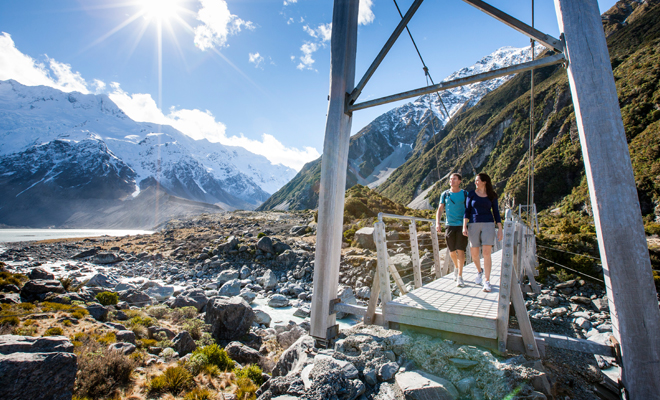 Image: Miles Holden
There are more of these icebergs to be found at Tasman Lake, which has the eerie brilliant blue colour shared by so many of the South Island's alpine lakes. Apparently, it's caused by minerals washed down from the mountains – "rockflour" as kayak guide Charlie Hobbs calls it.
Charlie has an almost unnerving enthusiasm for the icebergs. After kitting up and gliding across the perfectly still water, we sidle up alongside one of them. When you're that low to the water, even the relative tiddlers – say about five metres above the water and several more below – seem huge. But they're nothing on what they can be.
The lake has only been in existence for about 25 years. It has arrived in the wake of the Tasman Glacier's rapid 5-6km retreat during that period. And the glacier, safely in the distance, is where the icebergs come from. It stretches about 100m above the waterline, and 300m below. When the bergs break off they can be not far off the same dimensions. They then drift with the winds to the other side of the lake and slowly melt. The water may seem terrifyingly cold, but it's around three degrees Celsius and that's enough to slowly eat away at the floating bergs.
Charlie doesn't want us to get too close to them in case they topple over, but when we're a safe enough distance away, he launches his kayak at one of them. He's trying to get it to topple over.
When ramming the iceberg fails, he reaches for his ice axe, and starts hacking away at a chunk that is protruding outwards.
This time, it's a success. The iceberg's centre of balance changes and it slowly begins to rotate in the water. It's a chance to see what's underneath, and the white, frosted-over ice gives way to what seems like a virgin, pure, giant ice cube below.
Charlie throws some of the ice he has hacked off into a bucket, and it comes in handy again once safely back on shore. He drops it onto a boulder, then produces a bottle of whisky and some plastic cups from nowhere. Dropping chunks of the ice into the cups, he starts to pour. "People say scotch should be served on the rocks," he says. "But I say it should be served on the bergs."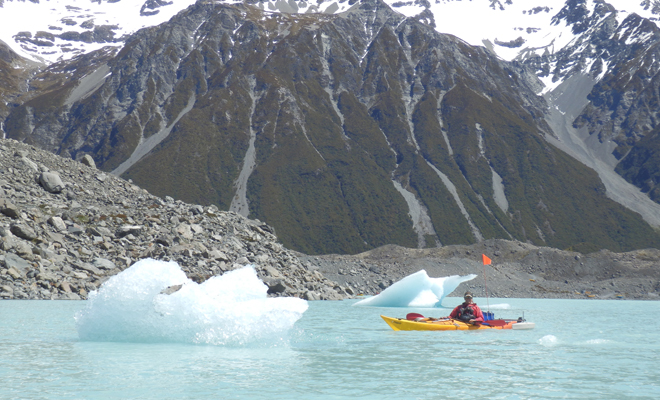 Image: David Whitely
Mt Cook is one of those destinations that requires a degree of time flexibility. When the wind and rain comes in from the West Coast, activities can get cancelled and hikes can be an exercise in endurance.
If the great outdoors is a write-off though, there's one indoor attraction that's surprisingly engrossing. The Sir Edmund Hillary Alpine Centre is part cinema, part museum. Films are shown on rotation throughout the day, covering topics as diverse as mountain rescue, primeval New Zealand and the night skies. Prime amongst them are documentaries on Sir Edmund Hillary's life and Everest conquest.
It's Sir Ed who's the star of the museum section too. There are sections on the guides and personalities who have had their effect on the area over the decades, but the most interesting parts concern Hillary and how he used the Southern Alps as a training ground. Mt Cook and the surrounding mountains have always been testing, technical climbs, and Hillary spent a lot of time tackling them before summiting Everest.
Interestingly, he also used the Tasman Glacier to improve his dog-sledding and skiing skills before leading an expedition to cross the Antarctic overland. Some of the black and white photos on display from those pre-trip preparations are brimming with character and story-telling.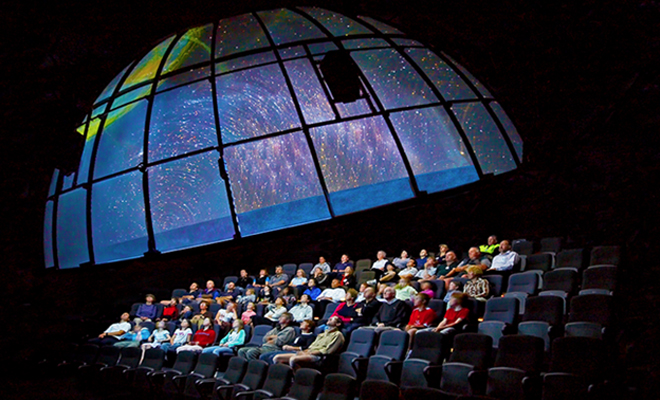 LAKE TEKAPO
About a 90 minute drive from Mt Cook (depending on how many times you pull over to take photos of mountains and lakes), Lake Tekapo has a gloriously chilled vibe about it, hot springs, as well as a picture-perfect setting by one of the alpine region's characteristic powder-blue lakes.
But Lake Tekapo is a great place to look up. The skies above the region are generally so clear that it's the perfect spot for stargazing. The region is one of the world's few gold standard International Dark Sky Reserves, and the Mt John Observatory is home to some of the most powerful telescopes on the planet.
Earth and Sky runs night-time tours up to the observatory. If the skies are clear, this will generally involve being taken on a journey through the constellations by a knowledgeable guide. If clouds are blocking the star show, it becomes more of a behind-the-scenes visit, going inside the giant telescopes and learning about how they're used to track down potential planets orbiting stars in distant solar systems. These big beasts are trained, far, far away – and are effectively looking back in time in the hunt for something new.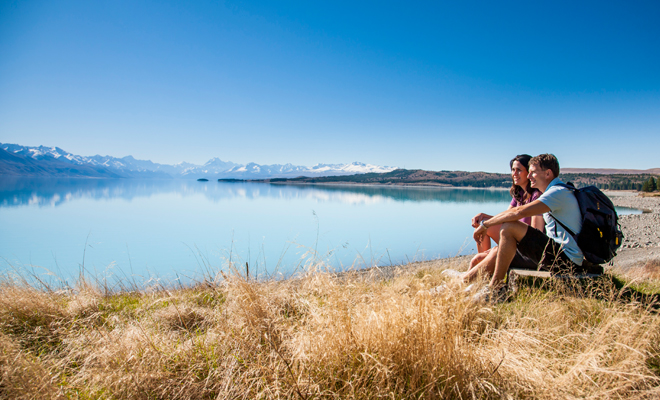 WHERE TO STAY
YHA MT COOK
Phone: +64 3 435 1820
Email: mtcook@yha.co.nz
Web: www.yha.co.nz
YHA LAKE TEKAPO
Phone: +64 3 680 6857
Email: laketekapo@yha.co.nz
Web: www.yha.co.nz
This article was originally published in the August 2015 edition of Backpacker Essentials. Download the current edition now!