New York, New York
America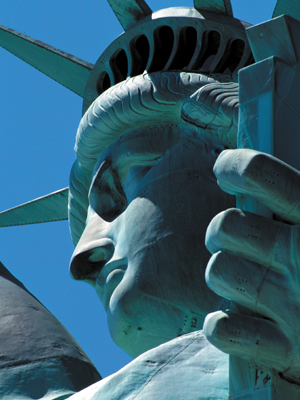 Krispy Kreme donuts, yellow cabs and Starbucks coffee. These I will forever associate with New York.
Of course, first on the 'must see' list for any tourist is the Statue of Liberty, and I was no different. Booking a tour will guarantee you a spot, otherwise get there early, take a book and be prepared for a long line. If you are short on cash, the Staten Island ferry carries commuters across the Hudson River and is free, but I'd recommend a visit to the island as it's only when you stand at the feet of Liberty that you appreciate her size. With the combined ferry ticket we also visited Ellis Island. Ellis Island was used as an immigration port between 1897 and 1938 and has an interesting museum detailing the function of the island, the lives of those who passed through its gates, as well as current statistics and contemporary concerns surrounding immigration in the US.
Back in Manhattan we wandered down Wall Street – a money district of banks and businessmen dressed in coloured blazers. I felt quite out of place in my jeans and hoodie - like a private school student who forgot the cancellation of mufti day. But I felt reassured that I didn't look as ridiculous as the NY police patrolling the area. Though intimidating with their large guns and batons at their side, their three-wheeled golf buggy patrol vehicles made them look like sidekicks in a Charlie Chaplin flick.
Times Square is incredible. It's bold, brash, vulgar - and yet somehow incredibly beautiful. It's a crayola world of bright colours, flashing lights, spinning billboards and television screens. It's a space occupied by yellow cabs, brides, busloads of camera- toting Japanese tourists and homeless beggars. You feel like you have been dropped into the set of Who Framed Roger Rabbit - a Toontown world where cartoon characters walk side by side with humans. Fittingly, the Broadway theatre district is next door to Time Square. We splashed out and bought Chicago tickets for $50 (which was fifty percent off the box office price) from the TKTS booth on Duffy Square. Fabulous cast, great songs and risqué costumes. Well worth the splash, even if you have seen the movie.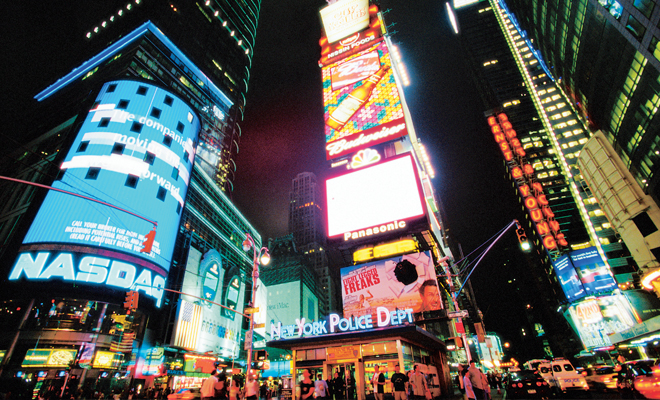 WHERE TO STAY

The HI- New York in Manhattan is large, central and chock full of facilities.
Visit hinewyork.org
The following day we visited the Metropolitan Museum of Art. It houses an enormous collection - everything from African masks, Leonardo da Vinci prints, Indian statues, 18th century ball gowns, Egyptian reliefs, and Andy Warhol photographs. Make sure you are in the mood for galleries... there is lots to see. After an extensive look around the museum we wandered to Central Park and took some much needed time out – lazing in the sunshine, and delighting in the antics of the squirrels racing around us.
With the sun setting we headed towards the Empire State building and the very impressive Coldstone ice-cream parlour. Coldstone is an ice-cream lovers' Disneyland. It's synonymous with indulgence. I'm begging all businessmen to open the franchise in Australia. It's like Subway with ice-cream - you choose your ice-cream base and salivate as they mix in various fillings of your choice. Anything from chocolate brownies, gummi bears, ginger cookies and Reeces peanut butter bars. I chose one of the traditional favourites- Grandmas apple pie – sweet vanilla ice-cream, caramel fudge sauce, stewed apple, biscuit base and cinnamon,. And I got the super-dooper size. It was huge, and it was tasty. Our tummies satisfied we joined the masses queuing for the Empire State building. For an hour and a half we inhabited various rooms – their sole purpose being to keep human traffic snaking around retractable barricades. The line was long, but the view was great. A sea of black, dotted with flashing neon signs, and yellow rays of traffic.
Our last day, we strolled through Chinatown, grabbing one last pizza-stuffed pretzel on our way. I looked at my straining belt-buckle. Caramel macchiatos, Haagen-Dazs cheesecake and American hotdogs had sustained me throughout my trip. I had been in New York three days and death due to cardiac arrest seemed inevitable. As we boarded the Fung Wah bus, Chinatown's cheap ticket to Boston, I realized the extra kilos I was going home with would not just be in the luggage compartment.