New Zealand's Foodie Revolution
With notepads and cameras in hand, the neat places team dispatches to Wellington, Auckland and Christchurch with one single mission: to suss out all the best neat places.
neat place. \ nēt-'plās\ noun A business with a unique point-of-view and a darn good story to tell. Often hard-to-find, popular with the locals and really, really good at what they do.
The Neat Places team is a bespoke and devoted group of foodie and culture enthusiasts. They know New Zealand exceeds its reputation of bungees, hobbits and flightless birds and that the biggest cities are an urban explorer's dream come true with coffee, food and culture galore.
The Neat Places team collect and curate their findings for their website, called, funny enough, Neat Places. What's the best part of their job? Tantalising the tastebuds with New Zealand's around-the-world-flavours and discovering how Auckland, Wellington and Christchurch are in the throes of a food truck revolution. Viva la revolución!
AUCKLAND
The Street Food Collective is a restaurant-meets-farmers market style affair that defies the alley it's tucked into with lush, green space like your nana's back garden. The buzzy collective in bustling Ponsonby opens seven days, all day, and features the city's famous food trucks including: The Little Yellow Food Truck, The Lucky Taco and The Pie Piper where pie = happiness. Take your pick from waffles, hot dogs, burgers, ice cream, Korean food and Mexican. Wash it down with a handcrafted beer or local vino.
Whilst in the neighbourhood explore Ponsonby Central, a buzzing gastro hub with a regular turnover of fashionable pop ups, a hipster barber and even a resident clairvoyant. Eat, drink, shop is the rule of the day here. When you step off Ponsonby Road you enter a stretching catacomb of hip eateries, cafés, cocktail bars, restaurants, and a produce market, all tucked under one roof. Feeling peckish? For a classic Kiwi meal, try some not-your-average fish and hand cut chips at Fish Fish.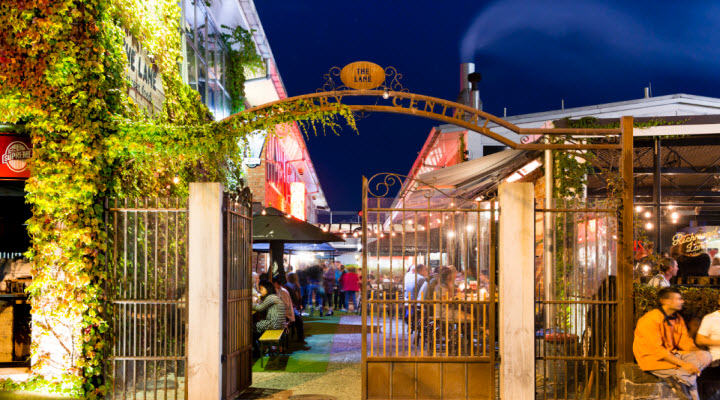 WELLINGTON
Locals flock to food truck paradise in the Windy City. Chook Wagon and Berry Culture park up outside everyone's favourite independent supermarket, Moore Wilson's, which is more like the overgrown lovechild of a top-end delicatessen and local greengrocer than a supermarket. Cuba Street's Ekim Burgers make a mean burger and scoop of chips and, if you're lucky, you might spot The Fire Truck, a converted 1963 Bedford TK truck that has lived a diverse and adventurous life and now makes the rounds dishing out American BBQ-style cuisine, sometimes with kimchee, other times with barbequed wild goat and green tea noodles.
For more cheap eats in Wellington, try a food market. Wander amidst the rich smoky air at Wellington Night Market on a Friday evening. Transforming the usually reserved Left Bank into a street scene more reminiscent of Saigon when the sun goes down, the market has got at least twenty stalls featuring flavours from the Caribbean to the Philippines. You'll be hard pressed not to find something to savour. Saturday morning, the waterfront Wellington Underground Markets are the place for lip-smacking food and coffee carts. You won't miss it – just look for the bunting outside the magically transformed underground carpark. By Sunday you'll have to roll yourself to the Harbourside City Market, Wellington's oldest produce market, serving fresh fruit and vege to hungry Wellingtonions since 1920.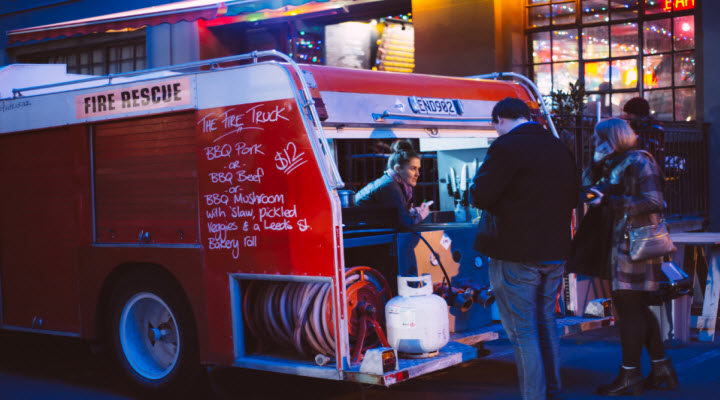 CHRISTCHURCH
The revitalised Christchurch's food scene emphasises showcasing the quality produce grown throughout Canterbury. Following the 2010/2011 earthquakes, empty lots have been filled with foodies turning their passions into pop-up restaurants and food trucks. Tucked behind most corners of the central city you'll find some form of food delivery vehicle dishing out cuisines from around the globe.
Keep an eye out for Cakes By Anna. The rule of thumb, "never trust a skinny cook" does not apply. Anna has a knack for making cakes that are a tour de force in both taste and looks. Her signature? Lemon cake with berries. There's also the bagel and bread guru Grizzly Bagel. Black and White Coffee Cartel is all about showcasing some of these local food heroes with cabinets stacked with delicious treats. Oh, and you can get a banging cup of coffee—black or white, syphon or cold brew—served with a cheeky grin and good banter.
For the best cheap and cheerful food, head to Friday Night Food Trucks in the Square for Mexican, Japanese, Transylvanian, American and Italian cuisine. Gap Filler also hosts a number of food trucks from Tuesday to Saturday at The Commons. The Christchurch Farmers Market has the best selection of ready to eat mid-morning munchies, plus the best selection of local produce to cart away.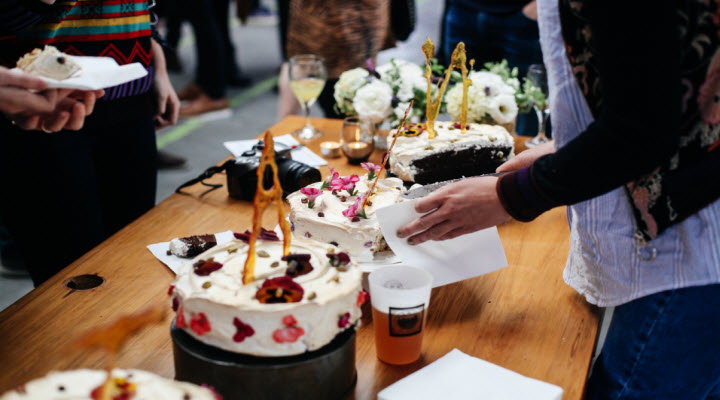 UNASSUMING GALLERIES - GET CULTURED
Artspace is true to its name. This non-commercial, non-collecting art organisation is, quite literally, a space for art. Sticking out on K Road like a bookend, the gallery hosts exhibitions that contribute to the discourse surrounding contemporary art both in New Zealand and abroad.
Where: Level 1/300 Karangahape Road, Auckland
White Space provides the freedom to zone out and get lost in the displays for inordinate amounts of time. The artistic talent Whitespace attracts is an art form in itself. Not only do they regularly have on tap the freshest Kiwi and pacific works but also varying international exhibits.
Where: 12 Crummer Street, Auckland
30upstairs fosters emerging creative talent and features an ongoing residency programme and the chance to buy art knowing your money goes direct to the artist. The one-time office space has been converted into a compartmented exhibition experience.
Where: 30 Courtenay Place, Wellington
In Good Company. Live like a local and become a 'micro-tenant' for the day. Enjoy free coffee, WiFi, and other treats among like-minded peers in this venue dedicated to distilling good ideas and exhibitions.
Where: 166 Cuba Street, Wellington
Absolution Tattoo and Gallery. Want a permanent NZ souvenir? Your body parts are in safe hands with the team of highly trained folks who will ink end-results that show plenty of artistry. Plus, they art it up even more with a gallery space for local artists.
Where: The Tannery, 3 Garlands Road, Woolston, Christchurch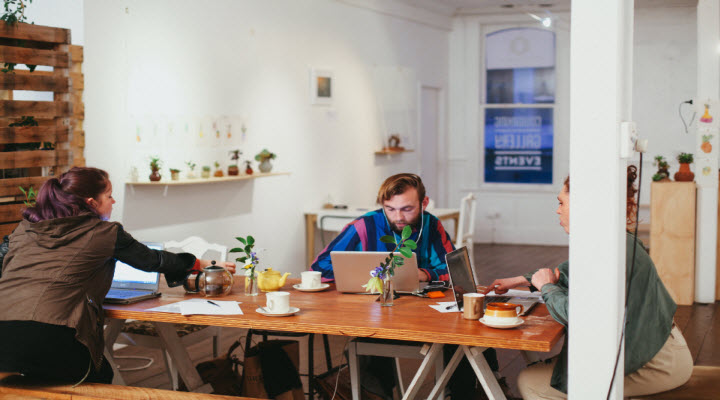 5 PICTURE PERFECT PARKS
Silo Park is easily distinguished by its giant concrete silos. One of Auckland's 'to be' places, the park attracts crowds with its grand outdoor theatre screenings of the latest Hollywood blockbusters and kids films. Bonus? It's free.
Where: Jellicoe Street, Auckland
Albert Park is a minute's walk from Queen Street with a grassy knoll and arterial footpaths leading every which way from the heart and soul of the park, a Victorian fountain, with plenty of photo ops for out-of-towners wanting to capture the Skytower in the background.
Where: Princes Street, Auckland
Victoria Park is made for relaxing in the great outdoors. Or if you'd rather get active, throw the hell out of some ball or hone up on your batting game at bowling cages. If running is your thing, lap around the giant ring before cooling down on a shady bench.
Where: 203-271 Victoria St W, Auckland
Wellington Waterfront isn't a park, per se, but it's a hub and hive of activity. Once the city's port, you can now ride a bike, roller skate, kayak, walk and meander the length with artworks, Frank Kitts Park, the Writers Walk or simply sit with a famed gelato to enjoy the harbour and hill views.
Where: Waterfront, Wellington
Hagley Park is the granddaddy of Christchurch parks and home to the Christchurch Botanic Gardens—the city's jewel for the horticulturally and even non-horticulturally inclined. Pencil into your itinerary a few hours for exploring.
Where: Central City, Christchurch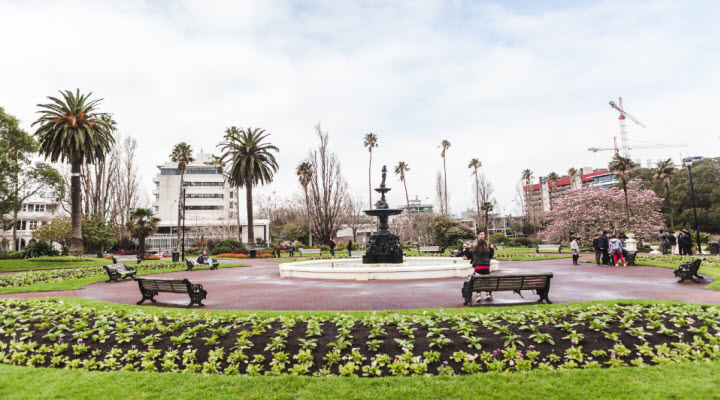 GET APP-Y: NEAT PLACES
Love these neat places? Discover more of the best neat places in New Zealand with Neat Place's free app. Use it online or off to find nearby cafés, galleries, shops, restaurants and bars.
-----------------------
STAY AT:
+64 9 302 8200
+09 309 2802
+64 4 801 7280
+64 3 379 9536
YHA Christchurch Rolleston House
+64 3 366 6564
This article featured in the April 2016 edition of Backpacker Essentials. Download the latest issue now!