New Zealand's Northern Exposure
Volcanoes, spewing geysers, Maori culture, and almost limitless ways of chucking yourself into, off and under things - the 'other' New Zealand island is anything but dull, as Elinor Sheargold discovers.
Adventures in North Island NZ
Better known as a geothermal hot spot than as adventure nirvana, New Zealand's North Island boasts a host of action sports that give its southern sister a run for its money.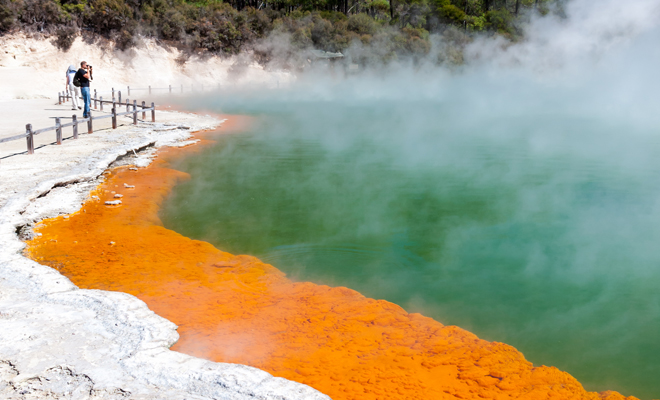 So I found myself in Rotorua, the Central Plateau's most popular tourist area, six-time winner of the country's most beautiful city award, and the birthplace of zorbing.
Opting for the wet unharnessed ride, something between a waterslide and rollercoaster, I superman dived into the transparent plastic ball, landing in the puddle of water hosed in for the full Zydro experience. The staff (aka Zorb Wranglers) zipped up the hole joining the inner and outer balls with 60 centimetres of cushioning air, and with a push I was off. Out of the pen like a rodeo bull let loose, slipping, sliding, and bouncing completely disorientated as the ball zigzagged at alarming speed down the track. All too soon I'd reached the bottom, my Zorb Wranglers unzipped and tipped the sphere, and I was rebirthed, a dizzy, giggling, sodden mess.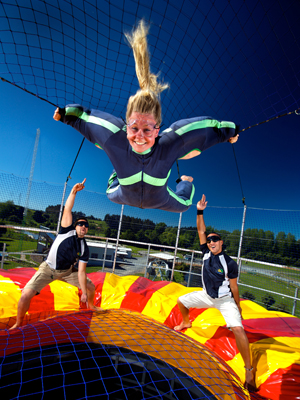 I was tempted to head back up the hill for a second and third go but I was due for an extreme blow dry across the road at Agroventures' Freefall Xtreme.
If you've ever wanted to fly but have never been good with heights, then the Southern Hemisphere's only body-flying experience will blow you away. Suit up and crawl your way to the centre of a sturdy net above a massive (and massively noisy) DC 3 aircraft engine that's revved up to a gravity defying 180 kilometre per hour wind tunnel that will have you flying, spinning and flipping three metres off the ground. Though be warned, you'll be combing the knots out of your hair for hours.
Agroventures is kinda like a mini adventure park, with activities including jet boating; a pedal-powered monorail racetrack; The 40 metre Swoop cocooned in a sleeping bag; and of course, bungy.


CULTURAL MELTING POT

For all the talk of adventure, Rotorua is also a major centre of Maori art, archsong and dance. If you're short on time, book yourself a Maori Concert and Hangi for an abbreviated, if commercail, introduction to thefascinating culture. The night begins with a traditional warrior challenge and greeting, followed by a concert of dancing, singing and an eyebrow raising, tounge-thrusting haka. The hangi meal, traditional cooked in a covered pit over hot rocks, goes down a treat after working up an appetite swapping raft for techo kickboard in white water rapids.

Travelling south with independent coach gurus Magic Bus, Waiotapu Thermal Wonderland was first stop en route to Taupo. Just as they had had me flirting with live cryogenics tubing Waitomo's freezing underground caves on the way to Rotorua, Magic's route included the best of the area's must-sees, arriving at Lady Knox Geyser just in time for the daily 10.15am show.

Waiotapu is a witches' cauldron of hissing water, bubbling mud, and mineral pools in an artist's palette of colours with names like Devil's Ink Pots and Primrose Terrace. It's also home to the much photographed Champagne Pool with its steaming jade pool and ochre-coloured petrified edge.
Activity central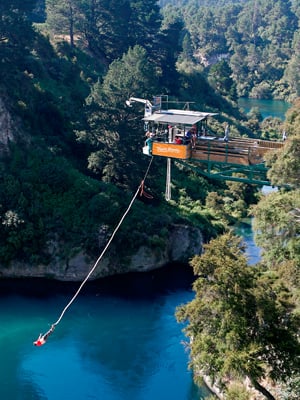 "It's easy" my bungy instructor said as he secured a gigantic latex harness around my shaking ankles.
Only yesterday I'd thrown myself out of a plane 4,500 metres above not one but three volcanoes, surely a mere 47 metres above Taupo's Waikato River would be a doddle. As it turns out, it's easier said than done.
But an audience is a great motivator, and the crew and gathered crowd helped count down… five, four, three, two, one, jump!
Second time lucky. Taking a deep breath, I edged closer to the drop, closed my eyes and, against every natural instinct, leaned forward to the point of no return. Then I was falling, no, plummeting head first towards the river, the rush of wind snatching away my almighty scream and pulling at my cheeks. Seconds later, the scream turned seamlessly into a whoop of exhilaration as I splashed down, bouncing like a human yoyo, and I was guided giddily into the waiting dinghy and back to terra firma.
Located halfway between Auckland and Wellington, Taupo is the North Island's adventure central. In between parasailing, quad biking, skydiving, white water rafting grade five rapids, attempting the Tongariro Crossing (oft called 'the finest one-day walk in NZ'), and working your way up to bungy by testing your limits on Rock'n'Ropes' knee-knocking trapeze, you couldn't ever be bored here. Did I mention Taupo is also gateway to NZ's largest ski fields?
As locations go it's a stunner, nestled at the northern end of the country's largest lake with views stretching across to Tongariro, Ngauruhoe and Ruapehu's trio of volcanic peaks.
The best way to see the lake is to get out on it. It's also the only way to see the modern Maori rock carvings at Mine Bay. The 15 metre yacht Barbary, once owned by Errol Flynn, will take you there on one of its thrice daily sailings. Current skipper Dave may even let you take the helm as he brews up a cuppa and bikkies.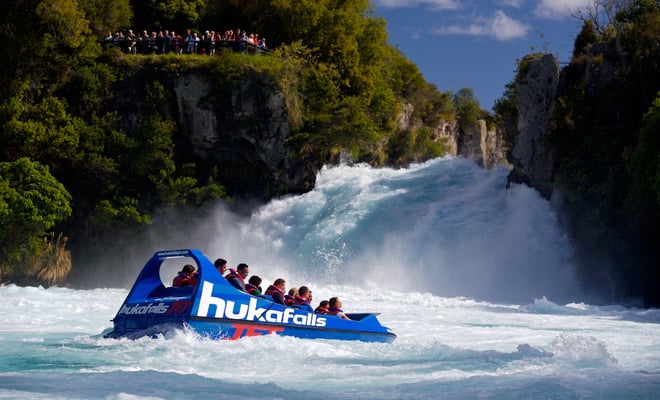 Picking up the pace, I headed upriver to Hukafalls Jet for a white-knuckle ride close enough to feel the spray from the falls. The propellorless boats travel 80 kilometres per hour in only 10 centimetres of water and drivers like to show off their toys' dexterity with whiplash-inducing 360 degree turns. My windblown bouffant hair barely had time to recover before I climbed aboard Rapid Jet, was sucked back in my seat and shooting through the narrowest canyon on the Waikato River, only centimetres from rocks, rapids, logs, cliff faces and a potentially nasty accident.
After all this adventure, some thrill therapy was in order, and where better than a thermal spa to soak and soothe the health complaints away. However even a mud massage couldn't rid me of one niggling complaint – there just wasn't enough time to do everything before I had to go home.