New Zealand: Winter Beyond Skiing
Not a snow bunny? Not to worry. Shaney Hudson discovers there's still plenty to do in New Zealand to get your wintry fix.
Things might be getting chilly, but it's not time to slide that backpack under the bed just yet, even if hitting the slopes isn't your thing. From dog sledding the backcountry to inner city ice skating, here's a roundup of the best ways to escape the winter blues - and to get the most out of New Zealand's winter wonderland.
DOG SLEDDING
Forget your skis and pack away your snowboard: the biggest adrenaline rush on the snowfields of New Zealand comes courtesy of four paws. Dog sledding has seen a huge increase in popularity in the Southern Hemisphere as the traditional form of winter transport finds new fans eager to run their own team. Underdog, based in the Cardona Valley near Snow Farm, a cross country ski mecca, operate a yapping, enthusiastic and fast dog team made up of Alaskan Malamutes, Siberian Huskies and Alaskan Huskies. Those after a short and sweet experience can hitch a ride in the basket, while those keen to take the reins can take driving lessons to hone their snow dog skills. And as an added bonus, special nighttime runs and overnight trips across the wild backcountry are also available.
SNOW SHOEING AND CROSS COUNTRY SKIING
Snowshoeing and cross country skiing have long been seen as the poorer cousins of adrenaline-fuelled downhill boarding and skiing, but as anyone who has given it a proper go will protest, both activities demand a different kind of endurance, an alternative way to traverse the winter wonderland and a closer sense of connection with the environment.
With snowshoeing, the barrier for entry is low: if you can walk, you can snowshoe. Cross country skiing takes a little more practice, but allows you to climb and descend, crossing large parcels of land. Both activities are available in Queenstown, Tekapo and Wanaka,and if you want to really see a different side to the backcountry, there's even heli-snowshoeing available in The Remarkables.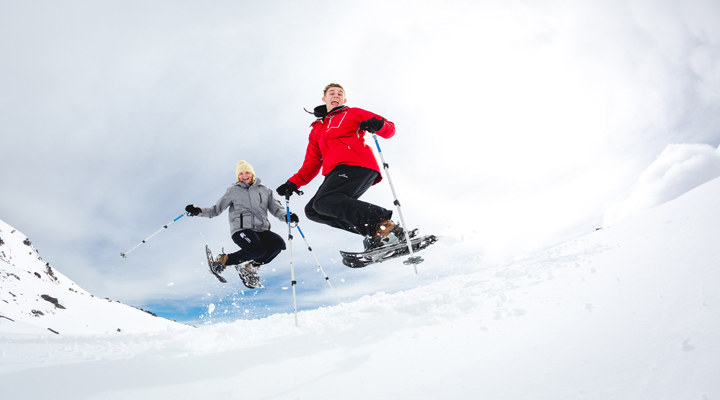 LUGE
Exclusive, seasonal, weather-dependent and oh-so-winter-Olympics, Naseby in Otago is home to the southern hemisphere's first ice and snow luge track. While artificial luge tracks in the northern hemisphere are built for speeds of over 150km/hr, natural luge tracks like Naseby clock in at about 50km/hr – allowing a perfect first taste for those keen to feel out the Cool Runnings vibes of this high-octane winter sport. Only open from mid-June to late August, those wanting to give it a go must take lessons before mastering the innovative 360m-long track.
ICE SKATING
Not everyone wants to build a snowman. But save for the bruised bottoms and knees, it's hard to resist the charm of ice skating. With rinks set up in Auckland, Christchurch, Queenstown and Tekapo, there are plenty of places to sharpen your blades, lace your skates and give ice-skating a twirl.
Pick of the bunch is Auckland's own little piece of Arendelle, the pop-up ice rink in Aotea Square. The outdoor rink opens for six weeks each winter with DJs, K-POP nights and student specials, as well as two 35-metre ice slides that can be tackled with inflatable tubes, alongside everyone's favourite winter food: fresh hot cinnamon doughnuts.
But if winter 2016 turns out to be a real deep freeze, head straight to the frozen glacial waters of Lake Lyndon, accessible from Christchurch. Surrounded by mountains, if stars align and conditions are right the lake can freeze solid, making it the best place in New Zealand to experience skating on nature ice.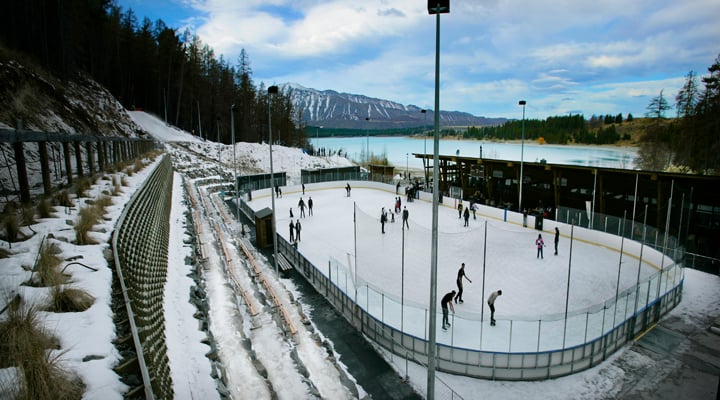 DEALS!
Pick up a referral card for Queenstown Ice Arena from one of the YHA Queenstown hostels and get $15 entry (a kid's price!). Plus, YHA members get a free skate hire with paid entry at Christchurch's Alpine Ice until 31 December 2016. Just present your YHA membership card.
ICE BARS
Once you've crossed your winter wonderland activities off your bucket list, head straight to an ice bar. Warm up to the winter season by the wharf at Freddy's Ice House in Auckland, or head to Queenstown where there are not one but two ice bars: Below Zero and Minus 5°. The run down for all three bars is the same: first pay an entry fee that includes your first drink and parker and glove hire, then enter a bar where everything from the walls to the bar are made from ice. Enjoy spirits served in a glass made from ice while enjoying the ice sculptures decorating the bar. After a few drinks, you're guaranteed to chill.
DEALS!
Pick up a referral card for Below Zero from one of the YHA Queenstown hostels and get $5 off.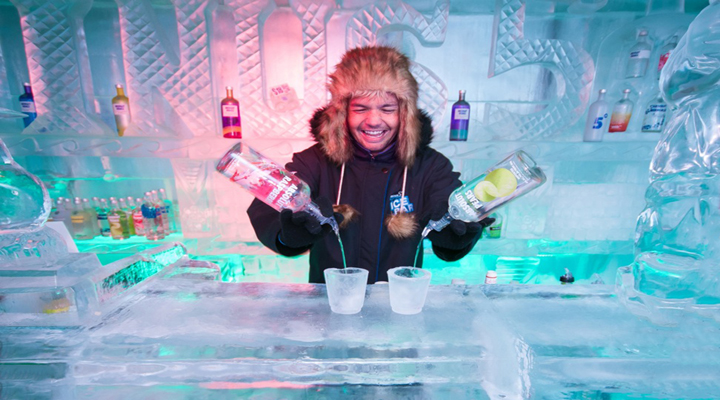 ESCAPE TO THE NORTH
Not everyone is made for winter weather. From those not partial to the fluorescent fashions favoured by manufacturers of cold weather gear to dreamers chasing an endless summer, there is one spot they can find respite: Northland. Here, they don't call it winter: they call it the green season.
The picture-perfect Bay of Islands in Northland is blessed with a mild climate and pristine natural environment year-round. But do bring your rain jacket in winter, rain is fairly predictable from 4-6pm which means fewer travellers and more green.
Head out on the water during the calmer green months for an overnight cruise and you'll often find the quiet conditions and fewer boats makes for more up close and personal encounters with marine wildlife, including cheeky dolphins ready to lead your boat in a game of catch-me-if-you-can.
Beaches and forests are empty and open to contemplation, while in Whangarei cascading waterfalls and brisk walks along the river will get the blood flowing. Those after adventure can search for glowworms through the three caves that make up the Abbey Caves system or dive at the Poor Knights Islandswhere the temps are cooler than summer, but the water is clearer. And you're likely to spot seals.
HOT SPRINGS
Top spots to turn up the heat
While snow might cling to the mountaintops, underground the earth simmers with volcanic heat. Stay warm with nature's own anecdote to the cold: geothermal hot springs.
On the North Island, a few pretty pennies gain you access to some of the best mineral baths and spas in the southern hemisphere, from the mineral springs at Te Aroha to the hot water salt pools at Mount Maunganui. In Rotorua sizzle in the waters and mud baths known as Hell's Gateor Polynesian Spa, while in Taupo you can even ride a geothermal waterslide. Meanwhile, New Zealand's least expensive hot springs can be found in Hawke's Bay.
On the South Island, just outside of Christchurch you'll find Hanmer Springs, a thermal park wonderland with a range of mineral pools, waterslides and sulphur pools while in Tekapowarm up alongside a snow tube and skating rink, and relax in warm thermal waters in the shape of the region's three lakes.
Those after a little romance should head to Queenstown, where they can hire their own private, spring-fed Onsen hot pool that, with the push of a button, opens up to beautiful views over the Shotover River by day and stargazing by night.
DEALS!
Present your YHA membership card at Tekapo Springs with your entry fee and get a complimentary upgrade to the steam and sauna. Valid until 31 December 2016.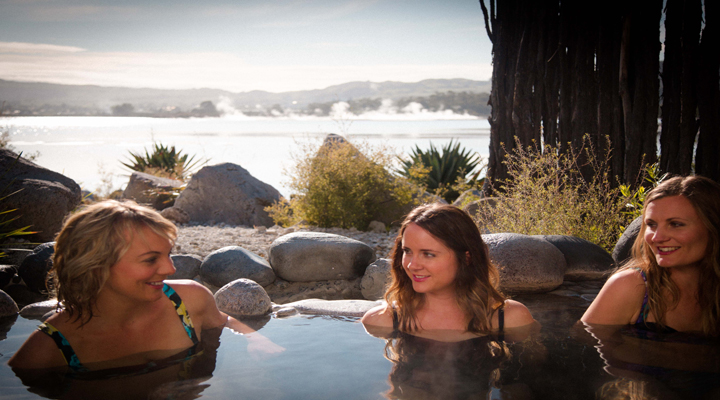 WINTER TRAVEL PERKS
Heading to New Zealand this winter? It's the perfect time to catch the best of the country without the crowds.
The quiet: Whether it's a deserted beach, an empty road or simply sitting by the fireplace, winter in New Zealand offers a chance to break away from the urban grind and carve out a place of quiet contemplation.
Fewer crowds: No one likes to spend their holidays elbow deep with sweaty strangers, and during low season crowds are long gone, excepting in ski towns. Take a winter-friendly Great Walk (key words being: winter-friendly) like the Abel Tasman: booked out in summer, in winter you might just have it to yourself.
Meet the locals: As summer crowds wind down, everybody from café workers to artisans and brewers have a little bit more time on their hands for a yarn and a chat.
Save big: Steer clear of the ski towns and you'll notice prices ease as the low season comes into play. Expect two-for-one deals, reduced prices and added incentives as operators keep their cash flow going.
The climate: It might get a little wet and chilly, but it's not that cold! New Zealand has a temperate climate all year, but def pack layers and the right clothes. You know what they say, "There's no such thing as bad weather, only inappropriate clothing."
Where to Stay:
+64 3 443 1880
+64 3 442 7400
+64 3 442 8413
+64 3 680 6857
+64 9 302 8200
+09 309 2802
+64 3 379 9536
YHA Christchurch Rolleston House
+64 3 366 6564
+64 9 402 7487
YHA Bay of Islands The Rock Adventure Cruise
+64 9 402 7796
+64 9 437 0609