Noosa Love
Discover Why The Locals And Visitors Call Noosa 'paradise' With Jessica Jane Sammut.

It's a haven of beauty. A mecca of sun, sea and sand. Known to locals and visitors alike as 'paradise', Noosa soothes the soul like nowhere else, as Jessica Jane Sammut reveals.
Noosa. Think sun soaked white beaches, crystal clear azure waters and lush green rainforest. It's the jewel in the crown of South-East Queensland, just a hop, skip and a jump from Sydney/Melbourne by plane, or a short bus ride from Brisbane.
With a year-round sensational climate (a subtropical average of 30°C in the summer and 22°C in the winter), Noosa is the ideal coastal escape – a captivating paradise that touches the heart of all who visit.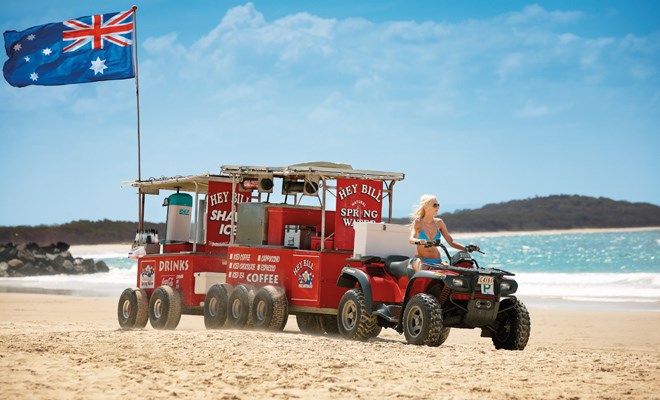 And I should know. As a backpacker who explored Noosa over ten years ago, I recently returned with my young family to live, having never got the little town out from under my skin. There is no place like it. Mornings spent watching the sunrise over the Pacific, as pods of dolphins dance in the surf ain't a bad way to start the day, it has to be said.
Listed as one of the top ten beaches in Australia and regularly one of the highest rating backpacker spots, Noosa has it all, offering a fun, beautiful and adventurous retreat for everyone.
The question is, are you ready? Be prepared. You won't want to leave.
Without doubt, one of the highlights of Noosa has to be Noosa National Park. If you are looking for a view to die for, take a wander along the coastal path, stopping off at Boiling Pot and Dolphin Point, and you'll see what I mean.
Situated between Sunshine Beach and Noosa Main Beach, the National Park offers a whole host of walking tracks from which to explore the native flora and fauna of the area, and you might even spot a koala, of which there are several. If you feel like getting a bird's eye view of the locality, head to the Laguna Lookout. The swirling sandbars, turquoise waterways and surf-laden ocean of Laguna Bay are a sight to behold, reminiscent of one of those Peter Lik postcards.
NEED TO KNOW
LOCAL SECRET SPOTS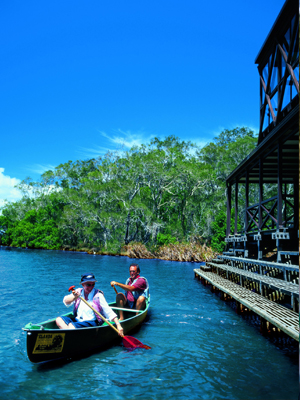 Known for its beauty, Noosa is an iconic destination. But there are some things only a local knows best. Here are my top secret spots:

1. Sunshine Beach – Sunshine Beach is the next town south along the coast from Noosa Heads and is well worth the walk/bus ride. Offering a cool, hipster, affluent, yet surfy vibe, the little village is perfect for a chilled out coffee, especially first thing in the morning as the sun comes up. With an east-facing surf beach, you can enjoy watching the dedicated in-crew catch their early morning waves as you greet the day with the sun on your skin. There's no feeling like it. If you are brave, you can even go for a dip yourself, or join one of the many active locals jogging along the shore. From June to October, you might even spot a whale or two frolicking in the deep, on their annual migration.

2. Tea Tree Bay – Tea Tree Bay is, in my humble opinion, one of the most incredible beaches in Australia, if not the world. Only accessible by foot after a walk through the National Park, the bay offers a shore to rival The Beach and is my go-to place for unadulterated beachside bliss. So take a book and lose yourself (and don't forget to bank that memory to feed off on a rainy day when you are back home).

3.The Noosa Everglades – The Noosa Everglades is one of only several everglades in the world. Harbouring more species than Kakadu National Park in an area 25 times smaller, it is truly one of Australia's most spectacular wilderness areas. Grab a river cruise or a kayak and come face to face with some very cool wetlands in all their natural beauty.

BACKPACKING AT THE BEACH - HALSE LODGE YHA

Located right in the heart of Noosa, just off the world renowned Hastings Street (the main shopping district of Noosa Heads which runs parallel to Noosa Main Beach), it is easy to see why Halse Lodge has long been a popular choice.

The closest hostel to the beach (only 100m away), the National Trust/heritage listed building is set in two acres of rainforest, offering a charm to match Noosa's good looks.

With an awesome bar and restaurant offering delicious yet affordable food, live music and a great atmosphere to match (especially in the evening), Halse Lodge is a tremendous spot day or night.

With some holiday-makers paying over $1,000 a night to stay on the same beachside strip (albeit in a luxury apartment), it is clear to see why Halse Lodge is an ever popular and well-loved hangout for the budget conscious.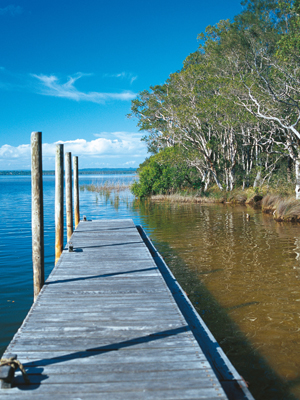 Talking of water, Noosa is full of it, with most of its activities based either on or around it. Top of the list has to be Noosa Main Beach, a sheltered north-facing cove offering sand so fine it is known as 'Noosa sand', together with pristine clear waters and waves that are perfect for swimming. The home of the Noosa Festival of Surfing, you will find long board surfers hanging ten at First Point, while stand-up paddle boarders (SUP) ease their way along the coastline, some complete with dogs!
For those feeling like a slice of the vibe, surfboards and SUPs can be hired relatively inexpensively from a number of venues. Just make sure you don your GoPro while giving it a whirl to capture those magic moments! Noosa Cove, the next bay along going towards the National Park, is also a big hit for those wanting to get off the main drag for something a little more intimate.
If it's a breathtaking sunset you are after, the Noosa River is the place to be, either lounging on its banks with some fresh fish and chips in hand from one of the local eateries, or basking in its glory from a kayak or jet ski (easy to hire from anywhere along the river if feeling energetic), or via the chilled out comfort of the Noosa Ferry (if not).
In fact, the Noosa Ferry runs a well-loved pre-dinner Sunset Cruise from Tuesday to Saturday for an affordable $20 per person, where you can BYO (glasses and ice provided), sit back and relax as you glide amongst the yachts of Woods Bay and past the multimillion dollar waterfront homes of Noosa Sound, before taking in the sunset at the river entrance.
With the Noosa International Food and Wine Festival in May, the Noosa Long Weekend Arts Festival in July and the Noosa Jazz Festival in September, there is always something to be celebrating in Noosa. And if you feel like celebrating just because, a cocktail on the beach is certainly a must with Bistro C my personal favourite spot for such afternoon delights.
With a special menu between the hours of 3pm to 5pm, where everything listed is between $3 and $5, a glass of bubbles or a jar of cocktail is a sweet treat. Chill to the sounds of swaying palms and pumping Bistro C beats (especially on a Sunday). You can even follow it up with a beach massage from the little pop-up massage salon found on the sand just up from Bistro C. Look for the tent and some very relaxed peeps.
It's a wonder anyone makes it out of Noosa at all.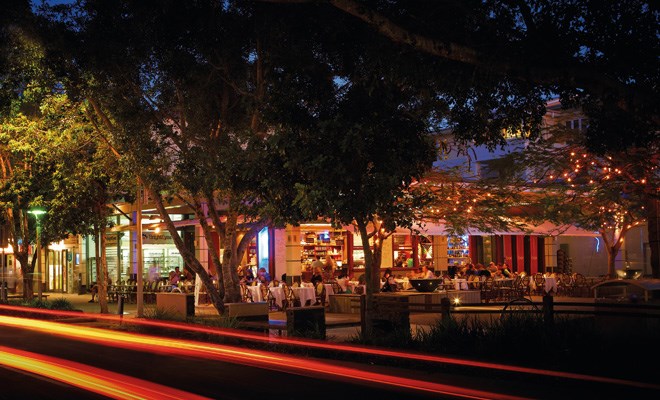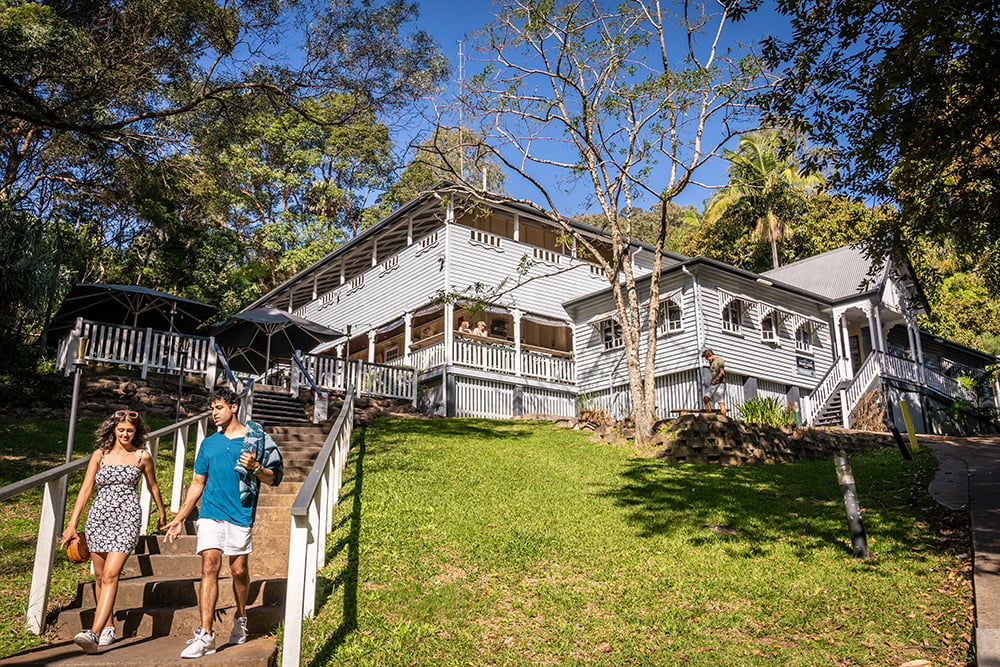 YHA Noosa Heads | Halse Lodge
With vintage charm and a rainforest backdrop, this 1880s-era heritage-listed Sunshine Coast YHA offers a tranquil escape and easy access to Noosa's best beaches.