One Night in Bangkok...
. . . OR ONLY A BRIEF SINGAPORE FLING IS BARELY ENOUGH TIME TO SEE THE BEST OF THESE TWO STOPOVER CITIES, WRITES STEVE MCKENNA
Of all the buzzing, traveller-friendly metropolises in South-East Asia, two really stand out. And it's not just because they usually have the best flight connections between Australia and Europe. Whether you're after a stopover or a city break, Bangkok and Singapore are both full of enchanting possibilities. But if push comes to shove, which one should you choose? Well, that depends on your priorities . . .
IN A NUTSHELL
In some ways, the two are pretty similar. They're both huge urban sprawls (Bangkok has 8 million people, Singapore 5.7m). Their humid tropical climates can turn a five-minute walk into a sweaty ordeal. And they're both packed with superb (often air-conditioned or fan-cooled) places in which to eat, sight-see and shop.
But while the Thai capital is noisy and chaotic, with ridiculous levels of traffic congestion, Singapore is comparatively calm, clean and orderly. Bangkok offers more bang for your buck, however, and has more of a carefree, anything-goes vibe with fewer everyday rules and regulations (you don't have to worry about being fined for chewing gum here, like in by-the-book Singapore). Yet the city-state, a former British colony with vivid Chinese, Malay and Indian flavours, is an absorbing melting pot. Its neighbourhoods are more culturally diverse than those of Bangkok, which, despite some glaring Chinese and Western influences, feels distinctly, exotically Thai. That said, most Thais you'll meet will speak at least some English. In Singapore, English is one of four official languages (alongside Malay, Mandarin and Tamil).
ICONIC VIEWS
Bangkok has a glut of modern, neon-adorned sights (from glossy malls to gaudy nightlife strips), but it's the centuries-old temples on the banks of its mighty, cruise-friendly river, the Chao Phraya, that make the greatest impression. The most dazzling cluster lie in and around the Grand Palace, a royal riverside residence characterised by its gleaming gold spires, ornate Buddha monuments and saffron-robed monks. Although popular with tourists and worshippers, this incense-scented complex is a soothing, spiritual place to linger (giving respite from all those overbearing touts, tuk-tuk drivers and exhaust fumes).
Singapore has heaps of visually-arresting heritage buildings – notably Chinese shophouses, Hindu temples, British colonial landmarks and Arabian mosques – but they're overshadowed by the jaw-dropping 21st Century architecture on its revitalised waterfront. As well as the lotus flower-shaped ArtScience Museum and the Marina Bay Sands resort – whose rooftop straddles its three towers resembles a giant's surfboard – there are the futuristic 'supertrees' of Gardens by the Bay, a green-yet-glitzy attraction that is free to stroll around. It's best to come at night, when the temperatures have dipped (slightly) and everything looks marvellous all lit up.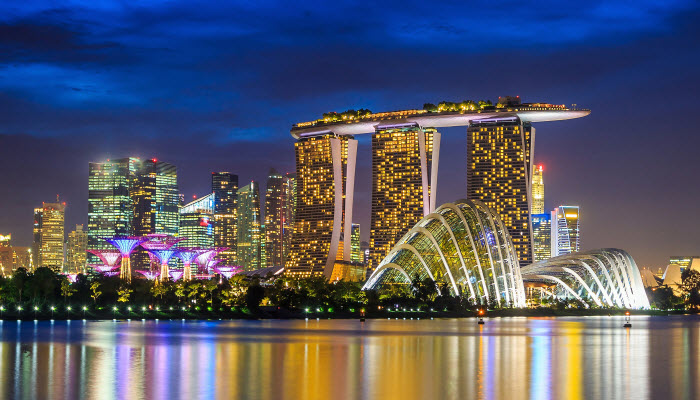 EATING AND DRINKING
Almost everywhere you go in Bangkok and Singapore, fragrant cooking smells spike the air. Both cities have thriving hawker cultures, with vendors wokking-up tastebud-tickling street food, often using recipes passed down the generations. Many do business in the sleek food courts housed in the cities' myriad multi-storey malls. But it's more memorable to dine outdoors.
Singapore, for instance, is dotted with hawker centres. Open-air hubs like Maxwell Road Food Centre where beneath whirring fans you'll rub shoulders with hungry locals and order typical hawker fare like char kway teow (a wok-fried noodle affair), Hainanese Chicken Rice (strips of tender boiled chicken on oily rice) and laksa (spicy seafood noodle soup). Expect to pay AU$3-6 per dish.
You'll eat for less in Bangkok, where hawkers have more of a free reign on where they can set up shop. Pavements and back alleys are cluttered with wheeled food stalls that ply punters with the likes of pad Thai (stir-fried shrimp noodles), kaao laad kaeng (curry on rice), oyster omelette, and seafood and meat skewers. Bangkok's alfresco hotspots include Yaowarat (Chinatown) and on and around Khao San Road (that legendary backpacker enclave).
Looking to drink? Both cities have hip rooftop venues, intimate jazz haunts and speakeasy-tinged basement joints – and in Bangkok especially, bars ranging from the seedy to the stylish spill onto the streets. Alcohol in Singapore is about three times as expensive (in bars, a beer costs about AU$8-12, cocktails AU$20). Freshly-made tropical fruit juices are better value for money.
There is presently 12 months of mourning in Thailand following the death of King Bhumibol Adulyadej. This may include some changes to normal events and has sedated the nightlife somewhat but all tourism facilities are open as usual.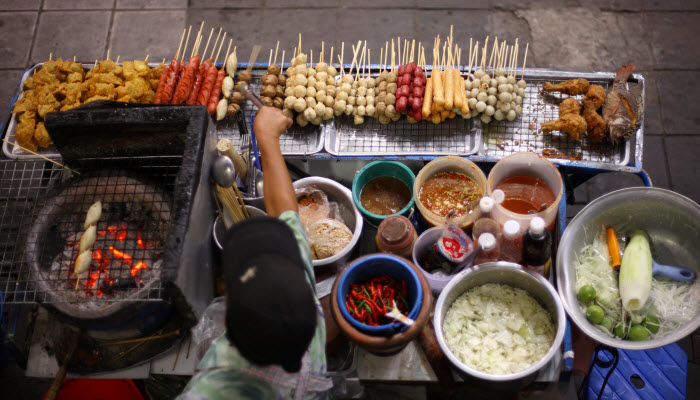 NATURAL RETREATS
When Stamford Raffles claimed Singapore for Britain in 1819, it was a sparsely-populated, heavily jungled island riddled with Malayan tigers and swamps. Despite turbo-charged development, an abundance of green lungs lie within easy reach of the CBD. The Botanic Gardens are particularly alluring, boasting the world's largest collection of tropical orchids and a rainforest boardwalk that snakes through lush, primeval jungle (don't expect to encounter any tigers; they're long extinct). Even more rustic is Pulau Ubin, one of Singapore's 60 or so offshore islands. Cycle the forest-fringed dirt tracks of this sleepy backwater and you'll pass traditional Malay kampong (village) houses, down-to-earth Chinese eateries and birdlife-rich wetlands.
Bangkok isn't as blessed with verdant escapes, but Lumphini Park – in the city's built-up business and embassy districts – is lovely, especially if you come before breakfast, when joggers, walkers and tai chi practitioners exercise before temperatures start to soar. Watch out for the park's monitor lizards. They're harmless but might give you a fright – some are two metres long!
Whichever city you choose, get out and explore to make the most of your trip. These are cities to wander amok.
FIVE TIPS FOR BANGKOK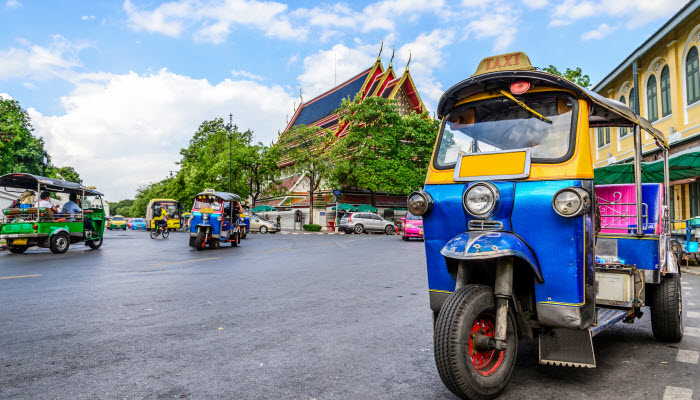 1. Taxis are inexpensive but because of traffic, only use them when your destination can't be reached on the fast, elevated BTS Skytrain or the underground MRT Metro.
2. Complementing Bangkok's countless malls and night and day street stalls is Chatuchak Weekend Market. Its 8000-plus stalls sell a mindboggling range of souvenirs, antiques and local fashions.
3. You'll be offered plenty of AU$10 massages. But it's worth treating yourself to a good one. A 90-minute herbal body massage is about AU$40 at Asia Herb Association. It has a branch at Sukhumvit 24, near Phrom Phrong BTS.
4. At 8am and 6pm daily, the national anthem plays from speaker systems across the capital. Thais stop what they're doing. Foreigners aren't expected to follow suit, but it's appreciated.
5. For a different perspective of Bangkok, ride the ferry on Khlong Saen Saeb, one of the city's copious canals. You whizz past wooden homes, flashes of greenery and eye-catching graffiti.
FIVE TIPS FOR SINGAPORE
1. The Singapore Tourist Pass saves time, money and energy. It allows unlimited rail and regular bus travel for one day (S$10), two days (S$16) or three days (S$20).
2. If you're here on a Singaporean public holiday, admission to many cultural attractions, such as the swish new National Gallery of Singapore, is free.
3. Nestled atop a hill behind the CBD, Fort Canning Park is a relaxing, green oasis with spice gardens, birdsong, British military relics and the sacred shrine of Singapore's last sultan.
4. Arguably Singapore's quirkiest attraction, Haw Par Villa is a theme park that celebrates Chinese mythology and folklore, with over 1000 colourful sculptures, plus temples and pagodas, to peruse. It's free to enter.
5. Four MRT stops from City Hall, Tiong Bahru is a laid-back, low-rise slice of Singapore, with art deco architecture, cool neighbourhood cafes, funky boutiques and an atmospheric market and hawker centre.
WHERE TO STAY
Singapore: There are two HI Hostels in the city that offer good value places to stay. See more and book here.
Bangkok: There are 10 HI Hostels in and around the city, including one at the airport. See more here.