Ranging Beyond Flinders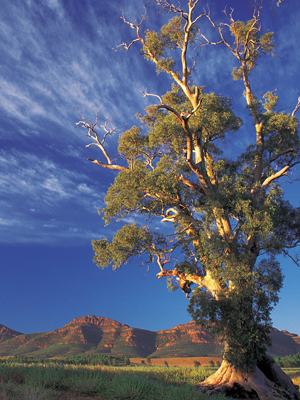 The Flinders Ranges are South Australia's gateway to the Outback, and the ultimate country holiday destination as Janet McGarry discovered.
The horse won. From my first uneasy moments up on his back, he knew he had bested me. My travellers' mind was all for exploring this rolling rural property on horse back. My body though sat there like a bag of potatoes, waiting to be tipped off. Sometimes there's much to be said for striking out under one's own locomotion.
The Flinders Ranges is an ancient landscape; its red soil dry and cracking, scarred deep with geological molding and folding. The circular bowl-like shape of Wilpena Pound, with its spine-like ridge ranging to the north, has been the feature of many aerial sunrise shots.
Only 5 hours north of Adelaide, the Ranges form a transition from rural heartland to the start of outback Australia. It is a land of wild flowers and bush, historic Ghan railway ruins and sprawling outback stations, taste-dazzling quandong pies and feral food feasts. Driving through beautiful Brachina Gorge, shy yellow-footed rock wallabies chase each other over the scree slopes, whilst down in the creeks amongst the majestic river gums, emus wander pecking up their dinner.
My base was Rawnsley Park, the new YHA located just outside Wilpena Pound. In the southern Flinders Ranges, this is the perfect base for a country break. Whether you are more suited to horse riding than me, or prefer pedal power on mountain bikes, this large rural property is a YHA with a difference. Combining outdoor activities, cabin-style rooms with great views over the Ranges and a woolshed restaurant, you can spend your days totally on site.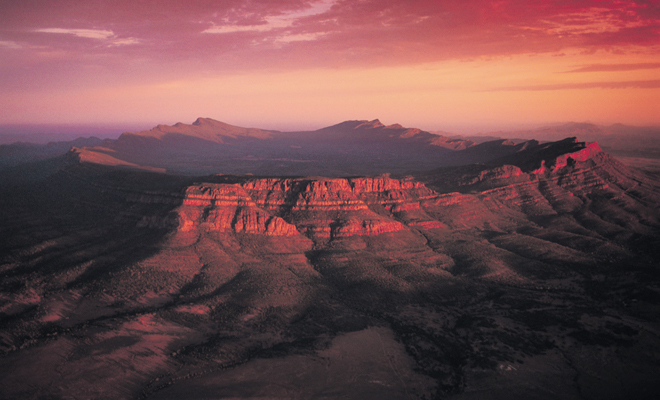 But I ventured out – north to Wilpena Pound where there's a range of challenging walks, then a drive up through gorge country, crossing over to the drier western side. Here you can explore the old Ghan railway sidings, go kayaking on Aroona Dam near Leigh Creek and lunch on kangaroo pie and mouth watering quandong cheesecake at the Copley Bakery. On the edge of the desert near Lyndhurst, we visited one of Australia's more unusual and remote art galleries and met a genuine outback character in Talc Alf.
This is not a land to hurry through. Its charms are revealed as you take the time to listen to locals talk about its ancient history. You can delve into the past as much as your interest takes you, or go with the present and just soak in the stunning scenery. One thing is assured – a taste of a very unique part of Australia.