Top 5 Sydney Ferry Rides
See Sydney beyond the wharf and get a ferry good view of the Harbour City without breaking the bank!
Sydneysiders love their ferries – we even have a Ferrython on Australia Day! More than 14 million trips are made across Sydney Harbour by ferry every year for work and play, connecting 40 wharves across 37km of harbour. Every ride is an exciting adventure.
Since you can only get to some of Sydney's best hidden gems by boat, no trip would be complete without a ferry ride or five.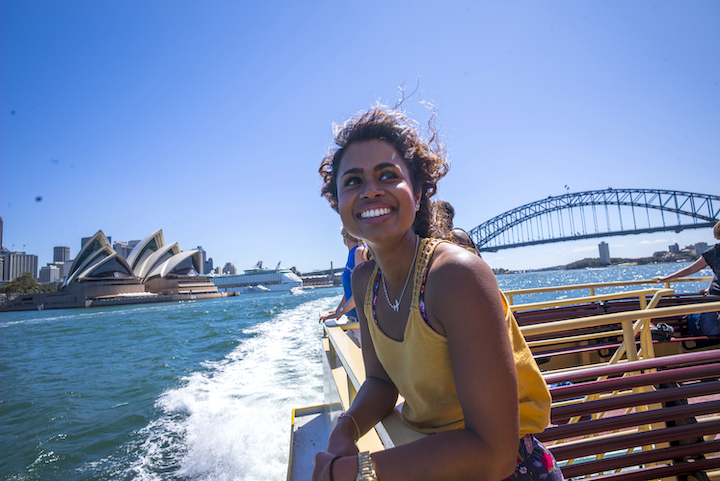 Manly
This harbour and beachfront suburb is one of Sydney's classic daytrip destinations. The ferry ride sure is scenic; the beaches are gorgeous as well. The standard template for visiting Manly is shopping at the markets, having lunch at a local pub/restaurant and relaxing at the beach. The perfect time to catch the ferry back to Circular Quay is just before sunset – your panorama shot of city lights reflected in the sun-soaked harbour would surely guarantee lots of Instagram likes.
Taronga Zoo
A short ferry ride from Circular Quay will lead you to kangaroos, koalas and many other Australian furry friends. The ferry zooms by the Opera House and the Harbour Bridge - when you arrive at the Zoo, you'll find the giraffes have the best view in Sydney, which calls for a spectacular selfie moment. You can purchase a ferry and zoo combo ticket at Jetty 2, Circular Quay to skip the zoo queues and spend your saved dollars on some cute souvenirs to send to mum.
Cockatoo Island
The Island has an interesting history - Originally used for what is thought to be an Aboriginal fishing base; the island has also been used as a prison, an industrial school, and a Royal Navy building dock. Now this World Heritage Site is open to the public, with a busy event calendar. You can check out the Biennale Festival's amazing art installations by artists around the world, go on historical walking tours, have a picnic, or for the full island experience, you can even camp overnight.
Watson's Bay
Only a 30 minute ride from Circular Quay, Watson's Bay has some of Sydney's best beaches and seafood restaurants. You get to see the southern shore of Sydney on the ferry ride, and even spot Nicole Kidman's old house near Double Bay Wharf. If you're feeling adventurous, there's a nude beach for your enjoyment too.
Darling Harbour
After a short trip? The ferry ride from Circular Quay to Darling Harbour gives you a bite-size ferry experience. You can get a good shot of the Harbour Bridge and Opera House on the way and arrive at the beauty that is Darling Harbour, with many restaurants, shops and attractions to fill your day and evening with.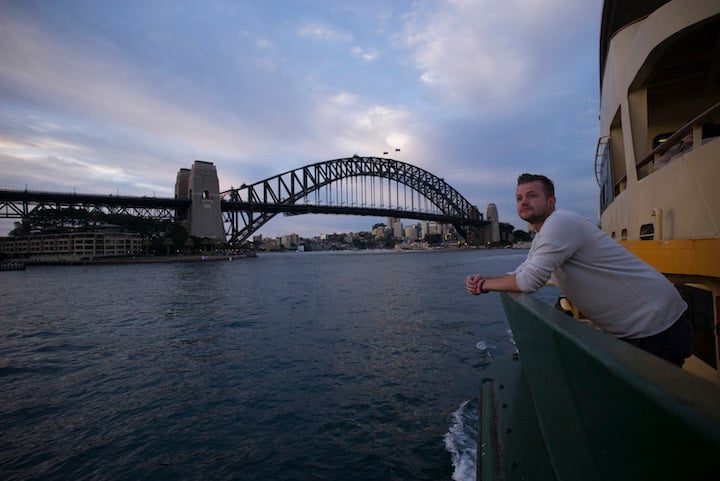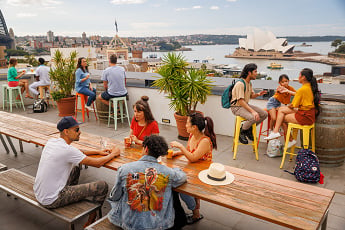 YHA Sydney Harbour
This modern, sustainable property in The Rocks draws an international crowd with its world-class harbour views of the Sydney Harbour Bridge and Opera House.