Six reasons to do a road trip from Perth to Adelaide
Travel bloggers Mochileando por el Mundo – Rober from Spain and Lety from Italy – tackled the epic journey across the Nullarbor, and this is what they loved about it.
Our three-month trip through Australia began in Perth, and within a week we already had plenty of experiences written in our travel journal. We fell in love with the views from Kings Park, we celebrated Lety's 33rd birthday in prison, and we took our first dip in the Indian Ocean. Not bad, huh? So fasten your seat belt because this is where the curves begin!
We decided to rent a campervan to travel the 3000km that separated us from Adelaide, the capital of South Australia. Why, with how easy it would be to get on a plane and reach the destination in a few hours?! True, but what about the adventure? Road trips are our favourite journeys and if you also love the feeling of driving towards a thousand and one adventures, here are six good reasons to conquer this epic road trip. Spoiler alert: it's pretty cool!
1. You'll fall in love with the south-west of Australia
The trip started with good vibes: the night before picking up the van, Rober dreamed that they upgraded us to much bigger and more beautiful one… and that's exactly what happened the next day! Introducing 'Cheapy'…

We drove the first few kilometres calm but excited – all non-Aussies will understand our excitement at seeing the first 'look out for kangaroos' road signs, and we can't tell you how happy we were to see them in the flesh.
There are many things that will make you fall in love, bit by bit, with this little piece of Western Australia. Driving on Caves Road, one of the most beautiful country roads dotted with trees, wineries and caves. Spending a morning in Busselton, exploring the jetty and giving you a swim (or two) in its beach of clear, clean water. Being amazed by the impressive Sugar Loaf Rock, swimming with stingrays in Hamelin Bay, snorkelling in Greens Pool, climbing up to Elephant Cove with incredible views of William Bay National Park, and finishing at the church in Albany eating pancakes with strawberry and cream.

Lesson learned: we should have come to Australia loooong before!
2. You can spend at least a day at Lucky Bay, the famous Kangaroo beach
Surely you've seen photos of Lucky Bay a few times: it is a crescent-shaped bay, with super white sand, turquoise waters, and a few kangaroos that roam around, either hopping or sunbathing. Spending a day there was one of our dreams and we were able to fulfil it!
Lesson learned: kangaroos are the most beautiful thing in the world (and they have a camel face).
3. You will live out a true adventure in the Nullarbor desert
Nullarboring? Not at all! The stretch of road that runs between Norseman and Ceduna, crossing more than 1200km of desert, has a few surprises in store for you. You will hallucinate with ghost towns and roadhouses that seem to belong to the past. You will encounter wildlife – we didn't see camels but throughout the trip we came across infinite kangaroos, wallabies, emus and even a couple of dingos! You will cross the longest stretch of straight road in Australia, 147km long! And when the day comes to an end you will enjoy fire-coloured sunsets, and a date alone with the Milky Way. During the tour you will be accompanied by dozens of road trains (wow, they are huge!) and 'grey nomads', retired Australians travelling around this immense and extraordinary country in their caravans.

But the surprises don't stop there. Pay attention because on the roof of a petrol station to see the remains of Skylab, NASA's first space station that crashed in Balladonia, and if you think you have seen trees with ornaments such as cups, panties, teddy bears or Christmas decorations, we assure you that you are not going crazy. You will meet the old Eucla telegraph station, you will experience vertigo in the Bunda Cliffs, you will watch the ocean for ages in search of whales and maybe you will feel the same as us, when we thought we were back on Route 66, with its vintage roadhouses, its ghost towns and its extravagant attractions.

If we had to keep only one memory, without doubt it would be the moment when this incredible rainbow appeared in the sky before us.

Lesson learned: Don't trust people who say that nothing happens in the middle of nowhere!
4. Stack on a few kilos in the Eyre Peninsula… and find yourself face to face with a Great White Shark
The truth: we were too chicken to get into a cage and have a great white shark swim within a few inches of our face, so we swapped this adrenaline-filled experience with a more caloric experience: eating a hearty fish and chips in town.. If you do visit the Eyre Peninsula, look out caves, beaches, bays and fishing villages await you. Oh, and dolphins and sea lions. Ah, and the oysters of Coffin Bay, what a wonder. Oh, and the fish and chips. Important. Do not forget the fish and chips.
5. Adelaide's vibe will enthrall you
Maybe it was because we visited during the Adelaide Fringe Festival, maybe because it was a weekend, maybe because we were won over by the atmosphere, but wow! We liked Adelaide more than we expected. If you travel to the capital of South Australia, don't miss a trip to the Central Market and Chinatown, enjoy happy hour in the West End (we loved the Elephant British Pub) and explore the city's cultural side by visiting museums like the South Australian Museum and the Tandanya National Aboriginal Cultural Center (both free, yaaas!). Stay in the heart of the action at Adelaide Central YHA.

Lesson learned: There is life beyond Melbourne and Sydney.
6. You can relax (and be amazed!) in Port Elliot
We arrived in Port Elliot not knowing what to expect and the Fleurieu Peninsula turned out to be beautiful. After leaving our backpacks at Port Elliot Beach House YHA, a historic mansion full of personality, and meeting our friendly host Steve and his adorable little dog Neddy, we went out to explore the surroundings and we found a landscape that takes your breath away. There's even an area that looks like Malibu! To end the day we enjoyed an amazing sunset. It was the finale to an epic adventure.

Lesson learned: There's no better way to end the day than contemplating the sunset.
Next stop? The Great Ocean Road. But that's another story, amigos.

You can follow Rober and Lety's travels on their blog, Mochileando por el Mundo, or on Facebook and Instagram.
For more epic South Australian road trip inspiration, check out #YHASouthOzRoadTrip on Instagram.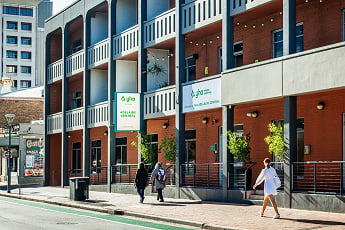 YHA Adelaide Central
Located in the heart of Adelaide, the chilled-out YHA Adelaide Central boasts spacious communal spaces & easy access to all the hotspots & events of South Australia's capital.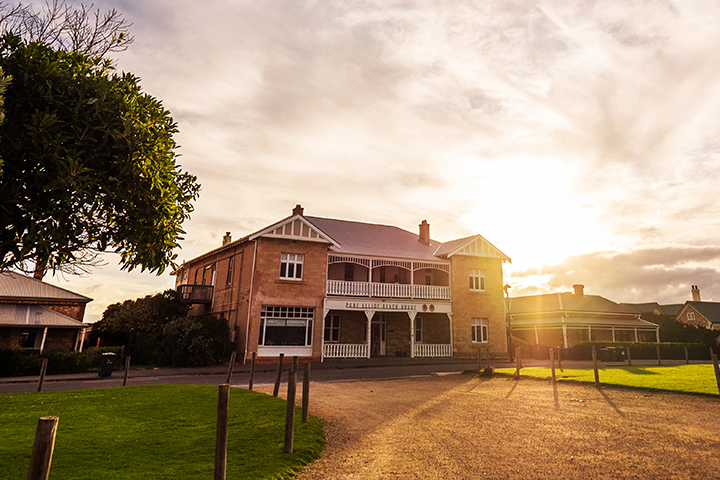 YHA Port Elliot
Located in a breezy, historic building and overlooking the calm waters of Horseshoe Bay on the Fleurieu Peninsula, YHA Port Elliot offers beautiful beach adjacent accommodation.