Snow Pilgramage
New Zealand is a snow pilgrim's haven with world-class ski fields on both islands.
New Zealand
I coined the term to sum myself up. But it can just as easily be applied to others: snow pilgrim. \snō-pil-grəm\ noun One who journeys from mountain to mountain as a devotee of snow sport.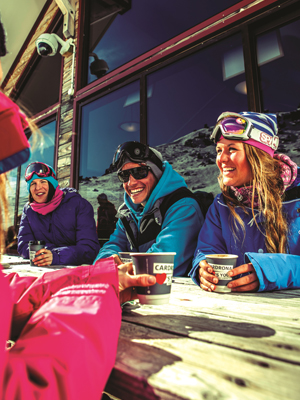 The mountains are high which means consistent snow that's topped up by snow making systems at most ski areas. The terrain is varied from beginner slopes to bowls and long runs. And the country is small enough that following the snow and the good weather is relatively easy. If the wind is blowing a gale in the adrenaline-pumping, après ski town of Queenstown, you can head to Wanaka or even further north to the geothermal village of Hanmer Springs, where soaking in the hot springs after a day on the slopes is almost a requirement. And that's just for starters.
New Zealand is spoilt for choice.

Well, to be precise, the South Island is spoilt for choice.

If New Zealand is a snow pilgrim's haven, then the South Island is its Mecca. But don't skip the handful of slopes on the North Island if you've got the time and budget for both islands.

I plan my New Zealand winter pilgrimage with as much diligence as a pilgrim plans their walk on the Camino de Santiago or the Great Ocean Road. But I need to stretch my dollars for all they're worth. Let's face it, being a snow pilgrim doesn't come cheap. Though we do get more bang for our Australian buck in New Zealand, spend a few days in the powder and you still rack up the costs.

So here's an avalanche of ideas to keep those costs down.

Buy multi-day passes
A good chunk of your cash will go to lift passes but multi-day passes offer better day-to-day rates. There isn't just one multi-day pass that's valid at all ski fields (yet!). So, see Treble Cone and Cardrona's multi-day passes. If commercial fields are still too much, try a multi-day pass at Canterbury's club fields (you don't have to be a member!). They're smaller fields with less flash facilities, but the terrain is great. Most commercial and club fields offer student discounts.

Hire gear in town
If you're travelling light, or you forgot something at home, hire gear in town and not on the mountain.

Pack a picnic
Commercial fields have bars or cafés, but dining on the mountain can add up. Instead pack your own nibbles. If you're dying to eat out for dinner, look for BYO (Bring Your Own Wine) restaurants in town. They'll charge a small 'corkage' fee but your grocery store red or white will save you paying the restaurant vino mark-up.

Take the bus
Bussing is an inexpensive way to get around. My favourite thing about it? All I have to do is enjoy the landscapes. While busses get you from one ski hotspot to another, they won't get you up the mountain. Never fear! Most ski areas offer reasonably-priced shuttles (for as little as $15 return).

Book a bed
In New Zealand, you're not stuck with having to stay on the mountain so backpacking delivers the best (and most social) bang for your budget buck. Most YHAs near ski fields offer amenities like drying rooms, gear storage and tuning stations with added bonuses of roaring fires and/or spa pools. While bonuses vary from hostel to hostel, you're guaranteed a good price, large kitchens and warm bed. Be sure to book well in advance. YHAs fill up fast.

New Zealand's slopes can satisfy every snow pilgrim. Not only is there plenty of downhill skiing and boarding but there's heli-skiing, glacier skiing, Nordic skiing, terrain parks and dedicated beginner areas.

My snow pilgrimage is plotted and underway and I'm standing at my first stop – the crater rim and saddle at Turoa Ski Area on the North Island's Mt Ruapehu. And it hits me how unique this is: I'm snowboarding on an active volcano. There are so few places in the world for that.

In a minute, I'll put my legs to the test and begin the 2,000 metre vertical descent. Then, I'll head down the mountain and into bustling Ohakune for a hot cuppa. In New Zealand, ski areas are near towns with cafés, bars, restaurants and all the other activities travellers to New Zealand rave about. And I'll partake – my winter pilgrimage isn't just about the slopes. But it all takes time and money, so I'm glad I've stretched my budget. Now, when I head back across the ditch, I won't have quite as much money in my pocket but I'll have a wealth of experiences to carry me through the summer months until my next New Zealand snow pilgrimage.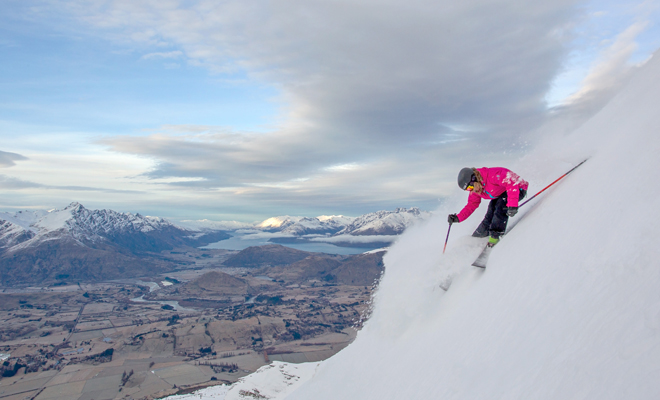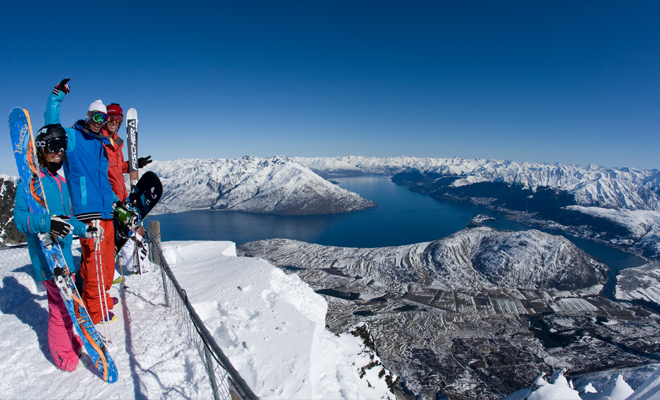 Useful Info

New Zealand Ski Season: The ski season usually runs from June to October. That means you can hit New Zealand's slopes when the Northern Hemisphere snow has long since melted. There are longer, sunnier bluebird days in September and early October. Avoid the school holidays if possible!

Easy Access: Travel from Australia to the South Island is easy with direct flights into both Queenstown and Christchurch. A number of ski areas are within 1.5hr drive from either airport.

Plan your pilgrimage

South Island

Queenstown & Wanaka Queenstown offers row after row of snowy mountains and New Zealand's biggest winter event, the Queenstown Winterfestival. Wanaka mixes small town charm with big time slopes. Experience the freedom to ski and ride at the two largest ski areas near Wanaka: Cardrona and Treble Cone. Queenstown's Coronet Peak and the Remarkables offer cheaper rates for additional days on the slopes. Or if the downhills scare you and you like the flats, try cross-country skiing at Snow Farm.

Canterbury

Canterbury stretches from Alps to the ocean with Mt Hutt as a giant amongst giants. Mt Hutt has New Zealand's longest ski season and is only 1 ½ hours drive from Christchurch. Canterbury offers New Zealand's biggest variety of ski areas including Mt Hutt, Porters and Roundhill.

Check out Mt Hutt's lift passes or a single CHILL pass for multiple Canterbury mountains.

North Island
The central North Island boasts New Zealand's largest and highest ski areas, Whakapapa, Turoa and Tukino, all on an active volcano and within the Tongariro National Park – NZ's first national park and a dual World Heritage site.