Stunning Stradbroke Island
Corina Adams reveals one of Queensland's less well known island paradises.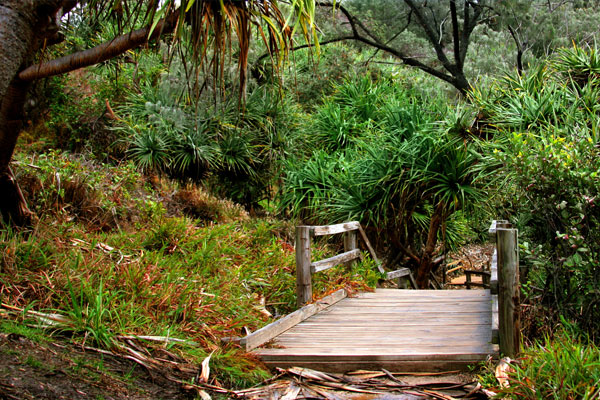 Autumn in Queensland is jealousy considered summer by most of Australia's more southern cities. I don't like to brag, but they are right. With average temperatures in the south eastern corner of the state a balmy 26 degrees in April, it is the perfect time to get out and experience the great outdoors.
Chatting to the locals in Brisbane you may hear about North Stradbroke Island being a favoured escape. It is right on our doorstep, easy to get to and laid back. Surprisingly it has managed to avoid too much commercialism and retains its natural beauty which is what we love about it.
What to do on Stradbroke Island
Pack your thongs and swimmers and little else. 'Straddie' is the second largest sand island in the world, after the more well-known Fraser Island further up north. This means beaches galore and plenty of natural bushland to explore. The main 'resort town' on the island is Point Lookout which is on the 'surf side' of the island where the gorgeous white sandy beaches are.
The island is also rather well-known for its fantastic whale viewing opportunities available from the North Gorge Headland at Point Lookout, Queensland's most easterly point. From around May to October each year thousands of humpback whales can be spotted on their annual migration along the New South Wales and Queensland coast. There is a nice and easy 1km walk around the headland which provides fantastic opportunities to see the whales along with turtles, dolphins, manta rays, birds and spectacular views down to Main Beach.
Back to the beaches. Straddie has stunning beaches, spanning from Amity Point, a smaller fishing village, to Main Beach which starts at Point Lookout and stretches for 32 glorious kilometres. There is ample space for relaxing, soaking up the sun, long walks along the beach, surfing and more surfing! Main Beach and Cylinder Beach offer the best surfing conditions and if you don't have your own board, you can hire one, or if you don't know how to surf, your can learn! Main Beach and Cylinder Beach are both patrolled. No excuses for not getting in the water even if you're not surfing.
My favourite thing to do during my visits to Straddie, aside from kicking back on the sand, is scuba diving. The waters are teaming with life, grey nurse sharks, those whales, dolphins, turtles and there is even a spot called Manta Ray Bombie, which says it all. These delights are located a short 15 minute boat trip from Adder Beach. If you are not a certified diver, you can take a 'learn to dive' course, or do a 'discover dive'. Or snorkel instead. Again, no excuses!
There is fun to be had away from the beach too with 4WD tours exploring some great tracks through the middle of the island. Take a refreshing dip in Blue Lake or Brown Lake and maybe even some beach driving.
There is so much to do on Straddi, sandboarding and kayaking are also on the menu, or just stick with enjoying the sunshine, sand and sea.
Getting to Stradbroke Island
North Stradbroke Island is located 30km southeast of Brisbane in Moreton Bay. It is accessible by vehicle or passenger ferries run by Stradbroke Ferries from Cleveland to Dunwich on the island. Walk on passengers don't need to book ahead (cars do) but from 20 April 2015, they are introducing a new fare structure with off-peak pricing discounts so check their website to see the best pricing and times.
There is a public bus service between the 3 main townships on the island including a service from the ferry terminal to Point Lookout where the YHA is located.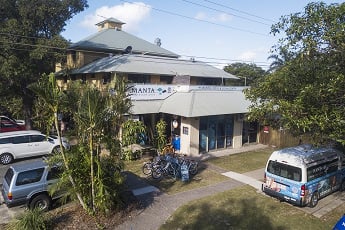 YHA Stradbroke Island | Manta Lodge & Scuba Centre
YHA Stradbroke Island is a hostel and scuba dive centre providing beachfront traveller accommodation with a friendly and relaxed atmosphere.