Sun, Sea, Sail
Queensland's Whitsunday Islands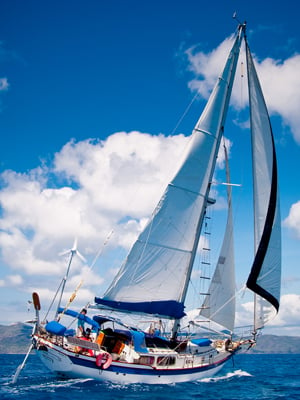 Sailing the Queensland coast's classic sail routes offers a unique travel experience, easily accessible from all around Australia. With two friends, Cameron Cope escaped a Melbourne winter to discover an adventure paradise sailing Queensland's coastline.
Julie and I woke after our three-hour break from night navigation as fast as the seawater rushing by the hull that had lulled us to sleep. A strange sound had stirred us. Leaning against the hull that curved around our bed we realised that we couldn't just hear this sound, we could feel it. In fact the whole hull was vibrating to it. Hurriedly we extricated ourselves from a tangle of arms, legs and blankets before climbing on deck. I asked Joe and Jeanette "Did you guys hear that?" Their blank faces stared back in reply when seconds later a loud burst of air captured our attention. Not more than 30 metres behind the yacht a large adult humpback whale surfaced. We all froze, awestruck by the creature that dwarfed our 11-metre yacht.
We were en route to the Whitsunday Islands and it was as if the enormous whale had come to sing us welcome onto the home stretch of our journey. Four weeks earlier we had sailed out of the Gold Coast bound northward. It was the realisation of a dream to escape the grim Melbourne winter and explore one of Australia's classic sail routes. We weren't sailors - in fact you don't need to be to find a berth on such an adventure. There are always captains and boat owners looking for crew of all levels of experience to help move their vessels north for the dry season and then southward again to escape summer cyclones.
Jeanette, our captain, lives and breathes the ocean sea, having sold her house to buy the yacht and live the dream years ago. With ten years of experience navigating in the area, she was the perfect travel guide. For four weeks we watched the contours of Australia pass us by with sun on our faces and a sail overhead. We made short trips between anchorages in postcard-perfect coves, fished, snorkeled and clambered over remote islands like kids in a Peter Pan film. Most places we visited were barely, if at all, accessible by land and well off the tourist charter trail that is mostly focused on the Barrier Reef further north. We'd finish each day silhouettes on deck, sundowners in hand, gazing out at the fading orange haze as the mackerel started to jump.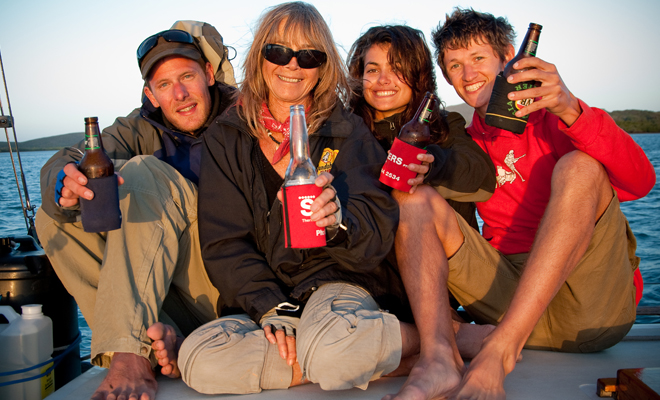 Moreton Island, Fraser Island, Pancake Creek, The Keppel Islands, Pearl Bay and The Percy Islands each featured on our GPS before disappearing again in our wake.
Arriving to the Whitsundays Islands was like icing on an already Michelin Star cake. Or perhaps it was more of a champagne stretch considering that on arrival we cracked a bottle of Moet we had reserved for the occasion. Over the course of a week Jeanette showed us her favourite islands, bush walks and snorkelling spots. But after five weeks and 1100 kilometres of adventure in paradise we inevitably had to head back to civilisation. Happily we had taken a good dent out of Melbourne's winter, where on return our tans caused a stir and our stories outright envy.
If you have a week or even a long weekend then you can enjoy the Whitsunday's too. Make Airlie Beach YHA your gateway to the islands. From the hostel, there are many different ways to enjoy the Whitsundays with party boats, less party orientated yachts for those who want to enjoy the serenity, and racing yachts for anyone who likes the wind whipping through their hair. Packages range from day trips, overnights and everything between 2-7 days and longer. Make sure to do your research and book a trip before you lock in your travel dates, to make sure you make the most of your time.