Surfing Queensland's Gold Coast
The sun is shining, it is going to hit the 20's today, and I am about to embark on my first every surfing lesson here on the Gold Coast! Out of his comfort zone, Leigh Reading discovered surfing and more on the Gold Coast.
Going surfing on the Gold Coast
It was 15 years ago that I visited the Gold Coast for the first time with my family. We stayed in a high-rise just across from the beach at Burleigh, making multiple trips across the road for a swim with my little sister. I remember meeting our cousins and visiting the theme parks where inevitably we would tire ourselves out and sleep the entire journey home. Most of all what I remember is the active and friendly nature of the locals. Every day you would see them on their morning walks along the beach - it must be something in the air and I'm quickly reminded of this when I'm introduced to Andrew.
Andrew Jekyll is co-owner of Get Wet Surf School on the Gold Coast, and one of the best experienced surf instructors in Australia. He greets me in a typically chilled way wearing thongs, board shorts and t-shirt, as I stand there in jeans. He is completely right of course and I change into my boardies and am given my maiden 'rashie' (wet suit) and surfboard. Not being the most coordinated person in the world, I think Andrew has his work cut out for him as he guarantees everyone that they will stand on a wave during their first lesson. Thank goodness the waves are perfect to learn on today. In fact they are every day of the year. Before you think I have stumbled into Narnia and found a magical surf break, I'm actually at Whitewater World at Dreamworld and am about to hit the wave pool.
Andrew takes us through a safety briefing and movements of getting up on the grass before taking to the water. I'm in a group of about 10 with a mix of Thai, American, Canadian, Dutch and Aussies. It's a great communal atmosphere as everyone cheers and laughs at the 'acrobatics' on display. The inevitable happens and I fall from my first wave. And second. And third. Each time though I am getting closer, Andrew gives advice on your previous wave before he gives you a gentle push onto the next. Wave number four is my shining glory, a long ride into the shore. As we continue wave after wave my confidence grows, and I feel like I have been out there for hours. I can see why people find it so addictive.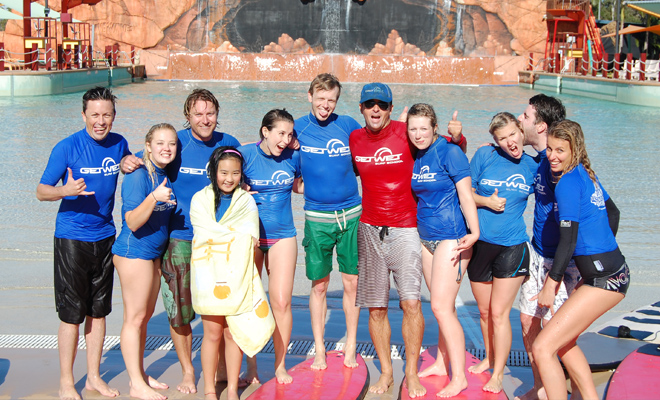 Best beaches on the Gold Coast
With 57 kilometres of coastline and some of Australia's best beaches, how do you choose which one to go to? If you are looking for waves and a great place to spend some time you can't beat Burleigh Heads beach. With its BBQ, parks, shops and cafes, it is perfect for a relaxing day or still hitting the surf and surfing Burleigh's famous point break. If you're looking to combine shopping with your relaxing in the sun, Surfers Paradise is the only beach to head to where you can relax in the sun after hitting the shops within metres of the beach. Taking a stroll through Surfers Paradise, I'm amazed how many changes there has been with a flurry of development both on the ground and in the sky - multi-million dollar shopping precincts, a number of huge 4 and 5 star hotels, and the redevelopment of the foreshore along the iconic Surfers Paradise beach all taking place.
Exploring the Gold Coast
I notice as I walk around that no matter where you are you're almost guaranteed to see the Q1 building looking over your shoulder. At 322.5 metres, it long held the title as the tallest residential tower in the world, so I thought I should go for a closer look. As I step into the lift, I'm told I'll be travelling in one of the world's fastest lifts taking only 40 seconds to arrive on the top floor, level 77. The Skypoint attraction is incredible as you are above everything and have 360 degree views for miles. It's all enclosed and you can even have a bite at the cafe. I remember that the high rises I used to stay in as a kid seemed big but this is something else. Planes and helicopters fly past at lower altitudes; it's very cool but somewhat unnerving at the same time.
I head back to the centre of town for something to eat. There are plenty of options from affordable eats to enjoy, or go to Circle on Cavill where you will find fine dining restaurants. I head to Wahoo's who are famous for their amazing Fish Taco's but mix Mexican with Brazillian flavours as well. It's the perfect food for the Gold Coast as you bask in the sun by the surf.
Visiting the hinterland
Not wanting to be the clichéd beach tourist the next day I take a day tour into the Gold Coast hinterland. Springbrook National Park is about 45 minutes from the centre of town and we start by visiting Natural Bridge. This bridge has been formed over millions of years as the above waterfall formed a pool and this gradually wore through the basalt, leaving us with the spectacle we see today. From there we go to the Twin Falls Circuit for a bushwalk through subtropical rainforest. Along the way we are treated to brief glimpses of wildlife including bush turkeys and we're serenaded by birds before arriving and seeing the falls. It dawns on me that this is pretty cool to be standing in a rainforest and knowing that some of the best beaches in Australia are less than an hour away.
Heading back as we go down the hill past more rainforest I'm feeling pretty relaxed. I think back over the activities I have done in the past two days and conclude that the Gold Coast could quite possibly be the best place for a leisure holiday or break in Australia, there's something for everyone. That's the thing really, over the past 20 years it has been a great holiday destination for all and as I've grown over the years, so has the Gold Coast. It continues evolving and even as life changes and I get older I know I can come back anytime.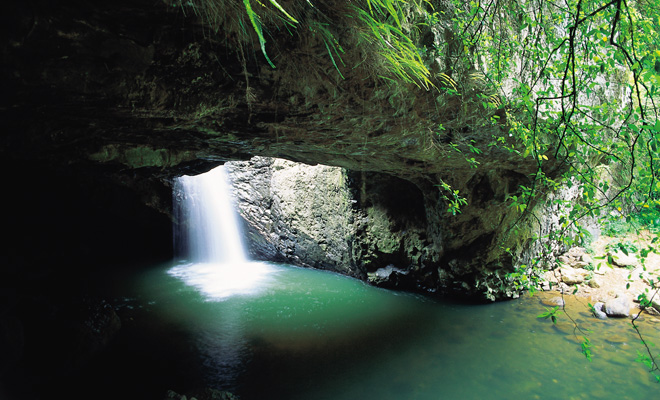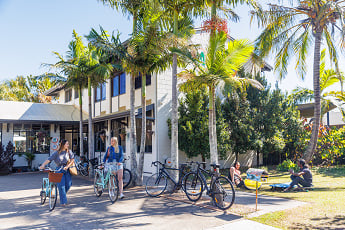 YHA Coolangatta (Gold Coast)
Barely a stone's throw from the airport, this charming, beach-adjacent YHA is an excellent choice for surf-lovers visiting Queensland's Gold Coast.