Taste of Paradise
Cairns has never been more delicious, writes Sarah Blinco, as she explores a food trail around Tropical North Queensland.
Tropical North Queensland
Lets list what I love about Cairns Cairns - reef, rainforest and other obvious beauty; beaches, rainforest, colourful markets, contemporary clubs, cocktails, cappuccinos and cool people.
The city is renowned as the 'gateway to the Great Barrier Reef', but the region presents everything quintessentially Australian including rainforest and the Outback, within one easily navigated area. In my view though, the best thing about North Queensland is that there's plenty of fun, adventure and tasty treats to be had that will not break the bank.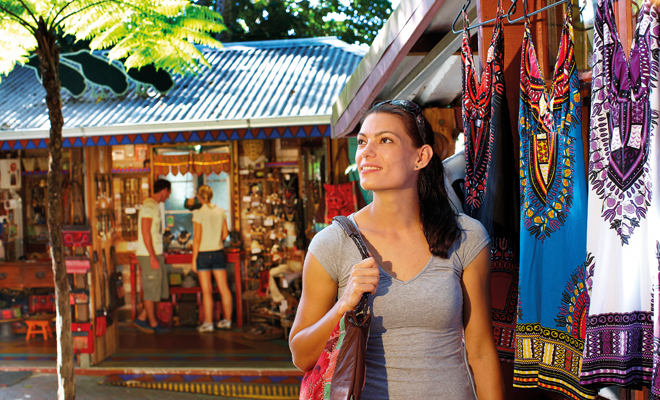 This fertile country is a thriving hub for locally-grown harvests, boutique wineries, delectable chocolate and coffee producers, and is quickly becoming a necessary pilgrimage for the health-conscious and organic or vegan-obsessed. It's entirely viable to indulge in an inexpensive sensory adventure in these parts; visit the foodie source, sample produce, and photograph picturesque scenery along the way, which is exactly what my partner and I did.

Our only problem was where to start. That's when I turned to a recent discovery, a handy free app called Taste Paradise, which piqued my interest because it solved the planning for us, and focuses on two of my great loves: travel and food.

The concept couldn't be simpler. Download the app, spin the plate and choose your own adventure. The featured 'food trails' outline five delectable itineraries which enable a traveller on any budget to see − and eat or drink − their way through the very best on the North Queensland menu, including restaurants, markets, wineries, cafes, farms and plantations. Hire a car in Cairns and follow the maps and descriptions to delightful destinations. You could choose the Coral Coast trail which winds throughout the city's special culinary experiences towards Palm Cove; the Rainforest road en-route to the Daintree and its bountiful natural offerings, or the Cassowary Coast option to experience authentic local sugar, banana and tropical fruit plantations as well as traditional country pubs, bush and secluded beaches south of Cairns.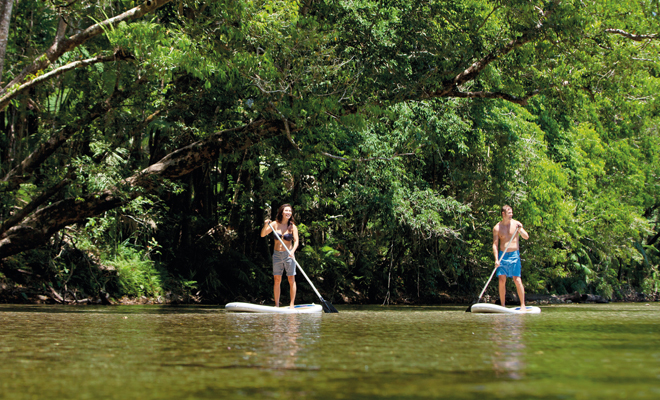 Five Free Foodie Experiences

1. Browse at the famous Rusty's Bazaar markets every weekend in Cairns. It's brimming with colourful characters and showcases a vast array of what's in season in locally grown exotic tropical fruits and unusual vegetables.


2.Golden Pride Wineries have two locations within the Cairns Highlands. Taste-testing is a treat, but you will find it difficult to walk away without shouting yourself a mango-inspired bottle of something for later.


3. Yungaburra market is one of the largest and oldest on the Tablelands. Plenty of food to sample as well as plants, clothing and craft for sale. Fourth Saturday of the month.


4.Gallo Dairyland is nestled within hilly, scenic surrounds just outside Atherton, and it's all about two important things: cheese and chocolate. Try for free before you buy!


5. Whether you venture to Kuranda rainforest village via car, Skyrail cable car, or scenic rail service, you're in for an enjoyable (and delicious) excursion. Two markets ('original' and 'heritage') are jam-packed with unique, bargain-priced goods and ample sweet, savoury, warm and chilled delights available for sampling.

Cairn's Highlands Foodie Journey Hot-spots

Kuranda Range Lookout on the way to Kuranda from Cairns offers magnificent views across the region. On a clear day you can see all the way out to islands and Reef, down to the city's suburbs and surrounding rainforest. Always worth a stop, if only to appreciate how lucky we are in Australia to boast such lovely lands.
You'll discover the Mount Uncle Distillery and Bridges Cafe just after Mareeba on the road to Atherton. It's North Queensland's first and only distillery, and is a popular spot to sample locally produced premium spirits, liqueurs and teas, but is equally renowned for charming landscaped gardens set within the brand's own banana, avocado and macadamia plantation.
Hidden within the Tableland's misty mountains on the way towards Malanda is what's known as the 'waterfall circuit'. Meander along the cool, rainforest-lined roads and discover a number of romantic waterfalls. Snack on your day's purchases while driving, or pause at locations like Malanda Falls or Millaa Milla Falls for pictures and a peaceful picnic.
Back on the main highway outside of the waterfall circuit, you'll spot a turn-off towards Mungalli Creek Biodynamic Dairy. This quaint property is positioned within what could almost be mistaken for rolling, green hills of Ireland. The on-site cafe's menu is tempting as is the farm's own award-winning selection of gourmet Greek-style yoghurt, soft and hard cheeses available for purchase.
You'll most likely head back down to Cairns via the scenic Gillies Highway, so keep an eye out for signs pointing to enchanting Lake Barrine, a crater lake formed as a result of a volcanic eruption about 10,000 years ago. Here you can explore rainforest or take a wildlife cruise and indulge in a hearty meal at the popular Lake Barrine Tea House.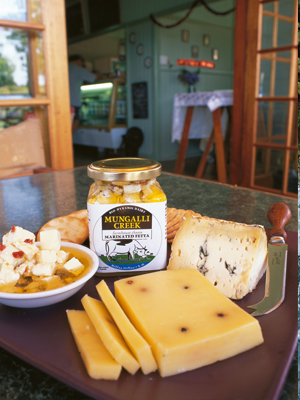 We combined a variation of two trails − Savannah Tablelands and Misty Mountains − up into the hills beyond Cairns to the Atherton Tablelands. Just one tank of petrol kept us cruising along on this approximately 200 kilometre round-trip, beginning and ending in Cairns, and travelling to Kuranda, past Mareeba, through Atherton towards Malanda and down the Gillies Highway to the city again. The scenery is ever-changing − ageless rainforest, dusty flat plains, fruitful pastures, mountainous trails, lush sprawling valleys, lakes, waterfalls, palm trees; a picture-perfect expedition of wild and natural landscapes.

Alongside an endless feast for the photographer's eye, there are plentiful opportunities for foodies, from mango wines, and more traditional reds and whites, to cheese, nuts, honey, chocolate, coffee, fruit, vegetables, ice-cream, beer and spirits − all produced from under our feet; even the famous Nerada tea plantation is up here.

Not only can you taste-test a variety of products, but you'll learn a little about what you're eating or drinking too, as well as interesting history surrounding the location courtesy of the friendly, passionate staff at each stop. For example, at Jaques Coffee Plantation we learnt how the world's favourite beverage comes to life, and how the Jaques family evolved their coffee production prowess across several continents and generations.
There's an abundance of scrumptious locations for everyone to discover in Tropical North Queensland. Plot preferences utilising the app, and you'll not only locate attractions you might never have known existed, but your taste-buds will thank you and you'll drive away with a wealth of distinctive insights and travel stories too.+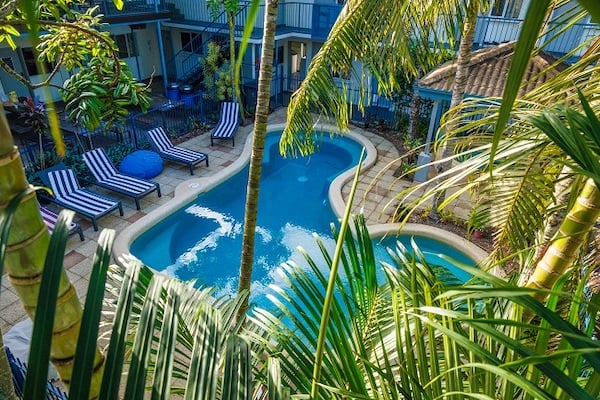 YHA Cairns Central
Centrally located in Cairns, this relaxed YHA offers a warm community feel, great outdoor living spaces and lush tropical surrounds.