Taste Testing New Zealand
David Whitely sets out on a gastronomic journey to discover which New Zealand locations taste best.
North Island NZ
One of my favourite ways to get to know a country is through its food. And I'd heard that New Zealand is a food-lovers paradise. That everything the locals sow, grow, rear and catch seems to turn to gastronomic gold. Oh, and what they ferment is pretty good too.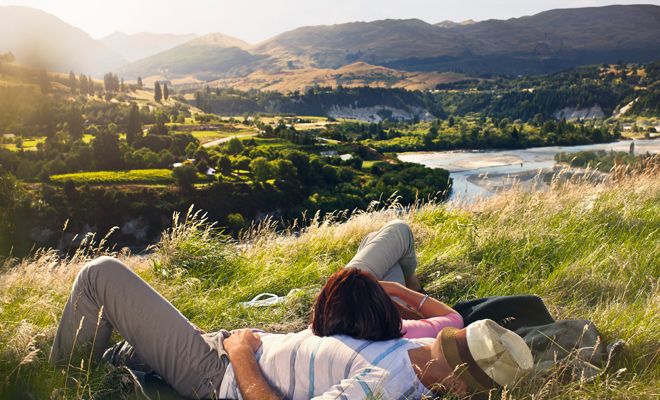 I wanted to taste it all. But rarely can good intentions have gone astray so quickly. The idea was to hop on the ferry from Auckland, go walking for a few hours, then head back. Unfortunately, it's quite difficult to go for a walk on Waiheke Island without passing a winery. Pick the right circuit and you'll end up trundling past a whole bunch of them.
The Cable Bay winery sums up the prevailing mood of Waiheke – it feels like a rich man's escape, with helicopters landing outside and weekend breakers tucking into lunch on the terrace. Sampling a few wines doesn't break the bank however – even if carrying the ones you buy afterwards makes the walk a bit more of a challenge.
Mudbrick is the next along the route and again the lure of trundling up the hill for a few tastings is too strong to resist. The guy behind the counter patiently explains the citrus and passionfruit flavours I should be looking for as I work my way through the list. I end up coming away with extra bottles of rosé and viognier, then clank my way round the rest of the walk like it's an army training exercise, albeit with bottles weighing down the backpack instead of bricks.
It's a fitting starting point for a drive across the North Island that becomes increasingly food and drink themed. The cow-strewn hillsides of the King Country show just how important the dairy and beef industries are to the country, while have-a-go prawn and trout fisheries congregate around Lake Taupo.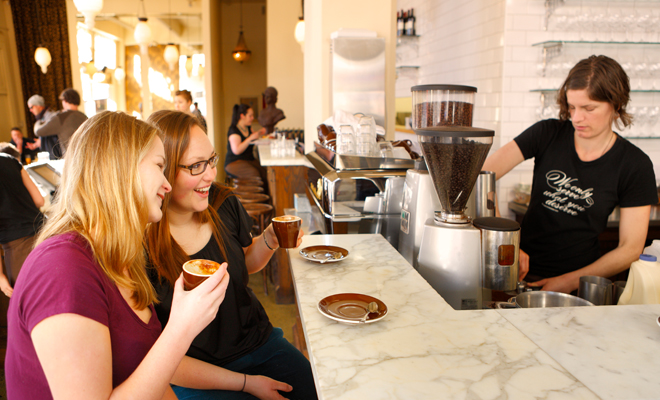 After passing through the endless vineyards of Hawke's Bay, Wellington quickly reveals itself as being almost nerdily obsessive about what it eats and drinks. The city proudly boasts of having more cafés and restaurants per capita than New York. A gourmet themed ramble through the city centre with Zest Food Tours hones in on the really good stuff, taking in waterfront coffee roasteries, honey tasting in a Maori art gallery and a Czech chocolatier. The latter – Bohemein on Featherston Street – insists on fresh ingredients designed to be consumed quickly and concocts flavour combinations such as pineapple and black pepper or balsamic vinegar and honey.
The tour moves on to what is arguably Wellington's foodie high temple. Moore and Wilson's is a supermarket in the same way that a tiger is a cat. Food is sourced from hundreds of high quality small suppliers and labelled so you know exactly where every cut of meat, bottle of extra virgin oil or block of cheese is from.
We tuck into a selection of the latter – creamy blue cheese, nutty five year old cheddars – and wash them down with a selection of apple juices. These are real eye-openers, with each one being made from a particular variety of apple. The range of tastes is astonishing for anyone accustomed to generic supermarket apple juice.
For something a little stronger, Wellington has also forged a reputation as New Zealand's craft beer capital. What was planned as one drink in the Little Beer Quarter pub on Edward Street turns into a multi-bar odyssey when I find a leaflet that maps Wellington's specialist beer bars. In the last two or three years these have mushroomed as the city has applied its knowledgeable fussiness about wine, coffee and food to beer.

Small brewers from around the country are doing great business here. An increasingly fuzzy ramble of discovery takes in Bohemian Hipster Pilsner in the Fork and Brewer, a Yeastie Boys Gunnamatta IPA made with tea leaves in Hashigo Zake and a feisty Parrotdog Bitter Bitch American Pale Ale in the Malthouse.

It's a very different walk from the one on Waiheke Island, but one with a disturbingly familiar end result.