The Alternative North Coast
Funky Country Towns, Secret Swimming Holes And A Good Dose Of "bohemia": Serena Renner Embarks On A Summer Road Trip From Sydney To Byron Bay.
It was the third day of our road trip when we reached Bellingen YHA and met the manager, a lean man wearing a hiking shirt, unruly hair tamed by a ponytail and no shoes. "You have arrived," he said. "This is the epicentre of Bohemia."
My partner Kevin and I were on this trip to explore Australia's edgier side. We had moved to Sydney a year prior from the Bay Area of California, arguably the capital of counterculture, and we were missing the free spirits that popped into our lives on what seemed like a weekly basis. Rather than go home to the States for Christmas, we decided to drive up the east coast to look for outsiders like ourselves. From Bellingen to Byron Bay, we'd see what characters, communes and left-of-centre customs we could unearth. We hired a vehicle, stocked it with surfboards and musical instruments and set forth for an imaginary place we called "Bohemia".
After camping over Christmas and Boxing Day in Hat Head National Park, we were in need of a hot shower, a kitchen and some social stimulation. That's where the manager came in. Before we knew it, he was revealing all his local secrets, from a self-sustaining eco village called Bundagen that runs tours every Tuesday to a nearby enclave known as "Promised Land", where swimming holes pool along the Never Never River. "It deserves its name," he said. "The water is so clean you can drink it."
We instantly recognised the "alternative" interior to Bellingen's heritage façade. There's a hemp store and a solar centre, for starters, plus a fantastic growers market, an organic food co-op fortified by edible landscaping and street art which, on our visit, included a stencilled pot plant on the sidewalk and the word "Hippies" painted in bubble letters at the bottom of a skate park bowl. The place feels progressive without being too out there. It's also surrounded by incredible nature, which we discovered on a soggy hike through the Gondwana-era palms, figs and ferns of Dorrigo National Park nearby. Why not spend a rainy day in the rainforest, we reckoned. It was a great idea, but not in thongs. At the end of the Crystal Shower Falls circuit, Kevin found a bloated leech burrowed under the strap of his sandal. I had one in my hair, which soon jumped to my eyebrow... Luckily, we weren't far from Promised Land: that mythical haven of rock pools where we could wash the blood and mud from our bodies, even if it made the water less drinkable.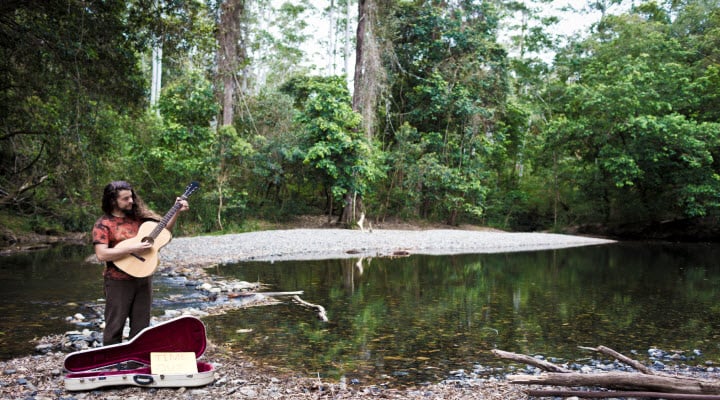 Despite some warnings that "Nimbin is Bohemia on crack", we had to see Australia's most notorious hippy town, so we drove a scenic stretch of road between epic rock formations and intentional communities with names like Bird Song and Journey's End to Nimbin's main drag, which is littered with tie-dye, murals and "herb shops". We briefly considered a vegan cafe fronted by bongo drummers and a zoned-out dancer for a drink, but opted for the spacious veranda of the Nimbin Hotel instead. A bearded man soon approached us with a joint, providing an opening to enquire about the town's infamous drug scene. "Coppers have been around a lot, ever since the fire," he said, referring to a bush fire that gave way to a raid a couple months before. "Taxi!" is the code word for police (since Nimbin doesn't have any taxis), he added.
On our way to Nimbin Rox YHA, which features dorm rooms, private yurts and hammocks that face impressive rock monoliths, as we received more than one solicitation starting with "Looking for something?" I was tempted to yell "Taxi!".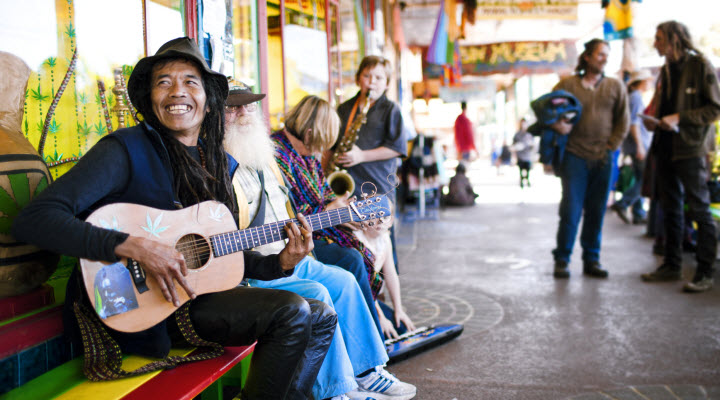 It was time to hit the coast: the health- and surf-centred town of Byron Bay, a magnet for beach bums, yogis, shoppers and foodies. There we walked to the Cape Byron Lighthouse and surfed at the Pass on longboards. We also scoured the New Age streets of Mullumbimby in the hinterland and settled for not-so-conscious bacon burgers at the happening Poinciana Cafe.
In the evening, back in Byron, live reggae riffs and sea breezes wafted through the Treehouse bar near Belongil Beach. Palm trees, grass-thatched umbrellas, lanterns made from recycled bottles and cushion-strewn velvet sofas set the scene. We got talking to a girl seated next to us who said she was from California. "This is my kind of scene," she said. I had to agree; it was just our style of alternative.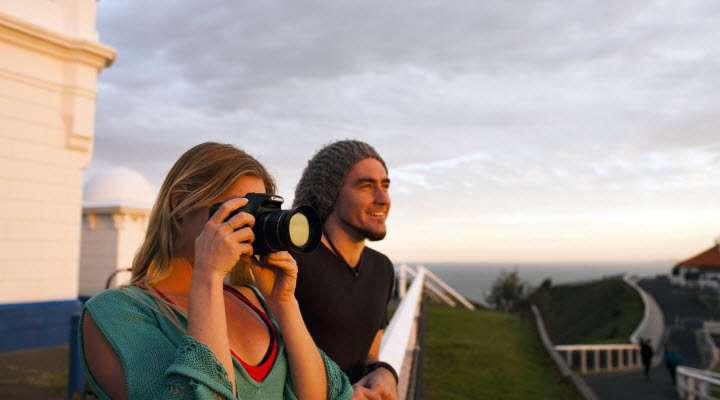 Brews Plus Tunes
No. 5 Church Street, Bellingen
Dorrigo potatoes are as sacred as Promised Land's water. Order the chips with fish, tacos or the green curry along with a Harvest Pale Ale from Bellingen Brewery and biodynamic peach gelato for dessert in a space outfitted with mismatched furniture draped in handmade crochet. Local bands take the stage several nights a week.
Nimbin Hotel, Nimbin
The giant patio at this renovated pub is a fantastic place to people watch and take in killer views of the Nightcap Range. Seventeen beers on tap include craft ales from Stone & Wood Brewery in Byron Bay, and there's live music and pool tables to entertain patrons into the wee hours.
Treehouse On Belongil, Byron Bay
Canopied by palm trees and grass-thatched umbrellas, the Treehouse at Belongil has the vibe of an edgy house party, complete with vintage furniture and fairy lights. Settle in with a wood-fired pizza or roast and a creative cocktail – the Mexican Standoff has a fiery kick – and enjoy music from top local acts.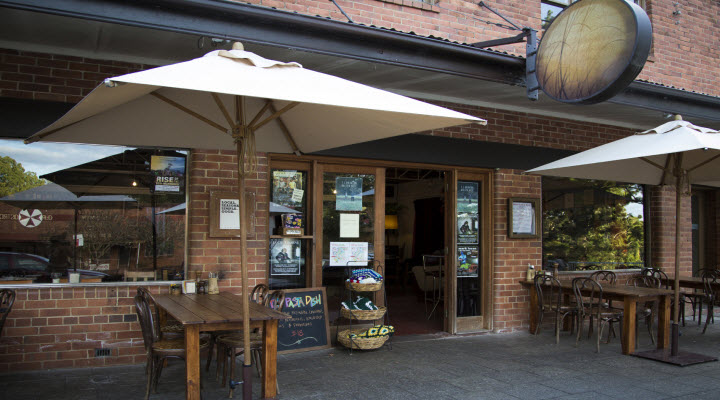 Wet And Wild
Dorrigo National Park
Even the drive to this World Heritage rainforest is defined by waterfalls, but there are many more concealed by Gondwana-era trees. The three-kilometre Crystal Showers Falls circuit loops out of the Rainforest Visitor Centre, while a more strenuous eight-kilometre track leads to the park's largest cascade: Red Cedar Falls, named for the surrounding trees. Keep your eyes peeled for Lyrebirds.
Promised Land
Just 15 minutes from Bellingen is a place so special early pioneers named it the Promised Land. A road circling the Glennifer Valley accesses the jade green Never Never River and several rock pools where locals escape the heat. It's no wonder a few famous Australians, including savant pianist David Helfgott from the movie Shine, live here.
The Pass
Byron Bay's most famous waves wrap around a rocky point crowned by the Cape Byron Lighthouse, marking Australia's most easterly spot. After you've played with dolphins in the water, hike the headland to the now-automated beacon, constructed at the turn of the century. Then grab a coffee at the Pass Cafe and cheer on the surfers.
Angourie
This tiny town near Yamba is settled on the fringes of a National Surfing Reserve, home to sea turtles and a renowned right-hand point break. Two freshwater swimming pools, filling former bluestone quarries just up from the beach, are popular for cliff jumping and summer wading.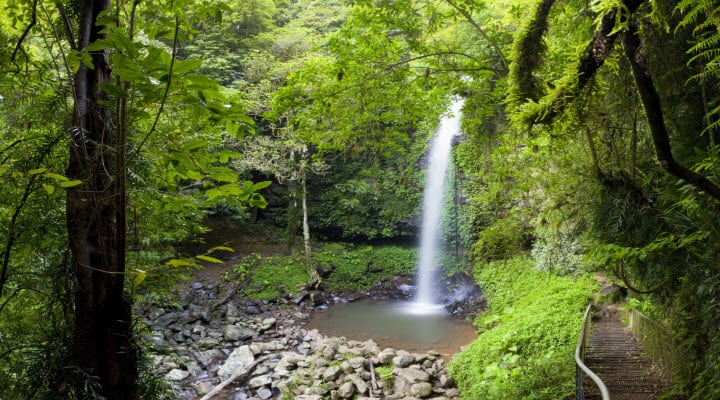 This story first appeared in the February 2016 issue of Backpacker Essentials. Read the latest edition now!