The Italian Job
writes Shaney Hudson
Find out how to mix history, culture and pizza on a tight Italian budget. By Shaney Hudson
Mixing culture, history and pizza on a budget was a challenge for Shaney Hudson whilst touring the Amalfi coast of Italy.
"You'll need two things for your trip to Italy" my Italian friend smirked "your passport and your Visa."

"But Australians don't need a visa to get into Italy" I replied, puzzled.

"Yeah they do. A Visa card, a MasterCard and an American Express- it's ridiculously expensive."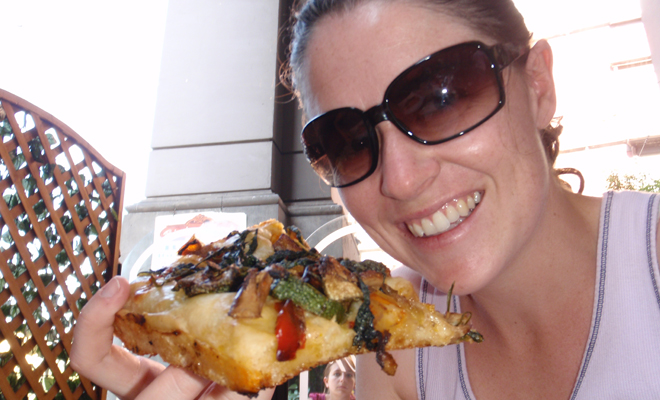 He wasn't joking. By the end of my first day in Rome, the temperature hit 40 degrees, and my Euros were perspiring like droplets of sweat. With wallet empty, it was time to strategise.

All roads may lead to Rome, but to really save money you have to get out of town. I headed south to the Campania region of Italy, with the city of Naples my first stop. Often considered a shifty place, Naples is a destination most Italians swear they won't ever visit. But this city on the coast is a diamond in the rough. Its people are animated, its food is divine and, thankfully, prices seemed to halve once we left Rome.

Naples is famous for pizza, and it's worth visiting just to try this fast food staple. In Naples, you eat your pizza one of two ways - with tomato, or with tomato and cheese. Some pizzerias in the centre of town have been operating for over 120 years.

Most people pass through Naples on their way to the world's best preserved and biggest archaeological site, the city of Pompeii, which was frozen in time when Mt Vesuvius erupted in 79AD. This is one destination where it's worth splurging on a guided tour. Wandering through the wide streets, you can see the grooves from the chariot wheels in the roads and the worn stone where people placed their hands to drink at the water fountains. Although the city seems quite grey in photos, getting inside the homes reveals frescos and murals splashed with bright primary colours.

Those in Pompeii believed in a life of pleasure, and just an hour down the coast in Sorrento, the tradition lives on. Sorrento is your typical Italian resort: aquamarine water, matching beach umbrellas, sheer sloping cliffs draped with grand villas and fruit orchards. And while this slice of paradise is expensive, there's a reasonably priced HI hostel in the centre of town.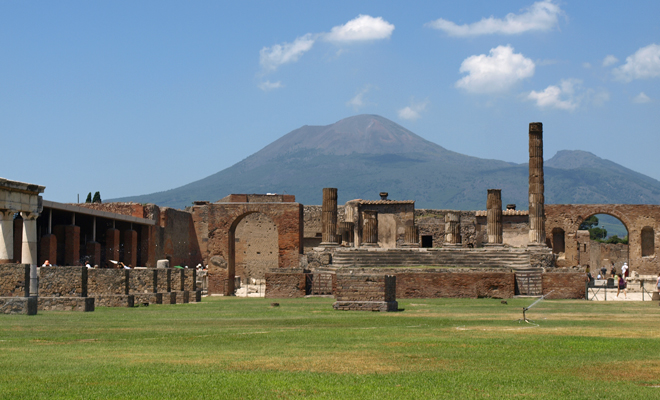 TRIED AND TESTED WAYS TO SAVE MONEY IN ITALY
1. Plan ahead: prebook your train tickets for a discount.

2. Stay out of the cities: cut costs in half by touring regional areas.

3. Turn water into wine: fill your water bottle at public drinking fountains around major cities

4. Breakfast is the most important meal of the day and is provided free in most hostels.

5. Go Alfresco: delis and supermarkets are filled with amazing picnic food.

6. Cross your legs: you'll pay to pee in most bathrooms.

7. Museum discount derby: students and EU passport holders often pay less for museum entry.

8. Travel slow: slower regional trains are cheaper, walking will save you lots of $$$ and public transport is efficient and dirt cheap - grab a 24 hour pass.

9. Get your timing right: Travel in the off-season where prices drop.
A favourite morning rituals in Sorrento is a daily espresso. After paying the cashier, I'd wait at the bar with the other locals before being served a tiny cup of thick coffee. After shotting the thick bitter coffee, I'd cleanse my palette by sipping the cup of lightly aerated mineral water accompanying it. It takes less than five minutes, cost less than a euro and is one of Italy's simple pleasures.
From Sorrento, it's worth a day trip to the island of Capri. The island is expensive, but if you pack a picnic from the local deli and take advantage of the free walking trails scattered throughout the island, it's a worthwhile excursion.

Capri's main attraction is the blue grotto, a small cave where the water shimmers florescent blue. For the three minute privilege of seeing this trick of light, boatmen will charge 10 Euros to row you into the cavern. But if you go after 4.30pm, you can swim for free with the locals.

I jump off the jetty into the Mediterranean and it feels like a baptism. Swimming into the darkness of the cave, I can make out a faint shimmer in the water, but the effect is a little underwhelming. Then I turn around to face the entrance, and the water glows like sparkling sapphires, a liquid blue haze that transforms the water. It is a stunning optical illusion.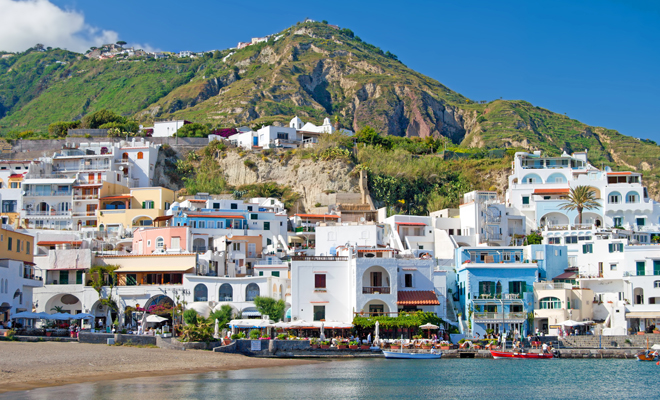 There are a number of similar grottos found further along the Amalfi coast, accessible by the Amalfi coastal drive. This narrow stretch of road that clutches the cliff along the Bay of Naples is considered one of the top ten drives in the world.

Those that like to feel the wind in their hair can hire a scooter for around 35 Euros, but a cheaper option is a prepaid bus ticket that runs along the coast between Sorrento and Amalfi. The six Euro ticket is valid for 24 hours and you can hop and off as you please along the way, including the town of Atrani, where the maze of alleys, stairs and clothes lines gave Escher his inspiration for his amazing drawings.
By the end of my stay in Italy, my budget had recovered slightly. Kicking back with a cup of lemon granita, I sat on the wharf in Sorrento and watched the sun dip behind the cliffs. Fireworks started to explode over two cruise ships moored off the bay. Sure, Italy had been expensive, but once I'd worked it out, I'd found that the best experiences were free.