The Three Faces of South America
Andes to Amazon
On a backpacking trip of a lifetime around South America, Megan Czisz came to appreciate the diversity of this popular traveller's destination.
With the coast clearly delineated from the Amazon basin by the epic mountain range of the Andes, the South American continent is divided into distinct geographical regions. From the surf breaks of Peru's Pacific coast to the depths of the Amazon jungle to surviving on the roof of the world in the Andes - it's not only the climate that fluctuates as you move between each area. Faces, food and dialect shift with the landscape and it's these that give the most lasting insight into life in South America.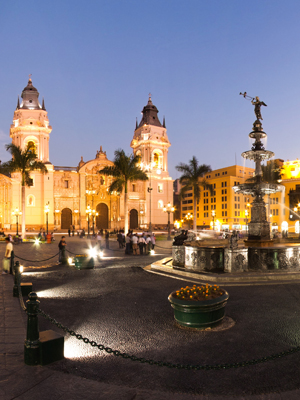 Surf's up in ... Lima?
Looking down from the edge of the cliff that runs along the Costa Verde, the surfers look small and far away. Their wetsuits are only slightly darker than the sea and they're tossed roughly with the wash. It's a misty morning in Lima, Peru and apparently, the surf's up.
Nearby, a para-glider catches the thermals and behind me on the promenade couples walk arm in arm, women push prams and serious fitness types jog by. It could be Bondi in the rain. It could be Byron Bay. It's not surprising I'm feeling close to home.
I'm discovering that Lima is not all it seems. Here in the Miraflores neighbourhood it's easy to lose track of the days in hip cafes and bars, downing pisco sours, indulging in Peru's now world-famous gastronomy and rubbing shoulders with wealthy locals who've studied abroad. Unusually, faces here have a strong Asian influence, thanks to past immigration from China and Japan. The historic downtown area has been revitalised in the past ten years with a fresh coat of paint and the buildings and cobblestones are straight out of Spain.
But Lima is one of the largest cities in the world and a wave of immigration in the 1970s sent the crime and poverty rates sky high. Outside the 'safe' areas violent crime is common. The city is so large that even the buses, imported third hand from Asia, don't cover more than fifty percent of the sprawl. I'm warned never to walk alone.
I do anyway. Downtown is buzzing with university students and I meet Barbara, a tour guide. She grew up here, attended university and loves her city but acknowledges it's an incredibly dangerous place to live. She's in a long-distance relationship with a man from the Netherlands and studying Dutch at a cost of $400 a month, which is about what the average Peruvian makes. She is planning to sit an immigration test at the cost of another several hundred dollars, with no guarantee she'll pass and no refund if she doesn't.
She is hopeful and it is her story, not the warnings of other travellers to be wary of the city, which makes me realise despite its influences, Lima is not a European city. Barbara cannot freely move between borders – as a Peruvian, the road to immigration couldn't possibly be more difficult or more expensive. But she is eager to learn and understands that unless she can prove a willingness to contribute to the economy and assimilate into the culture there is little chance that she will pass. I keep my fingers crossed for her.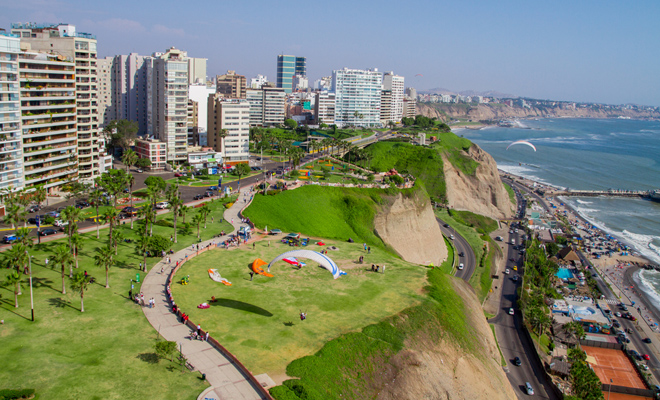 Out of the Amazon
'Mateeeeeeldo!' I shout.

I'm wedged awkwardly between two rock walls about five metres off the ground. The only things stopping me from falling into the murky crevasse I've just scrambled up are my back and shoulders, pressed tight against one wall, and my feet, firmly planted against the other. My legs are shaking. I try not to look down.

Slightly above me Mateldo, our jungle guide and very own Amazonian Macgyver, appears to be defying gravity, scuttling expertly along the canyon walls to reach me. He's wearing spectacles and smiling. He grabs my arm and shoulders and hauls me to safety. The rest of my group cheers. I suspect not so much at the fact that I didn't fall but at the sight of Mateldo's spectacularly tanned and bulging biceps.

For four days and three nights, he is our hero. Without speaking a word of English and machete in hand he leads us through lush rainforest, pointing out plants and even insects that can be used in a survival situation. He builds a raft from car tires and navigates us across rapids. At mealtimes he serves vegetable soup and jungle fruits and convinces us to eat live ants that taste like sherbet.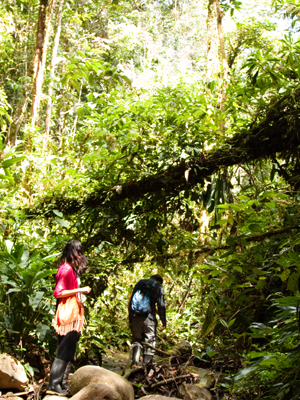 A natural guide, Mateldo looks younger than his 62 years. It's surprising considering he's spent much of his life in a jungle community close to Tena, one of the larger towns in Ecuador's Amazon basin, in the sun, fishing and using his own hand-crafted traps to hunt animals.

Wanting to give his eight children more, he decided one day to find work on the river, skin-diving for gold. He struggled to make a living until a foreign couple, inspired by his honesty, invited him to work for them at their jungle retreat.

Painfully shy, Mateldo was uncomfortable with tourists and fled, but the couple found him and convinced him to return to work. Twelve years later he's head of operations and maintenance at the lodge and most of his children have attended university.

One afternoon he takes us to visit a community very close to where he grew up. Only one of the elders is not too shy to come and say hello. And this is exactly why Mateldo takes his tourists there.
For many people a visit to the Amazon jungle is about encountering deadly wildlife and long hot hours lazing by the river. It's probably not about meeting the locals – and anyway, the area is so sparsely populated that less than five percent of Ecuador's population call it their home. But Mateldo and his story completely inform my Amazon experience and I can no longer think of one without the other.

By introducing tourists to the communities, Mateldo hopes this tentative contact will encourage locals not to be frightened of the modern world and will perhaps one day allow them to summon the desire and the courage to leave the jungle to craft their own exceptional life story beyond the confines of the Amazon.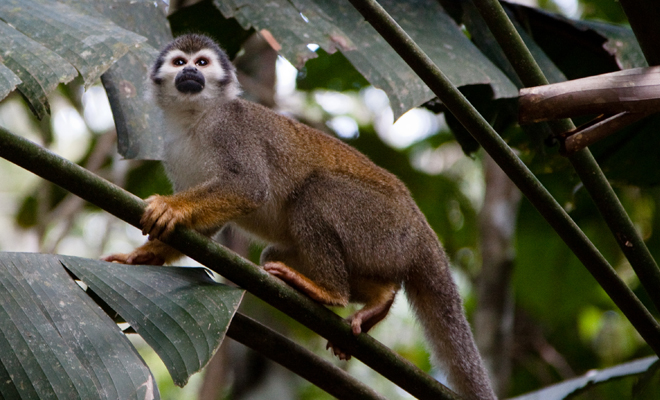 WHERE TO STAY

There are HI hostels in many South American countries, with some great places to stay include Amazon jungle retreats and big city hostels. Find out more at hihostels.com


The Bolivian Andes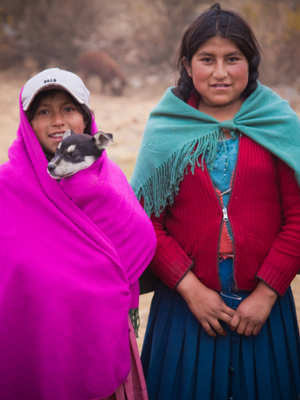 From far away the lone figure looks like an old Quechua woman. She's wearing a pollero, a traditional Bolivian skirt, along with several underskirts that dwarf her already small frame. She's hunched over, firewood strapped to her back. She stops to watch us gulp at the thin Andean air, on a break from our hike.

Our trekking guide decides we could use the firewood for our camp and beckons her over. As she draws closer I realise she is only about seven years old. She hides her smiling behind her scarf, tucks the fruit we give her into the folds of her skirts and hurries on.

In the early evening we arrive in the tiny village Pisili and locals invite us into their home to eat. The New Yorker in our group wolfs down the quinoa soup enthusiastically – it's the hippest grain in the world right now. I sip my sugary mint tea and concentrate on dunking the homemade unleavened bread into the soup, my appetite suppressed not so much by the quinoa I've already been eating in the Andes for lunch, breakfast and dinner, as by the altitude.

For indigenous communities in Bolivia, subsistence farming is a way of life and quinoa is one of the only food sources to thrive so far above sea level. Like chewing cocoa leaves to stave off the effects of soroche or altitude sickness, serving up the rice-like grain is a centuries old Andean ritual. And both are available by the sack full at Tarabuco market, where we head early the next morning.

It's a steady three-hour climb through heavy mist out of the valley. In the thin air we're overtaken quickly by traders who are headed to the market and carry their wares strapped to their backs.

After a night spent in the overwhelming hush and simplicity of the mountains, the chaos of Tarabuco on market day is a shock. The traders arrived well before us and their produce is spread out on tarps in the town's main square and market hall.

The bland Andean diet belies the huge range of vegetables, meat and dairy products on offer. I taste exquisite fresh goat's cheese and observe sacks of dried chilies and cinnamon and what seems like three hundred different types of potatoes, some of which bored looking teenaged vendors have pre-cooked and sell to market goers as snacks.

In the late afternoon we find ourselves at a chicheria, a kind of Bolivian speakeasy. At the end of trading people from nearby villages stop in for a beer on their way home. Most are too shy to approach our small group but acknowledgement passes between us and they are not unhappy to have us there.

When I remember Bolivia, and indeed South America, it's these experiences that stand out the most. The sights were not always particularly grand, I saw no wildlife apart from stray dogs and llamas and Andean and Amazonian cuisine is not about to be the next big thing. But in small moments, like meeting a young girl carrying wood to sell or learning the stories of Barbara and Mateldo, I feel like I've been given an insight, however small, into how South America's geographical diversity affects its people.