Tiki Tour Time
Sharon Rahiri explores some of Aotearoa New Zealand's Māori cultural hotspots will take you off the beaten track.
Travelling back roads, side roads and not-on-the-map roads are Sharon Rahiri's preferred mode of exploring some of Aotearoa New Zealand's Māori cultural hotspots.
I'm sure you've heard your kiwi friends' brag: "We're going on a 'tiki tour!'" Or for the Te Reo Māori inclined, a 'tipi haere.' The words, they sound kind of funny, but they're straightforward ways of describing the roundabout ways we kiwis like to travel: taking the scenic route.
My favourite tiki tour is one that takes me from north to south; from one island, clear across Te Moana-a-Raukawa (the Cook Strait), to the other. It's a tiki tour for soaking up some of Aotearoa New Zealand's Māori culture.

Near the top of Te Ika-a-Maui (the North Island) is a small settlement called Waitangi. Historically speaking, Waitangi is a pretty big deal to New Zealanders. Our country's founding document was signed there. Today, the Bay of Islands celebrates Waitangi Day, a national holiday, by hosting a three-day festival of music, dance, food and Māori culture.
In Waitangi, I immersed myself in that local culture by hopping into a 15 metre Waka Taua (traditional war canoe). Sixteen others sat with me with paddle in hand, while other Waka Tauas floated nearby. This wasn't a 'by invitation only' event. Anyone could join Taiamai Tours and paddle out on the Waitangi River estuary while being regaled with stories of ancient customs, rituals and traditions of the Ngapuhi tribe. Waitangi is home to the Ngapuhi and in addition to sharing their history; they were keen to teach us to chant.
As we made progress toward the sacred Haruru Waterfall, I thought how horrified my Ngapuhi husband would be if he saw how ineptly I paddled and chanted, and how expertly I managed to get soaking wet even while in the Waka Taua.
5 MORE MAORI TIKI TOUR HOTSPOTS

Māori culture is one of the main reasons travellers visit Aotearoa New Zealand. Sharon visited Waitangi, Rotorua and Kaikoura, but there are many more cultural hotspots than these. To get you started, check out these five additional hotspots:

North Island

1. Experience the cathedral-like stillness of Waipoua Forest at night and visit the world's two largest kauri trees with Footprints Twilight Encounterin Hokianga.
2. Stroll from Heaven to Earth with Tāmaki Hīkoibeginning at the dormant volcano, Maungawhau (Mt Eden), and past landmarks of historical significance to the Ngāti Whātua in Auckland.
3. Put a new spin on Māori art tours! Cruise Lake Taupo with Sail Barbary to see Māori rock carvings from an old yacht.

South Island

4.Ride the gondola to Bob's Peak and step into the world of Kiwi Haka in Queenstown. Feel the spirit in the fearsome haka, stunning poi display and more.
5. Take a historical pre-1850 amble walk along the Christchurch coast and inner city or visit the Ko Tane Pa (village) at Willowbank and have your mettle tested: do you come in peace or war?

TOP 3 WAITANGI DAY CELEBRATIONS

Waitangi Day marks the date when representatives of the British Crown and Māori Chiefs signed the Treaty of Waitangi on 6 February 1840. The Treaty formed the foundation of a new nation and saw New Zealand become part of the British Empire. Every year New Zealanders commemorate this event all over the country.

1. Celebrate where it all began and wake up with the birds for this traditional Dawn Service in Waitangi, Bay of Islands. Visit market stalls and watch the 20 waka on the water, including Ngatokimatawhaorua, New Zealand's largest ceremonial canoe. Don't miss the Navy Band's traditional 21 gun salute.
2. Demonstrators will get their hands dirty with blacksmithing, bread baking, wood carving, horse shoeing, saddelry and sheep shearing at the South Island's largest and longest commemorations at Okains Bay, Akaroa. The Okains Bay Maori and Colonial Museum hosts these celebrations that include a Powhiri (traditional welcome), hangi lunch, children's races, musket shooting and cocksfoot thrashing.
3. The Tangata Whenua (hosts) will welcome you onto the Orongomai Marae (meeting house) in Upper Hutt with a Powhiri (Māori welcoming ceremony). The bravest will feel shivers down the spine as the conch shell blows, opening the day of festivities.
WHERE TO STAY
A jaunt by plane or a scenic drive south is Rotorua – New Zealand's hub of hot springs, mud pools and Māori culture. Steam billows from cracks in the earth and the air smells like old eggs. I love the pungent geothermal mist, others hate it and the locals claim not to smell it.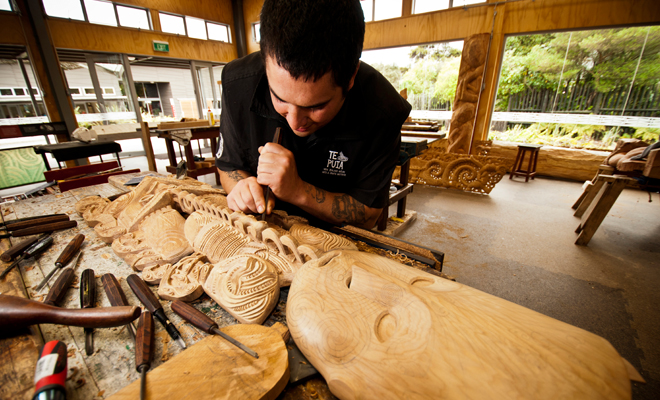 Rotorua sits squarely on New Zealand's Volcanic Plateau and the Pacific Rim of Fire. Settled more than 600 years ago by the Te Arawa, those early Māori lived the adage: 'necessity is the mother of invention'. They used the region's geothermal activity – geysers, steam vents and boiling pools – not only for bathing but also for cooking. A 98⁰C hot pool would cook an adult pig in two hours.

If you're a general fan of seafood and a specific fan of crayfish and Paua, then Kaikoura should be on your radar. Te Waipounamu (the South Island) coastal region heaves with seafood and is rich in trees and plants that have been used by Ngai Tahu for the last 800 years.

Ngai Tahu is the largest tribe in the South Island and members descend from 'Tahu Potiki' -son of Paikea the Whale Rider. Kaikoura local, Maurice Manawatu, is one of these descendants. His family guides guests into the Puhi Puhi Valley for bush walks and instruction in the traditional uses of trees and plants for food and medicine.

Arriving from the warm Pacific Islands, those early Ngai Tahu must have thought New Zealand a large, cold land with strange vegetation and even stranger flightless birds. Slowly they learnt to use the plants, along with karakia (prayer), to keep well.

Modern scientists are catching up to the Tohunga's (priest) expertise. Recent research shows what the Māori knew all along - that these traditional herbal treatments show promise. And after our bush walk, I now know that juice from the rimu tree is a worthy combatant to balding.

At the end of my tiki tour, I sat in Maurice's lounge with a coffee in hand surrounded by his family and new friends. Maurice tuned up his guitar and began to sing.