Time to Party
Clear Your Calendars, Book Your Tickets And Get Ready For The Northern Hemisphere's Best Festivals. By Shaney Hudson
Festivals are an exercise in organised chaos, frivolity and freedom. Sometimes they're a pilgrimage - a light on the horizon we dream of, other times they're an unexpected surprise when we arrive in town. Regardless of how big or small, how well known or obscure, at their core festivals are about celebrating with a community.
So get ready to mark your calendars, book your tickets and pinpoint the nearest YHA, as you pack your bags for some of the Northern Hemisphere's best festivals.
Calgary Stampede
Calgary, Canada
July
There are few places in the world where you can see a genuine chuck wagon race, but the Calgary Stampede is one of them. Held over ten days, Canada's legendary stampede is the world's largest rodeo. The whole city gets in on the act, with parades, floats, celebrities and big-name concerts. The highlight here is the classic caravan breakfast - hot pancakes - served up free around the city each morning. Pack your cowboy hat for western fun.
More Info: calgarystampede.com
Nearest hostel: HI-Calgary. Book at hihostels.ca
Pushkar Camel Fair
Rajasthan, India
October/November
At the onset of winter, over 200,000 nomads descend on the small lakeside community of Pushkar for the annual Camel Fair, bringing an incredible 50,000 camels and livestock with them to trade. The desert explodes with colour as the town celebrates with a series of wacky competitions including camel racing, longest moustache, and that old family favourite; tug-of-war, made all the more endearing by the fact it's contested by women in bright saris. With dancing, music, markets, elaborate feasts and fireworks, this is one of those unique festivals that has to be seen to be believed.
More info: incredibleindia.org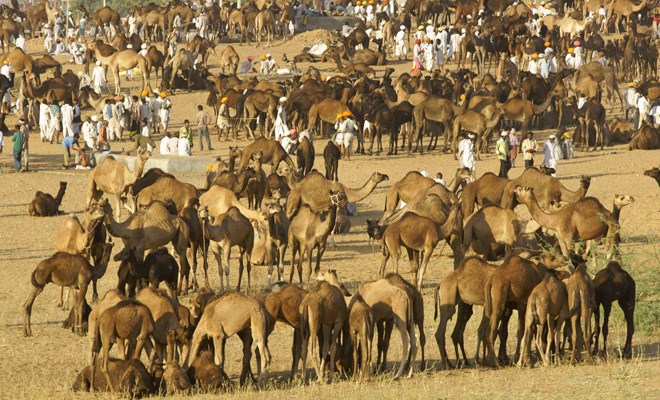 Las Fallas
Valencia, Spain
March
Held over five days, this festival of light and fire has been held in the historic city of Valencia since the 1400s. Huge satirical puppets and floral displays several stories high are built by competing neighbourhoods, which are then displayed in the city for five days of fiesta. On the last night, all of the displays (which are packed with firecrackers) are burnt to the ground. Only one is spared - to be housed in the city's Las Fallas museum. Fireworks explode and the city parties throughout the night.
Nearest Hostel: Red Nest Hostel, Valencia. Book at hihostels.com
Oktoberfest
Munich, Germany
October
The path to this festival may be well beaten, but who can resist the smell of stale beer in the morning? An oldie but a goodie, Oktoberfest is the kind of thing you have to do once in your life. Held over 16 days, punters down over 16 million litres of beer in the 16 tents set up in the fields round Munich. At heart, the festival is about the simple things - sitting down with mates and sinking a stein, making new friends and getting a little tipsy.
More info: oktoberfest.de
Nearest YHA: There are two hostels here – Munich Park and Munich City. Book at hihostels.com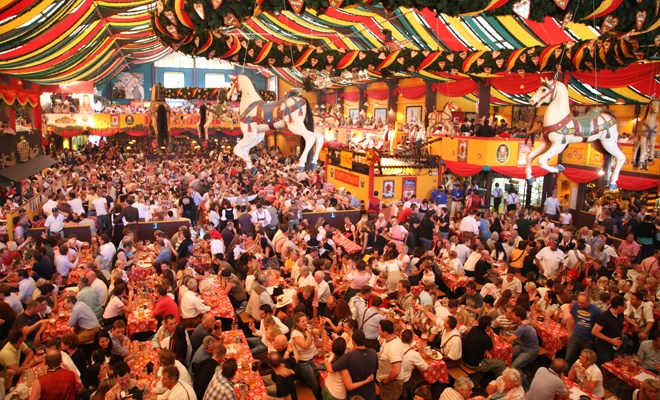 Running of the Nudes
Pamplona, Spain
August
Pamplona is best known for the Running of the Bulls where gringos fill themselves with liquor and run in front of a group of frightened bulls, who are later killed for entertainment in front of a huge crowd. But seeing animals slaughtered isn't everyone's cup of tea: enter the clever counter festival, the Running of the Nudes.
Set up as a protest by PETA in 2002, the Running of the Nudes is a naked protest that takes place two days before the Running of the Bulls. The event has become a tourist attraction in its own right. Up to a 1,000 activists strip down to their birthday suit, don bull horns and march along the route the bulls run, accompanied by music and banners.
More Info: runningofthenudes.com
Nearest YHA: Fuerte de Principe hostel, Pamplona. Book at hihostels.com
>
St Patricks Day
Dublin, Ireland
March
Get into green and dust off your shamrocks to celebrate the feast of St Patrick in Ireland. Dublin is the epicentre of the worldwide St Pats celebrations and the week-long festival takes over the city as the country celebrates. The highlight is the St Patrick's Day parade through the city, although some will argue the best way to enjoy the day is to settle into a corner pub somewhere with a pint of the black stuff and simply soak up the atmosphere.
More info: stpatricksday.ie
Nearest YHA: Dublin International YHA. Book at anoige.ie
WORLD FESTIVALS
INTERESTED IN A FESTIVAL THAT'S A LITTLE MORE EARTHY?

Songkhran, Thailand: Be saturated in water and covered in flour as the world's biggest water fight helps ring in the Thai New Year. See amazingthailand.com

Trinidad Carnival: Find the rhythm in this all day, all night carnival where you'll be flecked with paint and groove on the street until dawn. See gotrinidadandtobago.com/trinidad/carnival

Nadeem Festival, Mongolia: Shack up in a ger and enjoy this festival of manliness where men can prove their worth in three events - wrestling, archery and horse-riding. See mongoliatourism.gov.mn

Did You Know?

1969's seminal music festival, Woodstock, was originally planned to attract 50,000 people. When over 400,000 turned up to the 3 day festival, organizational chaos ensued, but the festival is still best known as the highpoint of the '60s hippie lifestyle and culture.
Music Festivals
Glastonbury: The world's biggest (and some would claim the best) music festival. It runs over three days in June and tickets are already sold out for 2010; however you can register for the second issue of tickets at glastonburyfestivals.co.uk. With U2 the 2010 headlining act, this is the year to try and get tickets.
Reading Festival: Held over three days in August, Reading is well known for its rowdy crowd, who throw plastic cups and bottle bad acts off stage. 50 cent lasted twenty minutes during his set, and John Mayer clocking in a measly ten seconds before being bottled off. See readingfestival.com
Coachella: California's best known festival is held in April in the desert at Coachella Valley. Star spot during the day (Hollywood starlet Scarlet Johansson jumped on stage for a duet last year), and be sure to check out the alternative art installations placed around the stages. See coachella.com
Lollapalooza: Unlike most other music festivals which end up in the middle of nowhere, Lollapalooza is set in the middle of Chicago, offering easy access for festival-goers. With 8 stages, this three day Indie music festival has grown in popularity after almost dying off a few years ago. See lollapalooza.com and try the excellent HI Chicago for accommodation.
Roskilde: This is the festival you haven't heard of, but the one that offers the strongest line up each year. The concert is run by a not-for-profit group with an aim of promoting music culture over making money. 100,000 people descend on this town in Denmark from the last Sunday in June and the concert begins on the Thursday, making it a week long music love-in. See roskilde-festival.dk/uk