Top 10 weirdest foods from around the world
Take a trip around the world with your taste buds and see what kind of dishes you could chow down on your next trip. Pro tip: you might want to fill up on the hostel breakfast before you go out looking for some of these.
Sannakji – South Korea
Sannakji is a dish of live, wriggling octopus tentacles, served fresh and raw with a dash of sesame oil. The suckers on the tentacles have been known to latch on inside consumers' throats, so perhaps chow down with a little extra care. If this doesn't make your stomach squirm, we've got plenty more coming.
Check out hostels in South Korea.
Hákarl – Iceland
Hold ya nose while you munch on this one, because this Icelandic delicacy is made of cured, rotten shark. The shark carcass is placed in a shallow pit, covered with sand, pressed with stones and left for a couple of months to ferment. It's then dried out, cut into strips and served to the bravest of brave.
Check out hostels in Iceland.
Bird's Nest Soup – Southeast Asia
This Southeast Asian high-end delicacy ain't made out of twigs love, but of gooey bird saliva instead. The saliva turns hard when exposed to the air high up on cliff faces where the nests are built. It's harvested by brave climbers and dissolved into a popular soup, which apparently tastes and feels like egg drop soup! Yum!
Check out hostels in Asia.
Sourtoe Cocktail – Canada
The sourtoe cocktail hails from Dawson City in northern Canada, and involves a tumbler full of your choice of spirit and one small additional ingredient – just a casual mummified human toe. There's only one rule for bar-goers who want to face the notorious drinking challenge – "you can drink it fast, you can drink it slow, but the lips have gotta touch the toe!"
Check out hostels in Canada.
Escamoles – Mexico & Central America
Escamoles is the larvae of an ant species who like to lay their eggs in the roots of agave plants. They're harvested and are quite the popular filling for tacos or omelettes, apparently having a nutty taste, cottage cheese like texture, and full of lip-smacking nutrients!
Check out hostels in Central America.
Casu Marzu – Italy
Who doesn't like fine Italian cheese? Casu Marzu, also known as 'maggot cheese', has got a little bit of a rotten twist to it. The cheese is left open for flies to lay eggs, where maggots then hatch and burrow into the cheese to "enhance the flavour". You can choose to eat the tongue-burning cheese with or without the maggots still wriggling around in it. What would you do?
Check out hostels in Italy.
Cuy – Peru
Remember your first pet guinea pig? Well try not to when you visit Peru, because roasted guinea pig (also known as 'cuy', a larger breed) is a staple to the diet, and is typically served whole. Tastes like chicken?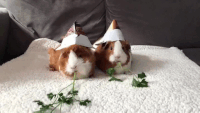 Check out hostels in Peru.
Ambrosia Salad – USA
This nutritious dish is made of jelly, or jello for the Americans out there, mixed with fruits such as mandarin and pineapple, whipped cream and mashmallows. Now that's our kinda salad.
Check out hostels in the USA.
Kangaroo – Australia
Australians do it weird down under, so weird that they actually eat their own national emblem, their mate Skippy the kangaroo. Slap it on the barbie and eat it as a steak or throw it on a burger bun.
Check out hostels in Australia.
Pineapple Sandwich – South Africa
We could've thrown in another weird animal or insect, but here's something a little tamer to finish off with – South Africa's pineapple sandwich. Made up of, you guessed it, a big thick slice of pineapple between two pieces of bread, and lashings of salted butter. Sweet and salty? Yes please.
Check out hostels in South Africa.