Training It
There are few more memorable ways to travel in tropical Queensland than by train, writes Ben Groundwater.
It's not what you get with train travel; it's what you don't get. That's the appeal.
Sunday evening at six o'clock, and you prepare yourself for the worst. A long check-in queue, then more of the same at the security scan. Probably one of those random explosives tests, a nice little rub down with a fuzzy stick. There'll be a flight delay, of course, at this time of night, with all the little glitches of the day backed up on top of each other.
Then you remember: you're not going to the airport; you're on the train. None of that applies.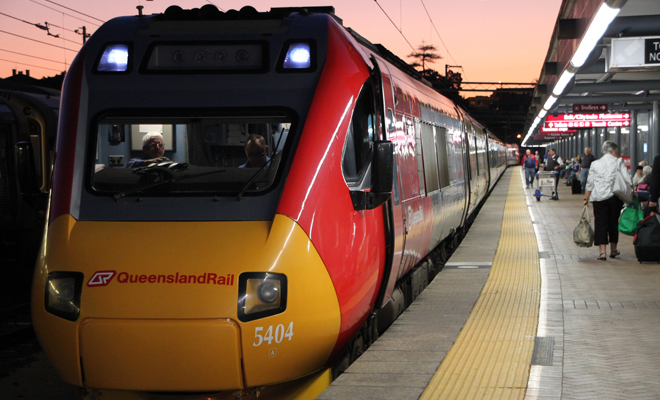 My train's due to pull away from the station at 6.30pm, which in Aeroplane Land would mean leaving the hostel in Brisbane by about five o'clock. Latest.
No such hassles today, though – as the escalator eases me up onto the platform at Roma Street Station the clock is just ticking past 6.20. I left the hostel 10 minutes ago. There's no queue to get on the train, no security screening to make it through. My laptop stays in my bag, my hat stays on my head, and my bag goes unmolested. It's almost strange.
This isn't the way most people get to Airlie Beach. It's miles to the north, thousands of kilometres, and most people choose to fly that sort of distance these days. However, I've got the time to slow things down a little; to take out the hassles of air travel and replace it with the ease and romance of the train. It's no short trip – I've got 14 hours ahead of me on the QR Tilt Train, Australia's version of high-speed rail. But I plan to enjoy it.
The sun is gradually setting as I climb aboard, throw my bag into an overhead locker and settle into a seat. Somewhere in the back of my brain are the vaguely ticking remnants of a hangover from last night's frivolities – an evening at the rooftop social area at the Brisbane YHA on a warm Queensland night that's beginning to catch up. This current lack of stress couldn't be any more welcome. Fourteen hours in one spot? Fine with me.
Train travel has a romance to it that seems to be best appreciated by the older vintage of traveller. They're packing the seats around me, some playing with the in-seat entertainment systems, others chatting, one fretting about a pair of glasses that have been sadly left on the table next to the armchair. At home. No movies for her, then.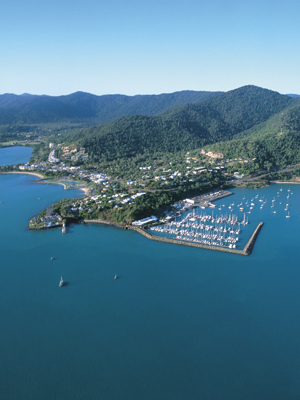 For the rest of us it's a chance to sit back and relax as the brakes are let out and the Roma Street platform glides slowly past our window and into the distance. Pretty soon the familiar click-clack, click-clack of train travel becomes the soundtrack to the journey, an oddly soothing rhythm for a beer-frazzled brain. It's all I can do to keep my eyes open until the dinners are brought around. That scarfed, it's time to find a comfortable position, tune in to a movie – Sucker Punch for me – and let the gentle roll of the train ease my way into a slumber.
There are vague snatches of action during the night: someone coming past with a hot drink from the restaurant car; the lights from a station somewhere deep into Central Queensland; a couple of new passengers dragging their suitcases past.
Soon the sun is coming up, and the buildings of Brisbane have long been replaced by the endless sugar cane fields that surround Mackay. I can hear one of my fellow passengers pointing out the crops that are no doubt farmed by hardy local Queenslanders. "For all their whinging," she's saying to her companion, "there must be money in sugar cane. I mean, they're planting enough of it."
Breakfast is brought around soon after we leave Mackay. My iPod is dying a pitiful, battery-related death, but there's a solution: the power point next to my seat. Thank you, train travel. A quick search for the right cord, and I'm musically sorted all the way to Proserpine, the jump-off point for Airlie Beach visitors.
Setting Sail
Airlie is just waking up as our transfer bus from Proserpine trundles in. This is a town that knows how to sleep in – when the bulk of your residents are backpackers, there's no such thing as a quiet night at the local pubs. It makes for some slow mornings.
Shute Harbour Road is lined with hostels, travel agencies, internet cafes and cheap restaurants. The YHA is down the far end of the street, and isn't quite as plush as its Brisbane cousin, but it's still by far the cleanest and friendliest on the Airlie strip. I've only got one night to enjoy it though – tomorrow I'm indulging in the activity most people visit Airlie to experience: a sail around the Whitsunday Islands.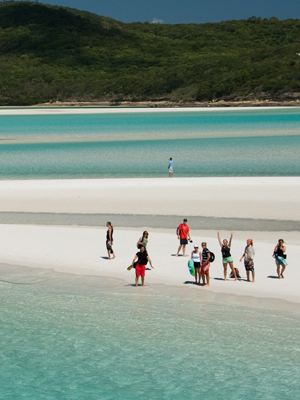 Sailing, like the train trip, is an old-world way to travel, slow and deliberate. The joy is as much in the journey as the destination. We'll be taking two days to wind a gentle passage through the Whitsundays, calling in at the famous Whitehaven Beach before sleeping to the rock of the ocean and waking to the smell of sea salt and freedom.
It's a bleary-eyed bunch of us that rolls up to the marina that next morning to board the Siska, a former racing maxi now decked out to take passengers. We're a group of 13, a broad range of ages and nationalities, from a French lady in her 60s to a 22-year-old Korean girl. We each bag a bunk down below, then head up onto the deck as the boat makes its way out of the marina and into the wide green ocean. This is what northern Queensland is all about.
We make our way to Whitehaven to marvel at the pure silica sands. Then we hoist the headsail and cruise around to the leeward side of Whitsunday Island to anchor for the night. There's a huge meal of spaghetti Bolognese being whipped up by the onboard chef. Barbara, an Italian girl, is looking silently horrified across the table from me. "He snapped the spaghetti in half," she whispers, nodding at the chef. "Why would he do that?"
Spaghetti incident aside, it's a quiet night that eases into a warm morning, with cereal and coffee to open the eyes. The real kick-starter, however, is jumping in the cool tropical waters to do a bit of snorkeling. Damn, that's chilly. Worth the pain, though – the coral and fish life is incredible.
Pretty soon the Siska's sails are back up, however, and we're making our bumpy way back to Airlie Beach at a fair clip. It's the end of the line – most of the travellers on board are continuing their journey around Australia; I, however, have to head to Hamilton Island to catch a flight back to Sydney.
And you know what that means: x-ray scanners, explosives swabs, and all those queues. Makes you wish you were back on the train.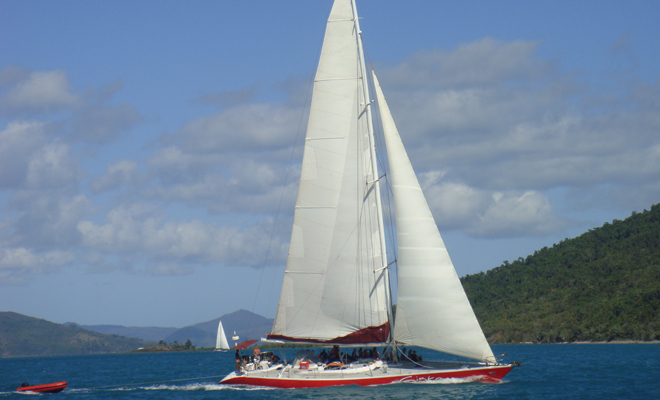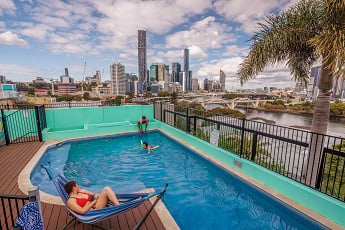 YHA Brisbane City
Nestled in Brisbane's traveller precinct and within walking distance of Suncorp Stadium, this buzzing, diverse inner-city YHA boasts a rooftop pool and bar.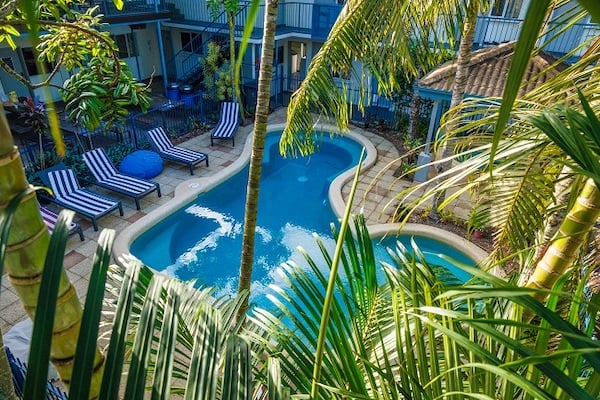 YHA Cairns Central
Centrally located in Cairns, this relaxed YHA offers a warm community feel, great outdoor living spaces and lush tropical surrounds.