Urban Cool - Melbourne
Urban diva, and born and bred South Australian, Di Caught ranks Melbourne as her favourite city destination.
I love Melbourne, I really do. And because of that, I try to visit as often as possible, because no matter how many times I visit, there's always something more to do, something that keeps me thinking of Melbourne in between visits and something that gets me to plan my next visit while I'm still there.
My time in Melbourne is always jam-packed from the moment I wake to when I collapse into bed, smiling and exhausted from another amazing day and night in my favourite city. Days spent meeting friendly locals, hearing and seeing fantastic music, buying new clothes, eating delicious food or being surrounded by hipness everywhere I go.
Café Culture
And so, I'm going to take this opportunity to give you a teeny slice of the special and unique experiences that Melbourne has to offer. Things that I have learnt from years of visiting and falling in love with the city; little pieces of local knowledge mixed with days, weeks and months of dedicated research, and unforgettable time spent in cafes, markets, bars, shops and more.
First of all, a visit to Melbourne is not complete without at least one cool café discovery. It's easy - just stroll down any of Melbourne's happening streets. There's the infamous Brunswick Street in Fitzroy, the very popular and tres chic Degraves near Flinders St Station where you'll be forgiven for thinking that you are in Europe, and while you're here, check out the colourful and popular graffiti lane it's oh so Melbourne. Or take a tram to Ackland Street in St Kilda for some salty sea scents.
Now you've found your café, sit down, sip slowly, take a look around and soak up the scents, sights and sounds of your surroundings. There's likely to be a copy of one of Melbourne's street press magazines like Beat or Inpress lying around to give you plenty of ideas on which great band to see. After all, Melbourne does have an outstanding reputation as a live music Mecca.
Rose St, Melbourne
You're probably starting to get itchy feet having taken the time to acclimatise yourself to the feel of the city, so I recommend you get up immediately, pay your bill and start getting busy.
You could move on to one of Melbourne's popular markets for a spot of shopping. There's something for everyone with the very special Farmer's Market at Collingwood Children's Farm, which is a little piece of country charm in a busy inner city suburb. The Queen Victoria Market is at the northern corner of the city with the best range of souvenirs, bargain clothing, live produce (as in clucking chickens, quacking ducks and swimming fish) alongside fresh fruit and vegetables and gourmet treats. Or, for your more unique one-off, arty finds, you will be impressed by the talent and diversity at the Rose St artist's market just of Brunswick Street in Fitzroy.
If shopping 'til you drop is your thing then it would be pretty hard to be disappointed. The city has many streets, laneways, arcades and centres filled with shops for all tastes. There's even a DFO (Direct Factory Outlet) in the sparkling Southern Cross Railway Station on Spencer Street. For the original bargain zone, try Bridge Road in Richmond for a pumping street of bargain shops. Or if you've got a little extra cash burning a hole in your pocket and you want all the latest fashions, you really can't go past Chapel Street. It's great for people-spotting with anyone who's anyone strutting their stuff up and down the pavement at regular intervals whilst it's more alternative little sister street, Greville Street, is a great reprieve from the bustle and leads you to the local train station.
With shopping out of the way, lunch eaten, markets visited and streets pounded, you're probably ready to get social, enjoy a nice cold drink and perhaps even be entertained. Well, have I got some treats for you.
DI'S TIPS
GETTING THERE

Watch out for last minute airline bargains.

GETTING AROUND

Melbourne's famous trams run near or right outside all the YHAs and will get you round the city centre in style.

WHERE TO STAY

Whatever your travel style is, YHA has you sheltered in Melbourne. The addition of Melbourne Central YHA on Flinders Street means YHA has two hostels, with Melbourne Metro in North Melbourne – both fun and close to the action.
Let Melbourne Entertain You
Firstly, if you're lucky enough to have a spare Saturday afternoon up your sleeve, I highly recommend that you make your way down to Fitzroy Street in St Kilda to the George Public Bar. Be game - walk down the stairs from the street and you will be in for one of the most memorable afternoons of your life. This very Aussie "Saturday Arvo Session" has been a weekly tradition amongst locals and travellers alike for at least 10 years now, mainly due to the high calibre of entertainment provided by the much adored Clip Clop Club. This band of seven assorted and endearing characters will sing and play their way into your heart with their seemingly limitless bounty of songs that will have you smiling the afternoon away.
Next thing you know, the afternoon will be over and it will be time to head back to the city and find something a little more chilled out. Without a doubt, Melbourne will have what you're looking for.
Day or night, you will find a fine selection of beautiful, quirky or otherwise rooftop bars – the latest and definitely greatest craze since smoking was prohibited. Here you can make like the birds and take in some of the finest views the city has to offer whilst listening to toons, eating great snacks, mingling with the in crowd or just contemplating your new love for my Melbourne. One of my favourite rooftop haunts from my last visit is Madame Brussels. This is a kooky original concept where all staff wear tennis whites, most of the décor is pastel pink, white or green and the rooftop terrace gives you the feeling you could be nesting somewhere in gay Paris – this place is a real must.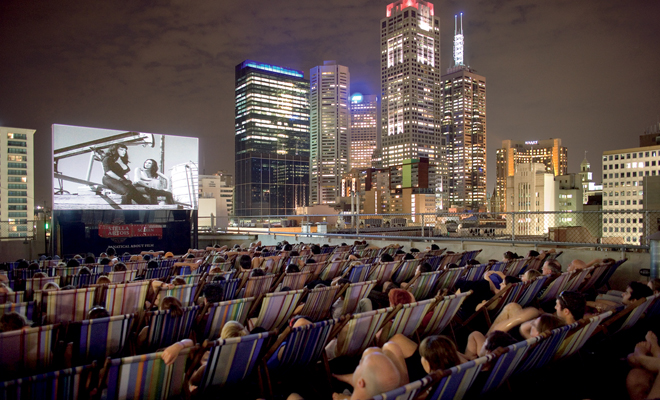 And it just keeps getting better. Have you ever experienced a rooftop cinema? Melbourne's got one of them and it's aptly named Rooftop Cinema! Boasting very stylish and equally comfortable striped deck chairs, you can lay back and take in the movie whilst marvelling at the incredible skyline that you are now a part of. Housed on top of the historic Curtin House building on Swanston Street, Rooftop Cinema shares the top of the building with Cookie, one of the original rooftop bar/restaurants. This is always packed with a predominantly student crowd ready to while away the hours a comfortable world away from the bustle and chaos of the city streets below.
So there you have it – a tiny wafer of Melbourne, my way. Now get out there and start exploring. I'm sure that like me, you'll keep heading back for another fix time and time again.