USA by Train
State Of The Union
The USA rivals Australia in size and scenery, and seeing it all requires an empty calendar, and, if you're really serious about it, heading out on the highway in a vintage Cadillac. With only a few days to get from one side of the country to the other but still wanting to take the scenic route, Megan Czisz decides to make tracks across seven states in only fifty-three hours.
It's three in the morning in Salt Lake City, Utah, and from the window of the train, the city is a clustered column of lights. It's also the end of the line for my seatmate, a man who has spent the last twelve hours and most of Nevada expressionless, sitting on the edge of his seat with his hands clasped between his knees. He leaves without a word and I finally have the luxury of stretching out across two seats. When I wake again the sun is up, the land is flat and we're somewhere in Wyoming.
Usually, taking the scenic route through the USA requires an empty calendar and plenty of gas money. But it is possible to get your kicks without heading out on Route 66.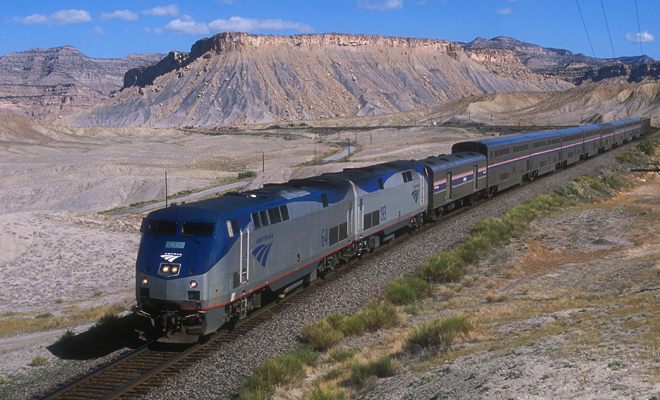 Chugging along at less than one hundred kilometres an hour (and on creaking mountain track sometimes much less than fifty), the California Zephyr is billed as North America's most scenic train ride. Eastwards, the Zephyr travels some 4,000 kilometres across California, Nevada, Utah, Colorado, Nebraska and Iowa before coasting into Chicago's Union Station three days, two nights and two time zones later.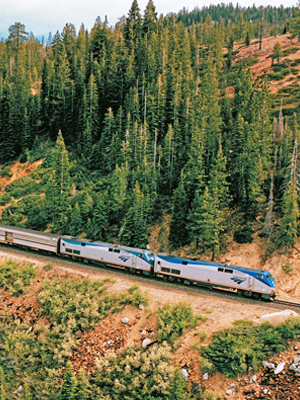 In the age of cheap airfares, tell most Americans that you're travelling Amtrak cross-country and they'll raise an eyebrow. Tell them that you're traveling through seven states in fifty-three hours, and they'll know you're crazy. But they'll probably concede at least it's better than the bus.
The original California Zephyr, operated from 1949 along a transcontinental route built for the gold rush in the 1800s, was decommissioned in the late 1960s thanks in part to the increasing accessibility of air travel. The Zephyr seemed doomed to become a thing of legend until Amtrak revived the name and service on a similar route in the early 1980s.
Today, the train runs along borrowed track and must give way to frequent freight services. It risks being rerouted at any time. This means several hours' worth of delays can be tacked on to an already epic trip and may account for why so many people are dubious of my taking it non-stop between San Francisco and Chicago.
I want to see as much of the country as I can in my limited timeframe and on my limited budget. Booking a coach-class seat, I commit to remaining in an upright position for three days and paying for my own meals in the dining or café cars.
Waiting to board at Emeryville, the train's terminus in California just across the Bay from San Francisco, it's announced that we've already been rerouted. Instead of traversing the Colorado Rockies, we'll be detouring through the flatlands of Wyoming in order to bypass a collapsed bridge on the approach into Denver. It's disappointing, but adds an eighth US state to my trip.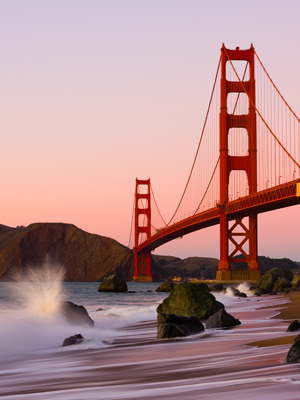 From one state to the next, the scenery shifts palpably. Only hours after leaving Emeryville we travel up and across the Sierra Nevada mountain range, passing so slowly through snow-dusted forest it's sometimes not clear whether we're moving at all. Up here, we have views that are largely inaccessible by any other means. At one point, a lone wolf with a blue-eyed stare watches us round a bend. I lose sight of it as we enter the sudden darkness of a snow-shed, one of several built on the mountainside to ensure the railway can withstand harsh winter weather.
Shortly after, and we're descending the other side of the range. As we travel through Nevada and then Utah the landscape becomes scattered with chalky red mesas and hills that look as if they're growing or exploding from the earth. Patches of spiky shrubs seem a world, not a state line, away from the fir and pine trees of the High Sierras.
We travel across desert and plains, alongside suburban backyards and through lonely one-horse towns. The journey is marked not by days or dates or even time zones but by water towers, stamped with the name of the town the train is passing through. On the plains, the hillsides too are etched with the initials of towns, so the pilots of light aircraft can tell one patchwork of fields from another.
More often than I'd expected, we stop to take on or let off passengers. An excitable group joins the train in Sacramento, and there is a mass disembarkation of weekend gamblers in Reno.
I had expected to travel mostly with train-spotters and sightseers keen to watch America go by in miniature. But with these frequent stops, the train serves as local transportation too. Besides, those on their trips of a lifetime - mostly older Americans and Europeans - are in sleeping carriages, leaving coach for the locals, college students and us budget-conscious.
It turns out, then, that the cross-section of America I had been hoping to uncover outside the windows of the train is actually travelling beside me, on seats that recline surprisingly far back and footrests that extend so far as to almost form a flat bed. Hours slip away while I listen to music, people-watch and eavesdrop on conversations.
The Sightseer Lounge is perfect for these activities. Accessible to all passengers, the seats face ceiling-to-floor windows. Passengers read or chat or just watch America go by. One woman and her daughter empty a 1000-piece puzzle onto a table. Like me, they're going all the way to Chicago.
There are four Amish onboard, dressed in neat dark clothes and jaunty caps and bonnets. Not surprisingly, they're on their way to Pennsylvania.
I meet a man from Salt Lake City who helps me choose which side of the train to sit on so I get the best view. We discuss Australians who take gap years, a concept, he says, that is still quite foreign to most Americans. In the dining car, I eat half a barbecued chicken and some microwaved green beans, and he orders the salmon.
There's a 'southern belle' of a woman who's getting off in Denver, Colorado to attend the birth of her grandson. On the second morning she drawls to the entire compartment that she feels terribly guilty for having had a full ten-hour's sleep.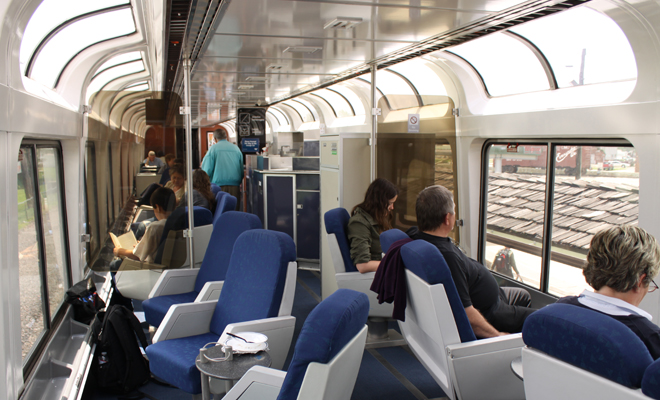 Like the rest of the country, everything about the California Zephyr, including its passengers, is larger than life. For those of us travelling the entire route between California and Illinois, there is a sense of kinship and a grand journey taking place. We all take notice when the train attendant places a 'Chicago' ticket above a newcomer's seat.
Thanks to the detour through Wyoming, we arrive into the mile high city of Denver, enough time to eat a burrito. I can now tell people I've been there, Salt Lake City, Omaha, Nebraska, although I slept through the last four..
That's the great thing about the train. By the time we reach Chicago, it feels like we've travelled through eight states. Travelling by plane is like being in limbo, on pause, with no sense of the scope or scale of the distance you've travelled. In the air, you might not even be moving at all.
The train moves though, and we're shunted into Illinois and the outer suburbs of Chicago. We enter a tunnel that leads to Union Station's underground platforms. Emerging from the station into Chicago's rush hour, I'm momentarily dazzled by the frenetic pace, the crush of bodies, and by how far I've come. I can feel every hour of the journey (mostly in my lower back). I feel like a pioneer, though I've come eastwards rather than westwards to find my fortune.