Viva Vancouver
Canada
Like a moth to the flame, Janet McGarry is drawn across the pacific to the glimmering lights of Vancouver, Canada.
It's been said that Canada is just like Australia, without the heat, kangaroos and Barrier Reef. What people really mean is that there is a common cultural bond between the two countries; a way in which you find yourself blending in with the locals.
And Western Canadians are quiet, thoughtful people. The accent is so laid back that you find yourself drifting along with the cadence of their speech, and have to concentrate on what they are actually saying. They have a pride in their country and heritage, are focused on lifestyle as much as career, and love to share their knowledge and experiences with visitors. If I was asked once, I was asked a thousand times, 'Where are you from? Where are you traveling to in Canada? Do you need a hand?' Oh, and they would also usually add 'I'd love to go to Australia one day'. Don't worry, I told them to come on over.
My trip started in Vancouver then looped out to Vancouver Island, which is the size of many small countries but more about Vancouver Island next time.
Vancouver is an interesting city. It's lovely skyline of harbour, city and mountain backdrop make it one of the most attractive cities in North America. It's also a city of contrasts. There is a strong economy, laced with a green environmental consciousness, but there is also a harder underbelly of drugs and homelessness.
The largest working port in North America, the daily life of the harbour is hardcore industrial. But this is balanced by the super modern skyline, and the beautiful tip of the peninsula which is preserved as Stanley Park. That has led to an attractive mix of city and mountains, green parklands and harbour beaches, trendy Cafés and restaurants and stately up market suburbs. It's a great city to wander round for a few days, seeing where your feet take you and absorbing the atmosphere.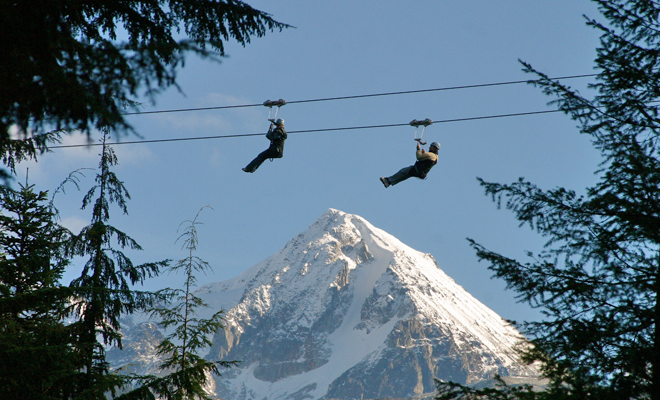 I tried my
hand at skylining. Sky-'what', you say. Well, imagine being strapped into a harness that forms a seat then clipped onto a long medal cable stretched across a valley. You hold onto a bar and launch yourself, like on a giant flying fox, with mouth-dropping views of Blackcomb and Whistler Mountains. 60 seconds of stupendous 360 degree scenery.

Canadians also want you to know that they are different. They are not Americans but from north of the border. They wryly acknowledge their links with the US – whether it is economic, defensive or cultural.

Canada is also different in that it is a bi-lingual, bi-cultural country. I arrived very ignorant of the French-Canadian tradition and how it impacts on life. Whilst I was only visiting the very English west, you still realise that you are in a bi-lingual country. You hear people speaking French as well as English; signs and notices are in both languages, and there are delightful French accents around. It is a curious mix, a product of history that the nation has managed to make work.

Don't try and bite off more than you can chew. If you have limited time, like I did, then choose a region and give it the time it deserves.I wanted to get out of town for a day though and headed north to Whistler. Famous for its ski fields, there wasn't much of the snow to be had though when I arrived on a 38 degree summer's day, however Whistler is a multi-use alpine village with a smorgasbord of outdoor activities. You name it you can do it in Whistler.