Wellington Weekender
Café s, cable cars, culture and clubs, Elinor Sheargold checks out the kiwi capital.
I was curious. The mere mention of Wellington seemed to send people into raptures. Not about its superlative setting, tucked around an intimate harbour with Victorian villas tumbling haphazardly down the steep hillsides. Nor about the ultra cool cafe and arts scene that would turn Melbourne green with envy. No, they raved about a museum.

My museum-going threshold is around two hours. But I'd been told Te Papa was no ordinary museum, I could spend a day there, and as it was free, it'd be the best dollars I'd never spend.

All the usual suspects are there: gilt-framed painting; stuffed animals; the chronicles of New Zealand's land, history, culture and people, including a motherlode of Maori taonga (treasures). The rest of the world also gets a look-in but what really sets the country's national museum apart, is its OTT interactiveness.

Four hours later, I had survived a whiplash-inducing adventure ride (virtual bungy – woo hoo); experienced the shake, rattle and roll of an earthquake aftershock; explored an underwater volcano in a yellow submarine; marvelled at the colossal squid; aced the quarantine test; strolled through a pocket of natural bush (really); and dug in a sandpit for dinosaur fossils. And I hadn't even had my morning coffee. According to local propaganda, Wellington has more cafes per capita than New York City. You can debate the merits of having the national parliament only metres from a major fault line at The Backbencher, while the iconic Beehive building looms opposite like a giant dalek. Posh it up under the chandeliers at Floriditas, enjoy un cafe at Simply Paris, or chill out at hip, veg-friendly Fidels, appropriately on Cuba Street.
This arty artery is the place to quench those coffee cravings and check out vintage and urban fashions on both racks and backs. It's great for cafe crawlers, foodies and shopaholics, not so good if you have a decision making disorder.

A sucker for names, I joined the line at Midnight Espresso, where the chatty barista gave me an impromptu review of last night's comedy show at the Downstage Theatre, as he brewed an elixir of the local Havana coffee.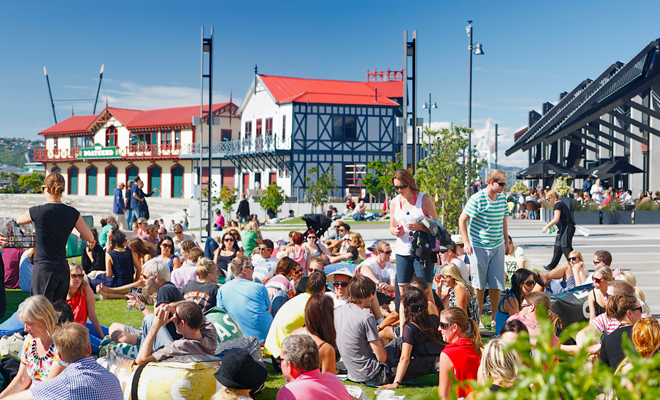 KEY FACTS
GETTING THERE

Qantas, Air New Zealand and Virgin Australia fly to Wellington from around Australia. The airport shuttle to the YHA costs $22 or take local bus #91 to Courtenay Place for $9.00.

Wellington is the main entry and departure point for the ferries between the North and South Islands. The Northern Explorer train runs between Wellington and Auckland.

ACCOMMODATION

Wellington City YHA
292 Wakefield Street (corner Cambridge Tce), Wellington
E: book@yha.co.nz

Free daily activities including bar tours, guided city walks and hikes.

MORE INFORMATION

Museum of New Zealand Te Papa Tongarewa

Only metres from the YHA, entry to the museum is absolutely free. Charges apply to some short-term exhibitions and activities. Daily museum tours are available for $14. Open 10am – 6pm daily, 10am – 9pm Thursdays. tepapa.govt.nz

Wellington Rover Tours
Half-day Lord of the Rings Tour $95 adults, full-day tour $190 adults. Rover also operate a 3.5 hour Wellington sightseeing tour priced at $95 per adult - great for those further afield and hilly attractions. wellingtonrover.co.nz

Fergs Kayaks
Owned and operated by Olympic champion Ian Ferguson, Fergs Kayaks hire kayaks and stand-up paddle boards from $20 for 1 hour, while bike and skate hire starts from $15 for an hour. There's also an on-site rock climbing wall. fergskayaks.co.nz

Zealandia Karori Wildlife Sanctuary
Open daily 10am – 5pm. General admission $17.50 adult. Tours available. Zealandia by Night tour (2.5 hours) $75 adult, or combine night tour with general admission for $85.
visitzealandia.com

All prices quoted are in New Zealand dollars.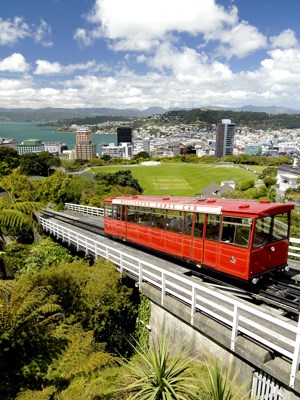 Wellington is as delirious for choice by night as it is by day and stays up late to enjoy theatre, dance and live music of
every kind. In the space of one long weekend, I laughed my way through a self-help satire straight from the Flight of the Conchords school of comedy; spotted a kiwi and irked my way through an old goldmine crawling with giant wetas on a torchlight tour of the Karori Wildlife Sanctuary; and hit the copious clubs.
Bar Bodega is the business when it comes to local bands, but tucked in an alley just off Courtenay Place I discovered Alice. Or rather, I discovered Alice's Mad Hatters Tea Party cocktails. They come in a dainty china teapot with two tea cups. From here it was a short hop to Boogie Wonderland's Saturday Night Fever disco dance floor, before winding down with a nightcap and some mellow jazz at Hummingbird.

Warning: do not visit Ciocco Chocolateria on an empty stomach. You're not only welcome but actively encouraged to try the 54 weird and wonderful flavours of chocolate stashed in tiny medicine drawers. Basil chocolate, anyone? Chilli and lime, sea salt, or (swoon) lemongrass chocolate?
On a chocolate sugar high, I decided to forgo the NZ$4 cable car and tackle the climb up to the Botanic Gardens on foot, via the so-called Golden Mile shopping thoroughfare.
I arrived just as a red cable car pulled up and kindly posed for the much-imitated photo in front of the city skyline.

The short arc of beach at Oriental Bay glinted below, where stately timber and modern houses (some with their own mini inclinators) clung for dear life on the sheer slopes of Mount Victoria, and where a lazy afternoon can be spent strolling the promenade if the windy city isn't living up to its name. Of course, this being New Zealand, why walk when you can bike, rollerblade, kayak, rickshaw or even segway?

The 360 panorama from Mount Victoria easily eclipses those from the Botanic Gardens and also boasts a rather creepy wooded greenbelt full of dark paths and mangled trees like a scene out of Lord of the Rings. In fact they are, as I discovered on my Rover Rings movie tour which had me visiting Middle Earth locations, the Weta workshop, picnicking in Rivendell and lunching down the road from Wellywood director Peter Jackson's house.

Plonking myself in one of the hostel's massage chairs to admire my Rings tour publicity photo – brandishing a sword in a fetching pair of elf ears (the ultimate in nerdy souvenirs) - I struck up a conversation with just-arrived Samia from Germany, who asked me what there was to in Wellington.

"Well, you can't miss the Te Papa museum…"