Why Work in the USA?
Work and Travel
You've finished studying – now what? Take the conventional option and fish for a full-time job or pack your bags and travel the world? Kirra Loh shares her travel tales and experiences as an Aussie expat living in New York City.
After high school, I jumped right into university life and even after four years I was clueless about what I wanted to do with my life. I had envied those who had taken a gap year before further study but I was adamant I didn't want the typical UK gap year experience – getting ridiculously drunk in London for two years with heaps of other Australian expats. Though, it turns out my decision to apply for a work visa in the US provided me with a similar experience and one which I am extremely grateful for. Excuse the clichés, it was a life changing experience and I saw so many cool places and met some lifelong friends along the way.
After tossing my graduation hat in the air, I jetted off to the US alone, excited and anxious - I didn't know a soul in the Big Apple nor did I have a job or anywhere to live. Starting in sunny Los Angeles, I did a month-long stint through the southern states, down to Miami and up the East Coast to New York. I thought at least if I run out of luck and money in NYC, I had seen some of the states. I got so caught up in American culture and partying that for a while, I forgot how scared I was of reality. Highlights of my travels were hiking in the dusty Grand Canyon, devouring gumbo in New Orleans and sunbaking on the shores of Miami's beaches.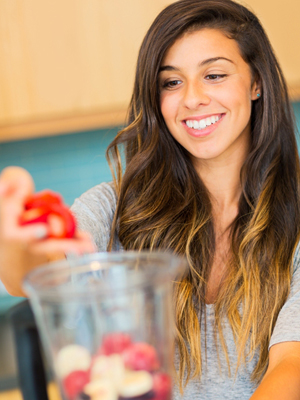 Finding a job
On the last leg of my American adventure, an inevitable wave of fear swept across me as the NYC skyline was creeping closer. The realisation hit that I needed to get out of holiday mode and into job mode, find an apartment and make new friends. Applying for around one hundred jobs in retail, hospitality and entry level marketing, I trawled websites and paced the streets with a smile and resume in hand, scoping out potential employers.
Through sheer persistence, I quickly landed a coveted role at a large multi-national fashion retailer. Within that same week, I also began waitressing at a local gourmet burger restaurant which really changed my perception of customer service. As tipping is customary in the US, my pay was dependent on how well I performed my job and ultimately, how much the customer liked me. I bent over backwards for customers and the saying "the customer is always right" has never rang so true. It was all worth it as I could potentially be earning the salary of a C grade celebrity by just performing my job efficiently. With the job gods on my side, I eventually secured a marketing role too, with a small shoe designer and stylist based in Brooklyn.
NYC truly is a 'city that never sleeps' and between all my jobs, I was working hours anywhere from 7am to 1.30am, six or seven days a week. When I wasn't at work I made the most of living in a city which offers so much in terms of history, culture, nightlife, shopping and best of all, food.
1.
USEFUL INFORMATION
The US Government offers the

J-1 visa

to tertiary educated Australian and New Zealand residents. It allows individuals to work and travel in the US for 12 months and is predominately a cultural-exchange program.
For apartment and job hunting, Craigslist is widely used in the US but beware of scams. There are also numerous classifieds listed for furniture and services such as tradesmen.
Tipping in the US – Tipping is expected for the provision of services although the amount varies based on the state you are in, the cost of the service and the level of customer satisfaction. As an example, diners in NYC would generally tip 15-20% of the total bill or double the sales tax.
2.
WHERE TO STAY
HI – New York
Just minutes from Central Park, the HI on the Upper West Side is a great base while you're finding your feet and deciding which neighbourhood has the right vibe. The hostel is in a landmark building and a quick ride to Midtown Manhattan.
Go to hiusa.org/nyc for more information.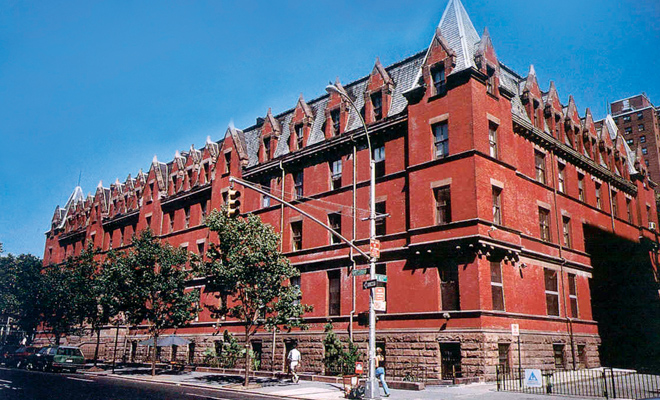 Apartment hunting
During my year abroad, I lived in an old apartment block owned by a jittery and nosey landlord who would peep out the front windows when tenants came in and out. The tree-lined street I called home looked like it was straight out of Sesame Street with metal garbage cans tucked in front of each apartment block and children playing on the road. I lived with a less than desirable roommate and his cat but tolerated it because I knew it wasn't forever. Realistically, it doesn't matter where you live on your working visa as long as it's safe and affordable.
Which state do you move to?
My decision to go to NYC was based on the fact that I wouldn't need to buy a car to get around and I could foresee my attempts to drive on the other side of the road would end badly. With such a comprehensive subway system, transportation in and around the city is so accessible and easy to navigate once you get the hang of it. People I knew who had been to NYC didn't have a bad word to say about it either so I was confident I was choosing the right city for me. A large number of Aussie expats also flock to San Francisco and LA - predominately for acting roles and the beach babes.
Being based in New York gave me easy access to venture to other places in the US including Niagara Falls and Chicago and Washington D.C. where I visited friends I had made in the Big Apple. During the snowy winter I packed my bags and flew to Mexico for a couple of weeks to do some backpacking and tequila drinking. En route back home to Australia, I checked San Francisco and Canada's west coast and the Rocky Mountains off my list too.