Wonderful Wales
Steve Mckenna explores a land of castles, coastline and countryside.
It's said that Wales has more castles, per square kilometre, than any other country. And the fortress of Conwy is possibly the most imposing and enchanting of them all.
Commanding a rock above the mussel-blessed River Conwy near Llandudno, with the verdant hills of Snowdonia in the background, this UNESCO World Heritage site stirs the imaginations of even the biggest historyphobes. I can't help but think of Game of Thrones - and the castles of Winterfell and King's Landing - as I delve into its dimly-lit, greystone nooks and crannies, past spartan chambers and dungeons, and up spiral staircases to breezy ramparts and watchtowers that afford spellbinding views over a former garrison town that's encircled by 1.3 kilometres of walkable, moss-covered walls.
The castle was built in the Middle Ages for Edward I, an English monarch with an appetite for invasion (not content with quashing the rebellious Welsh, he also sought to crush those independence-seeking Scots; William 'Braveheart' Wallace was perhaps his biggest nemesis). During Edward's iron-fisted rule, you'd barely hear Cymraeg (Welsh) spoken in Conwy (the natives were shunted out behind the town walls). But these days, this melodic, at-times tongue twisting language permeates the narrow, salty-aired streets - it's estimated that almost 40 percent of Conwy County residents can speak (at least some) Welsh alongside English.
A 90-minute drive from Manchester, Conwy is a rewarding first pit stop on our road trip through Wales, a country that's similar in size to Israel, but noticeably greener. They certainly get their fair share of rain here, but as luck would have it, we enjoy wonderfully warm and dry weather (it's May and the Welsh countryside, speckled with grazing cows and sheep, and etched with ancient dry stone walls and farmhouses, looks utterly idyllic under the sun).
Snowdonia National Park is particularly beautiful. Founded in 1951, carpeting 10 percent of the country, Wales' first national park is a gorgeous collision of craggy mountains, glacier-carved valleys, mirror lakes and cute towns and villages (some of which are linked by scenic heritage train rides). We really like Betws-y-Coed, which, in English, roughly translates to 'chapel in the wood'. Fringed by oak, beech and conifer forests, and gushing rivers and waterfalls, it has the air of an alpine resort, with photogenic clusters of stone cottages and bridges, and cosy cafes and restaurants that cater to hungry hikers and sightseers.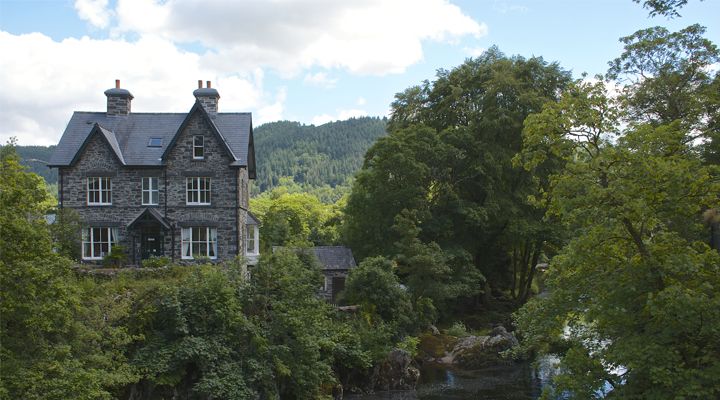 As well as traditional Welsh dishes - think lamb cutlets, leek soup and rarebit (it's like cheese on toast but with a creamy, mustardy sauce) - you'll find creative menus big on locally-sourced produce. Olif, for example, serves 'gourmet' Conwy Valley beef burgers and 'Welsh tapas', including pan-fried chorizo, Menai prawns in garlic butter and Anglesey goat's cheese salad. We eat exceedingly well in Wales - the quality and quantity of the food are impressive, and the prices markedly cheaper than London's.
We find plenty of fun ways to burn off the calories (2016, incidentally, is Wales' 'Year of Adventure' and campaigns are being run to promote the country's diverse adrenaline-fuelled activities). We spend an exciting morning at Zip World Titan near Blaenau Ffestiniog, an historic slate mining town that apparently once 'roofed' the world. Hitting speeds of up to 70km/h, we zip line a total of 2kms over sheep-dotted moorland, jagged quarries and denuded hills, while glimpsing faraway vistas of Snowdon (at 1085m, Wales' highest summit). Another much talked-about new attraction is Surf Snowdonia. Built over a former aluminium factory site, this inland artificial wave lagoon lures both novice and accomplished surfers. Despite spending countless summer days by the beaches of Margaret River, Bondi and Byron Bay, I'd never surfed before (I blame my shark phobia, clumsiness and terrible coordination). But, clad in a thick winter wetsuit (which I initially mistakenly put on back to front), my first-ever lesson is a surreal treat. Guided by my instructor Sirena, I manage, after about 15 attempts, to paddle smoothly onto my board and catch one of the regular-as-clockwork, machine-generated waves (they range from 0.5m to 2m high). It's exhilarating - for about three seconds, then I lose my balance and splash, once more, into the lagoon.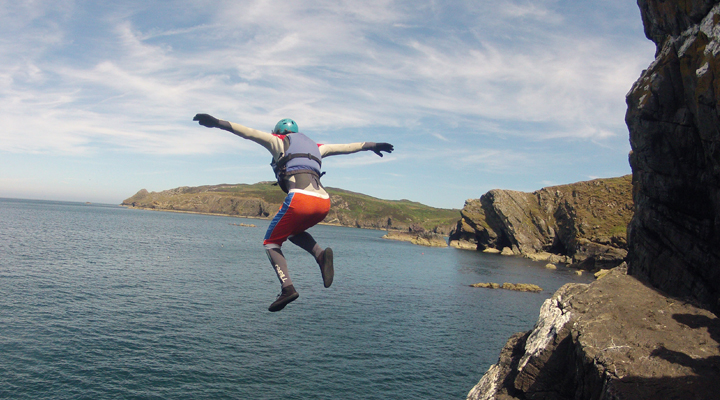 Another memorable activity that sees us wading through chilly Welsh waters is coasteering. The good folk of Pembrokeshire - in south Wales - tout themselves as the pioneers of this quirky fusion of daring coastal pursuits (think: rock climbing, cliff jumping, wave riding and swimming into sea caves). As our guide, Lucy, explains: "Coasteering is basically everything your parents said you couldn't do." It's a thrilling way to experience one of Britain's most ruggedly picturesque coastlines - especially when you're flushed around in turbulent wave pools nicknamed 'The Toilet' and 'The Washing Machine'.
Driving along Wales' south coast towards Cardiff, we pull into some beguiling little towns. Perched by the heron-peppered Taf Estuary, with an eye-catching ruined castle by its shore, Laugharne is best known for its Dylan Thomas connections. The most revered Welsh poet of all time, and a notoriously prolific drinker, Thomas spent the last four years of his life in Laugharne (we actually lunch in The Boathouse, his former waterfront abode and now a cafe and museum dedicated to him; Prince Charles came to pay his respects a few summers back).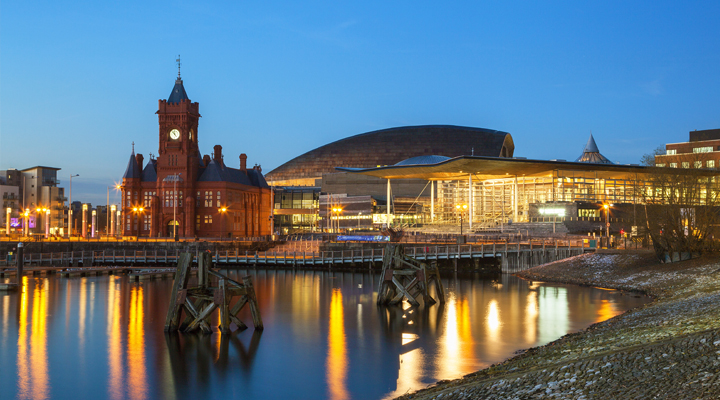 Accustomed to the tranquillity of the Welsh countryside, the vibrancy of the capital, Cardiff, takes us aback. Once the world's largest coal port, it's reinvented itself as a buzzing city of leisure and culture, with dazzling modern architecture, world-class museums and exuberant festivals. On 17-18 September 2016, the city will mark the 100th anniversary of the birth of its famous son, Roald Dahl. Secrecy cloaks the itinerary, but events will be staged in several iconic Cardiff locations. Rumours abound that Brain's Brewery, which has been slaking Welsh beer drinkers' thirsts since 1882, will double up as Willy Wonka's Factory. Bute Park, a lovely leafy space in the shadow of Cardiff's eclectic neo-Gothic castle, will host a giant Dahl-themed pyjama picnic. In the words of the author's made-up language, Gobblefunk, it promises to be a flushbunkingly gloriumptious weekend.
FIVE OTHER CARDIFF HIGHLIGHTS
1. Cardiff Bay
Arresting sights fringe the capital's rejuvenated waterfront, including the Wales Millennium Centre (a mecca of drama and culture); Doctor Who Experience (the hit BBC show is filmed in Wales), and the Norwegian Church Arts Centre (where Roald Dahl was christened).
2. The Arcades
Far more alluring than its modern malls are the city centre's spruced-up Victorian and Edwardian arcades, which shelter independent shops, cafes and eateries.
3. Principality Stadium
Formerly the Millennium Stadium, the home of Welsh rugby - nestled by the River Taff - is not to be missed when the national team is playing. The atmosphere is electric.
4. National Museum Cardiff
Housed in an elegant neoclassical building, this admission-free gem boasts one of Europe's best collections of Impressionist art, with paintings from the likes of Monet, Renoir and Sisley (who got married in Cardiff in 1897).
5. Nightlife
Few British cities are as lively as Cardiff after dark. You'll find everything from craft ale taverns and slick wine bars to boozy clubs and rocking live music venues (you might be lucky enough to catch the next Manics or Stereophonics).
FIVE OTHER THRILLING ADVENTURES IN WALES
1. Mountain Biking
Wales has some fantastic free designated mountain biking trails. Check out Snowdonia's Coed-y-Brenin Forest Park, which has snaking routes of increasing difficulty.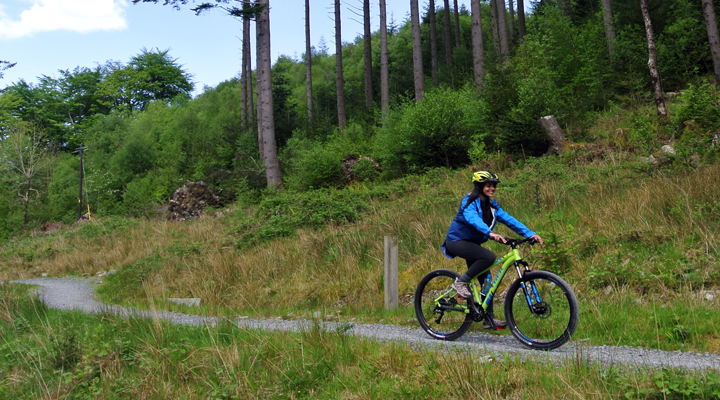 2. Coastal Hiking
You'll need a few months to 'do' the 1400km Wales Coast Path, which spans the country's entire coastline. But you can hike smaller sections - say the charming Gower Peninsula, near Swansea - in a day.
3. Caving and Potholing
Scramble through some of the longest limestone caves in Britain in the Brecon Beacons National Park, a haven of outdoorsy pursuits an hour's drive north of Cardiff.
4. Horse Riding
In Pendine, on the county border between Pembrokeshire and Carmarthenshire, saddle up and navigate enchanting oak forests and sweeping sandy beaches.
5. Bog Snorkelling
Held annually in the Mid-Wales town of Llanwrtyd Wells, the World Bog Snorkelling Championships sees competitors race through a peat bog, clad in snorkels, flippers and fancy dress.
WHERE TO STAY
There are many YHA hostels in Wales – ranging from small quaint cottage-style hostels in Snowdonia National Park to a modern city hostel in Cardiff.