Working Holiday Maker Program in Australia
Australia is part of the Working Holiday Maker (WHM) visa scheme. This program provides opportunities for resourceful, self-reliant and adaptable young people to holiday in Australia and to supplement their funds through incidental employment.
Australia has reciprocal Working Holiday (subclass 417) arrangements in effect with the United Kingdom, Canada, Belgium, Denmark, Estonia, Finland, Germany, Hong Kong, Italy, Japan, Malta, Netherlands, Norway, Ireland, Cyprus, Korea, Sweden and Taiwan. For those from Argentina, Bangladesh, Chile, Indonesia, Malaysia, Turkey, Thailand and the United States, the Work and Holiday visa (subclass 462) should be applied for.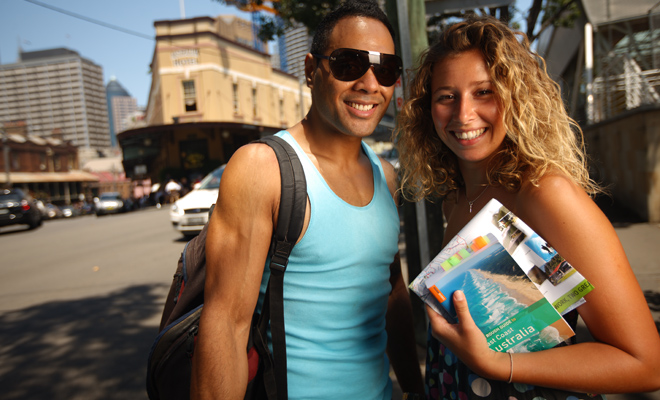 Both visas allow you to stay in Australia for up to 12 months and permits work of a temporary or casual nature. As the main purpose of the visit is for holiday and travel, working for longer than six months with any employer is not allowed. You can also study for up to four months and leave and re-enter Australia any number of times while the visa is still valid. Work in some rural industries brings eligibility to a second year but only for those on the Working Holiday visa (subclass 417).
For further general information about the WHM visa scheme and online applications, please visit the Australian Department of Immigration and Multicultural Affairs website.
If you are applying for a WHM Visa through your local Australian Embassy or Consular Office it will take up to five weeks to be approved. In some cases, the Department of Immigration may contact you before they reach a decision to:
Request additional information
Ask you to undergo a health check
Arrange an interview at an Australian Diplomatic office.
HELPFUL TIPS
WHEN SEARCHING FOR EMPLOYMENT IN AUSTRALIA

Make sure you can leave them with your contact details. You must be contactable - a mobile phone is the only way
Have copies of your resume printed or make some business cards, including your name and contact details and leave them with everyone you speak to
Get a copy of your resume on a USB or the web so you can email it to companies
Register with online employment services such as:
The Harvest Trail Website provides jobseekers with important information about harvest work opportunities, working conditions, transport and accommodation options in the key harvest areas around Australia. For the latest up-to-date information on harvest labour opportunities please call the National Harvest Labour Information Service on 1800 062 332 or visit jobsearch.gov.au/harvesttrail
Always check the local papers for classifieds
If applying for qualified skill jobs such as nursing, please ensure you bring proof of your qualifications
Don't be afraid to revisit or keep in touch with prospective employers or agencies
Be honest and fair to employers by letting them know how long you are available for and give them notice when you plan to leave. It is important to be considerate in this way - you are helping future Working Holiday Makers.
Health Care
Medical treatment in Australia can be very expensive and it is advisable to have both travel and health insurance. It is strongly advised that you take out private health insurance to cover yourself in Australia.
The Australian Government has signed Reciprocal Health Care Agreements (RHCA) with the governments of the Belgium, Finland, Italy, Malta, the Netherlands, New Zealand, Norway, Ireland, Slovenia, Sweden and the United Kingdom which entitles you to limited subsidised health services for immediately necessary treatment while visiting Australia. For more information visit the Department of Human Services website.
Tax/Super
If you have a working holiday visa, you're a student intending to work in Australia, you should obtain a tax file number (TFN). You can apply for this in person, or online at the Tax Office's website.
If you start work before getting your TFN, you have 28 days to provide it to your employer.
When you stop work, ask your employer for a payment summary showing your total income and the amount of tax withheld, as you will need this to complete your compulsory tax return.
Temporary residents are able to access their retirement savings (superannuation) upon permanent departure from Australia. For more information please visit the Department of Immigration and Border Protection website.
Backpacker Jobs
Jobs generally available include:
Waiter/waitress/bar person
Labouring and building work
Shop assistant/retail jobs
Nursing
Nanny and cleaning services
Office and clerical work ('temping')
Horticulture and agriculture work i.e. fruit picking, jackeroo
And finally, be flexible. Remember you are a Working Holiday Maker, the most casual of the casual, and there are 1000s of you all looking for the same job at the same time. Be creative, sell yourself and be persistent.