7 reasons to visit the Grampians in winter
Beat the crowds and get yourself to the Grampians for an amazing winter getaway! This breathtaking region of Victoria has adventure in store around every corner, and if you're brave enough to embrace the chill, there's plenty to love about visiting during the brisk cold season. Not convinced? Here's why...
You can hike and bike to your heart's content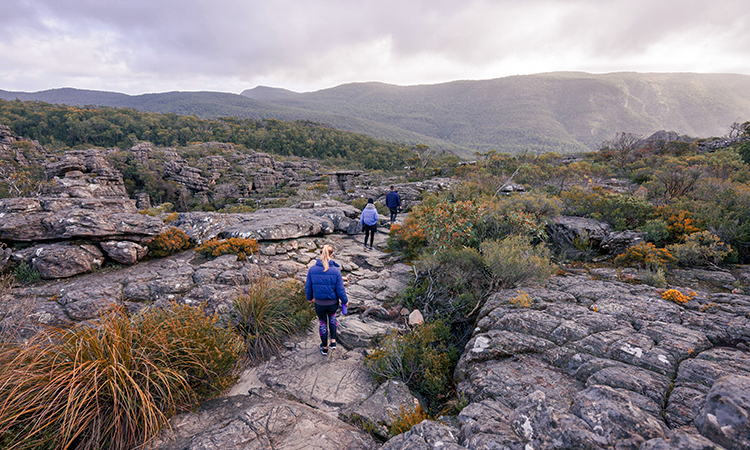 If you love exploring the great outdoors – fantastic news, it gets better in winter. Why, you may ask? With the plethora of hiking and biking trails for all fitness levels in the Grampians, there'll always be something for you to do to keep warm. Plus hitting the trails in winter means that you don't get overheated, dehydrated or utterly exhausted as you would in the summertime. Speak to reception at YHA Grampians Eco for all the need-to-know information on the best trails.
You'll have it all to yourself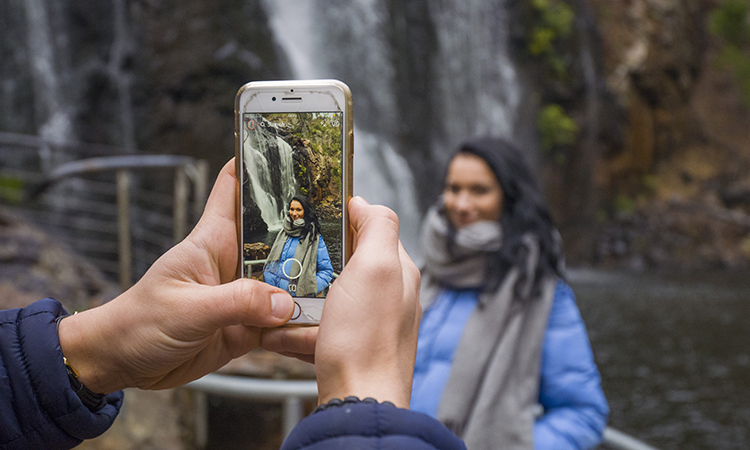 Visitor rates to the Grampians drop dramatically throughout the winter, so if you want to experience the majesty of this region, why not do it when there's few tourists around? You'll most likely have the hiking trails to yourself, you won't have other tourists in your photos of Mackenzie Falls or in the background of your selfie at Boroka Lookout and you'll have the best spot next to the fireplace at YHA Grampians Eco. Speaking of…
Winter means cosy evenings by the fire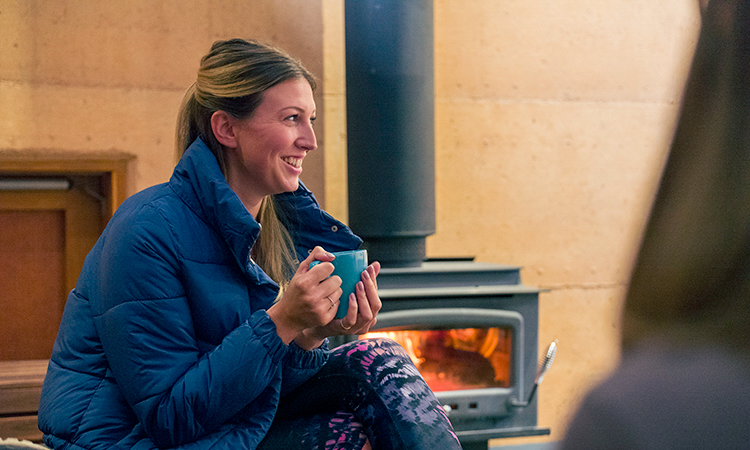 One of the best parts of winter is curling up by the fireplace and indulging with a glass of wine or a hot chocolate while snacking on some marshmallows or other wintery bites. Grab a book and unwind or sit around chatting for hours on end with your friends. YHA Grampians Eco has an nifty woodfire heater in their lounge room so you'll be toasty warm and super relaxed come night time.
The animals still come out to play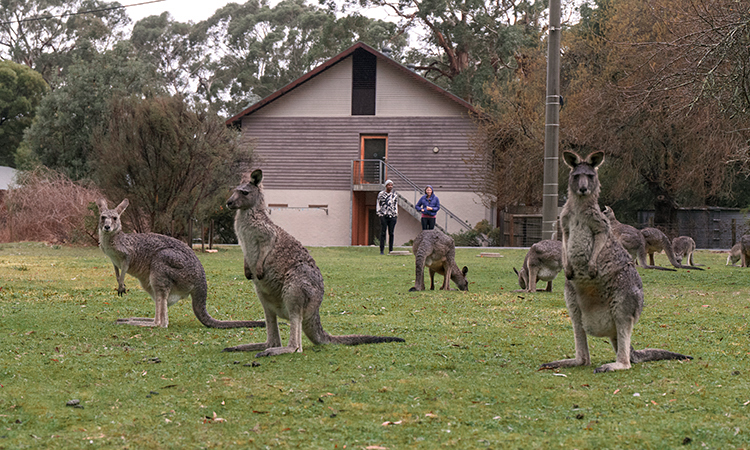 Once of the greatest things about the Grampians is the unique animals experiences you can have. Spot emus while walking to the pub, listen to kookaburra's sing their song while hiking and enjoy the close proximity of the kangaroos that call the lawns of YHA Grampians Eco their home. Great news – they still come out in winter, so you can get your animal fix whenever you're in the Grampians.
There'll be cascades for days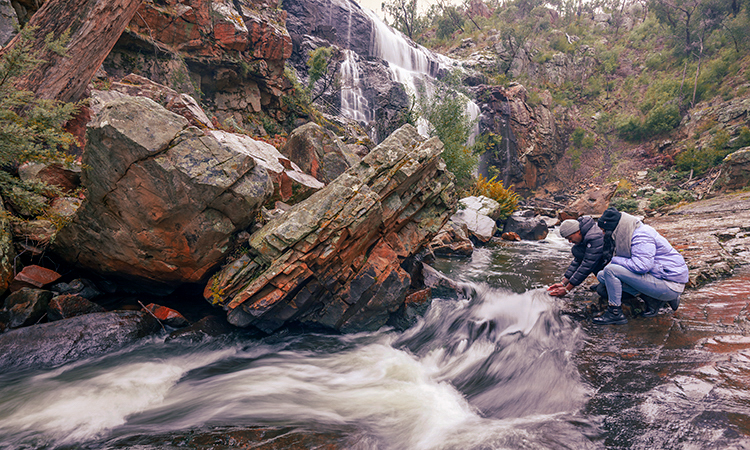 Winter is the best time to see the gushing waterfalls and rivers that run rampant through Grampians National Park. Victoria is hit by a torrential downpour of rain every winter, filling the rivers, creeks and lakes to the brim with water. Plus, the sight of a raging waterfall or flowing river is not only breathtaking, but incredibly Instagrammable.
The stunning vistas get even more beautiful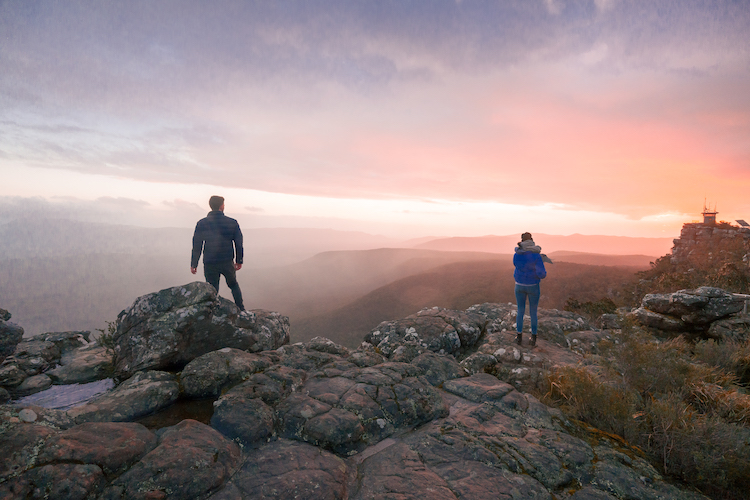 The Grampians has some absolutely stunning vistas and the cold, wintery days only amplify the experience. Visit look out points covered in a thick layer of atmosphere-enhancing fog, which when it rolls away, reveals a stunning view of Grampians National Park with snow-capped mountains – it's a magical moment not to be missed.
You'll save on your accommodation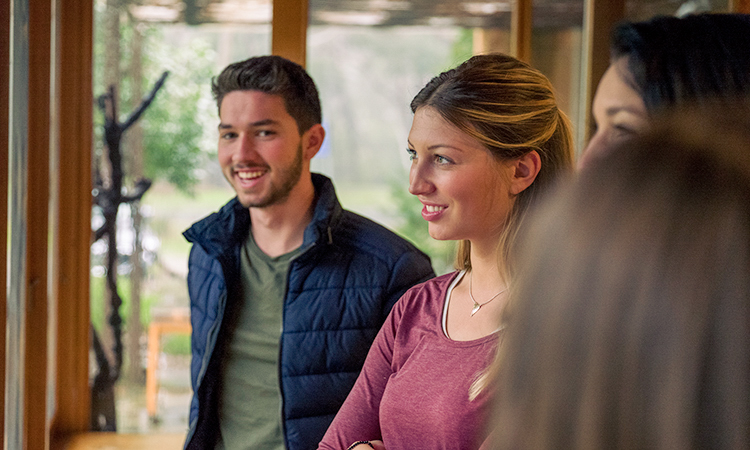 Remember how we mentioned that the Grampians empties out during the winter? That's a plus for you, because an empty town means lower rates on accommodation! A bed in a co-living room at YHA Grampians Eco will set you back shockingly little, and with all the money you save on your accommodation, you can extend your stay for longer to experience this amazing region to the fullest.
Ready to jump in the car and go? Book your bed at YHA Grampians Eco today and have your ultimate Grampians winter adventure on a budget!


Sustainability at YHA

Properties across our network feature energy-efficient and water-saving features like solar panels, rainwater tanks and recycling facilities.

YHA Grampians Eco (Halls Gap)

YHA Grampians Eco is a stylish eco-certified property. Watch wild kangaroos relaxing on the lawn and explore the stunning Grampians National Park.