7 reasons you'll love Tasmania this winter
There's two kinds of people – those that flee to the tropics to escape the cooler months, and those that embrace the warm glow of winter with a raging bonfire and a hearty meal. In Tasmania, winter offers a mix of wild festivals, hearty food and drink, stunning scenery, bracing walks and warm hospitality that you won't find anywhere else in Australia. If that sounds good to you, congratulations – you're the second kind of person, and you should probably read on...
Photo: Natalie Mendham Photography
Tasmanians see winter as a time for adventure, bonfires, festivals, food, mystery, whiskey and oh, so much more. So, pack your scarves and your pom-pom beanie and head to the Apple Isle for a whimsical, exciting and at-times mind-bending winter experience.
Dark MOFO: 8-22 June 2022
The jewel in Tasmania's flaming winter crown, Dark MOFO is the counterpart to the renowned MONA FOMA festival and celebrates winter in ways so wild, whacky and, sometimes challenging, that you'll never see the cold season the same way again. Swim nude in the icy Derwent River on the shortest day of the year, feast on wintery fare and feel warmth from within as you witness phenomenal fire, art, light, and performances throughout the festival. For some, this'll be worth the trip to Tassie by itself – for others, well... decide for yourself. Either way, experiencing it is a must!
Huon Valley Mid Winter Festival: 15-17 July 2022
Have you ever sung to an apple tree whilst banging pots and pans by firelight? Well, here's your chance!
The Huon Valley Mid Winter Festival invites you to join in this age-old tradition of wassailing to help scare the 'nasties' out of the apple orchard's cider trees to ensure a bumper crop. So, you guessed it, there'll be locally-brewed cider a-plenty, alongside music to keep you dancing, fires to keep you warm, crazily costumed people to keep you thoroughly entertained. There's even a ceremonial burning of a two-story wicker mannamed 'Big Willie'. Never a dull moment in the valley.
www.huonvalleymidwinterfest.com.au
Photo: Natalie Mendham Photography
Festival of Voices: 1-10 July 2022
The original idea for the Festival of Voices was to light a bonfire in the middle of the city and have a sing along. Turns out, it was a great idea and the Big Sing Bonfire now attracts up to 5,000 people and is a centrepiece for a much broader festival celebrating the miracle of the human voice. This year is expected to feature more spine-tingling performances from popular artists, choirs and ensembles, as well as a series of workshops culminating in the annual Finale Concert, showcasing the talents of everyone involved. It's beautiful stuff and will likely melt the heart of even the frostiest attendee.
Whisky Week: 8-14 August 2022
Tasmania is a bit of a mecca for connoisseurs of alcohol products. and when it comes to whisky, the island state punches well above its weight. Whisky Week is a celebration of all things Tasmanian whisky, during which you'll find a great variety of distilleries, bars, barns, restaurants and hotels open their doors to offer tours, tastings, masterclasses and meals to start a gentle fire in your belly and enlighten you on the ways of the Tasmanian whisky maker. This is fantastic opportunity to have a taste of a wide range of locally-made product, while learning from the very best. Enjoy responsibly!

Photo: Lark Cellar Door
Aurora Australis
Otherwise known as the Southern Lights, Aurora Australis puts on a very special light show during the long dark Tasmanian winter nights that stargazers, photographers and romantics alike travel the world to experience. Tasmania is one of the few places in the world outside of Antarctica that can catch even a flicker of this magnetic light show. If you fancy a glimpse of the lights, check out the Aurora Australis Facebook group for great info, tips and sightings.
www.facebook.com/groups/auroraaustralis
Winter Walks
There is no better way to warm up and feel alive on a winter's day than to go outside and stretch your legs on a scenic walk. And when the walks include majestic waterfalls, lush ferns, forest behemoths, cute furry animals, spectacular views and maybe even some fluffy white snow, you'll wish it was winter 12 months a year. From easy strolls to challenging hikes, bracing coastal treks to mountaintop expeditions, if you like a good walk, Tasmania is your place.
Tasmania's Parks and Wildlife Service have created a fantastic app called 60 Great Walks, that gives you detailed info on… You guessed it.. 60 great walks in the state. It's a great place to start, so check it out below!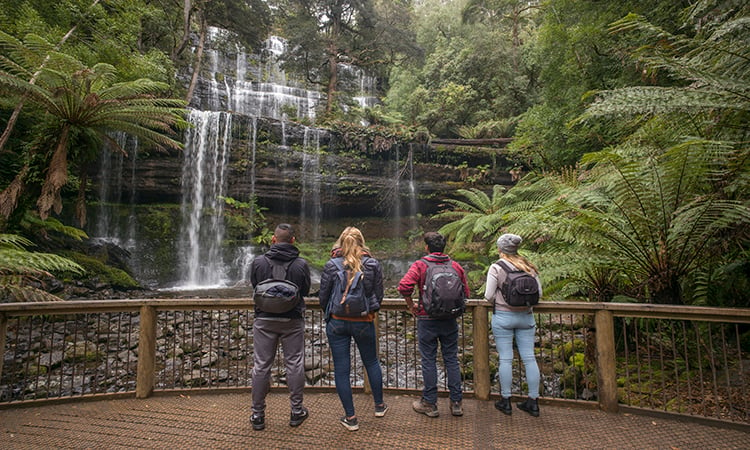 Museum of Old and New Art
Just in case you've been under a rock, there's a museum to end all museums in Hobart – MONA (the Museum of Old and New Art) – the same organisation behind Dark MOFO. While it's generally open throughout the year, any Tasmanian itinerary would be remiss to skip out on MONA, which has become a bit of a cultural insitution. Full to the brim of an eclectic mix of ancient and contemporary art comprising the highlights (and sometimes lowlights) of curator David Walsh's collection, you'll need at least a full day to see what this cryptic, mysterious establishment has buried away inside its halls. Much like the festivals it hosts, MONA is wonderfully polarising – you either love it, or hate it. But either way, be sure to see it!
Looking for somewhere to stay in Hobart this winter? Tasmania can be expensive, but Hobart Central YHA is right in the centre of town and has you covered with great affordable rates. Now, you've got no excuses – Tasmania is calling!
YHA Hobart Central

A perfect gateway to Hobart and the rest of Tasmania, this friendly, centrally-located property is barely two blocks from the waterfront and the city's best cultural attractions.