8 Reasons to come to Sydney that aren't Vivid!
Listen up peeps, this isn't a rant about Vivid Sydney (although we love that twinkly wonderland), it's rather a love letter paying tribute to eight other dazzling things to bring you to this fair city. If you're after a few fun-tastic activities, the big smoke has it all!

Image Credit: Jazushi Restaurant
Tucked around the corner from Sydney Central station is a true heaven on earth; as pleasing to the ear as it is to the eyes and the palate! Jazushi dishes up an intoxicating mix of experimental Japanese fusion cuisine, professional service and the finest LIVE Jazz entertainment every night. Can I get a hell yeah?!

From sashimi plates to fried sweet potato and ponzu oysters, washed down with an extensive wine and sake list (or BYO on Tuesdays and Wednesdays!), the true dessert is the soulful artists who'll have you hip wiggling in your seat. But, there's food-type dessert too. With three different areas of seating available and a different performer each night, you could stay in the city for three nights (at YHA of course) and have a totally different experience at Jazushi each night. Dare you?
Where to stay: Sydney Central YHA or Railway Square YHA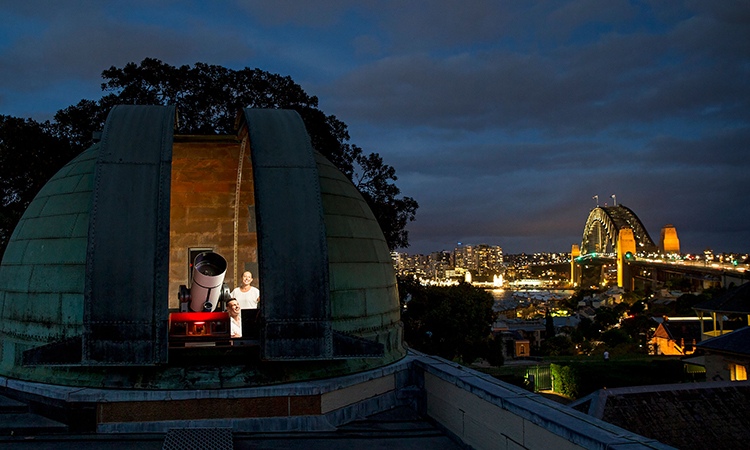 Image Credit: Sydney Observatory
Right above the Harbour Bridge on Observatory Hill aptly sits the Sydney Observatory. Maybe you visited the spot as a kid but let us tell you, as adults, stars are bloody mindboggling and this is one of the greatest ways to spend an evening that we can think of.

The fun begins with a treasure hunt around the Observatory for your launch point, then sit through a pretty existential video about how the universe (and light years beyond) are! Then, you'll head out to a real life working telescope and have a squiz at the moon and whatever planets and nebulas are hanging in the distance, before cuddling up in the Planetarium where the ACTUAL previous nights' sky is sped up to explain the wonders of the galaxy. You'll leave feeling a sense of amazement and don't forget to suss out how sparkly the Harbour looks from an all-new vantage point.
Where to stay: Sydney Harbour YHA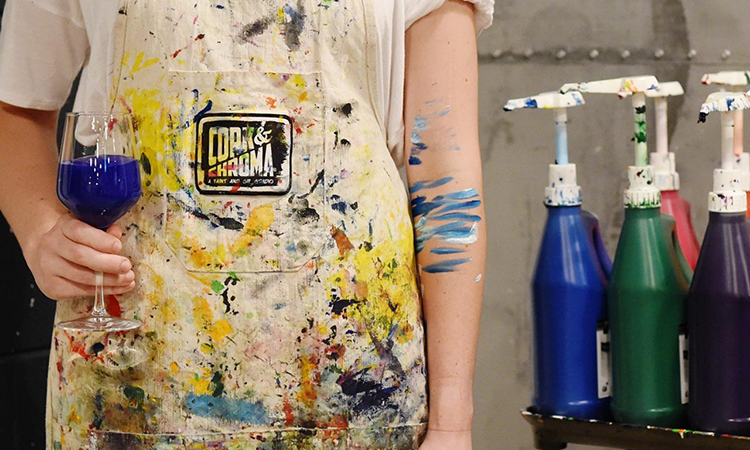 Image Credit: Cork and Chroma Sydney
Paint and Drink. Just don't drink the paint! Cork and Chroma are right 'round the corner from Jazushi (location, location) boasting a gorgeous little studio full of banging tunes for you to plonk yourself with your fave bottle(s) of BYO whatever, whilst wearing a nifty little apron and creating your very own masterpiece. Every evening the class of mini Picasso's will be emulating a different artwork, you're also more than welcome to go rogue and write the alphabet on acrylic if you so fancy.

Don't worry if you're a little creatively challenged, there'll be an artist trolling the room to resolve your watercolour worries! Not to mention, your friends will be by your side to pour you another glass when your hands are covered in yellow paint, and a truly wonderful evening to be had. Get amongst it.
Where to stay: Sydney Central YHA or Railway Square YHA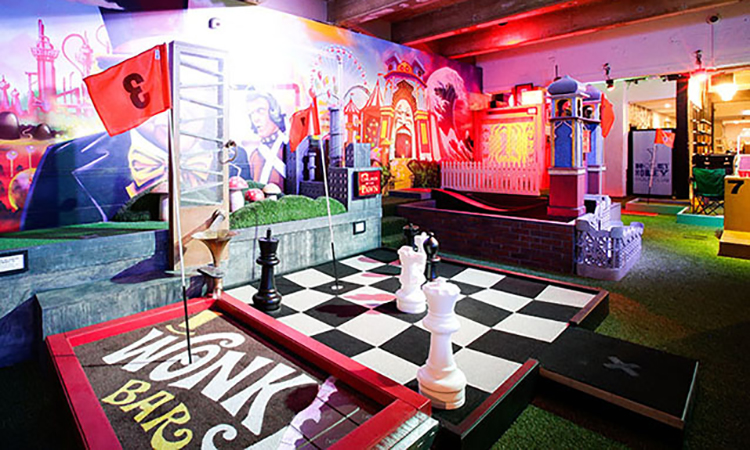 Image Credit: Holey Moley Sydney
The best, most kaleidoscopic, sensory mini-golf course you've ever been to. Par none.

Tucked away on King Street, this fully-licenced golf labyrinth promises you and your squad the most psychedelic night you've had in a long time! From the Simpsons lounge room to Donald Trump's face to a 1950's record store, nothing is sacred when it comes to each hole you're putting to; and the tunes they've got blaring will drown out the heckling and vicious insults from your mates, perhaps aimed at your skills or (potential) lack thereof.
Where to stay: Sydney Central YHA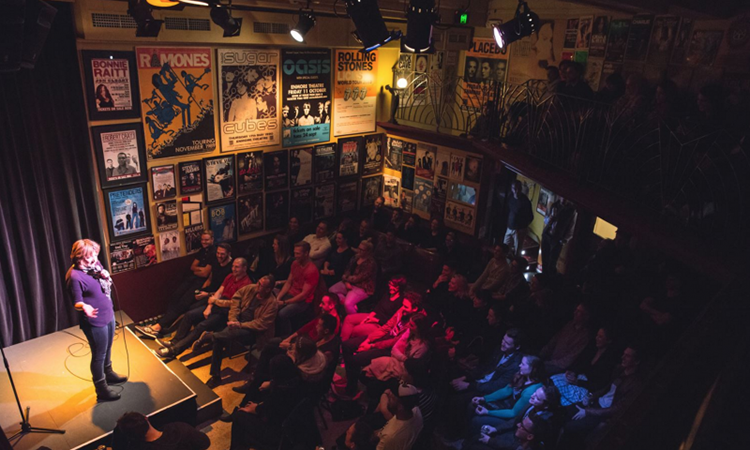 Image Credit: The Comedy Store Sydney
How often do you get to spend the night surrounded by 200 gigglers in pure darkness – no screens – collectively enjoying yourselves and the human in front of you? Never, is the short answer.

The Comedy Store brings old school entertainment into a contemporary context. Lemme paint you a little picture: you're nestled in your seat, you order a scotch or glass of champs straight to your lamp-lit table whilst the cream of the domestic and international comedy crop work you into stitches… what a night, am I right?! The line-up is hella comprehensive – from general comedy showcases to specific evenings of conversation (Jewish and South African comedy being the most recent), leaving you a little buzzed from genuine human interaction and entertainment.

Plus, YHA members score 20% off Friday and Saturday performances. Use 'YHAAUSTRALIA' at checkout and think of us whilst you're giggling you're little hearts out!
Where to stay: Sydney Central YHA or Railway Square YHA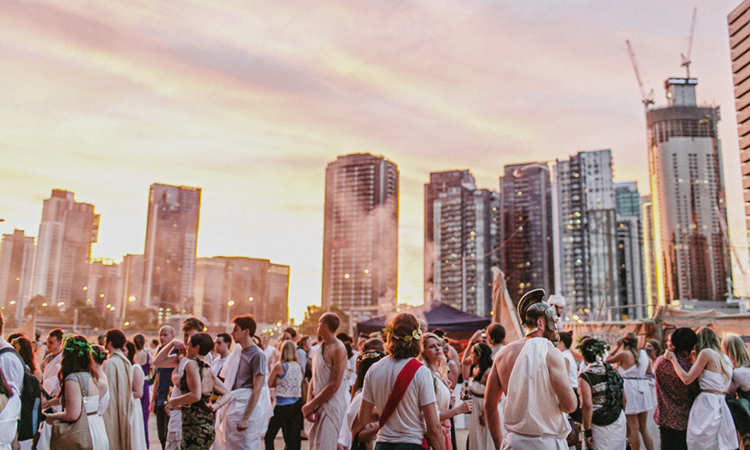 Image Credit: Underground Cinema Sydney
Forget cheap Tuesdays, this immersive, theatrical, otherworldly cinema experience provides the most thrilling plot twist to your film consumption. You don't know where you're heading until the morning of, won't know what you're watching until you cross the threshold and are catapulted into the narrative itself (maybe not even then!). You'll be swept up mid-scene as you walk through rooms, alleys and stories – watching the film play out in front of your eyes. Then, if you've made it out, you'll sit down to watch the actual film.

All performances are completely licensed so you can nourish your body as well as your soul (and calm the nerves with a drink or two)!
Since you never know where it'll be playing, take your pick from our Sydney properties: Sydney Central YHA, Railway Square YHA and Sydney Harbour YHA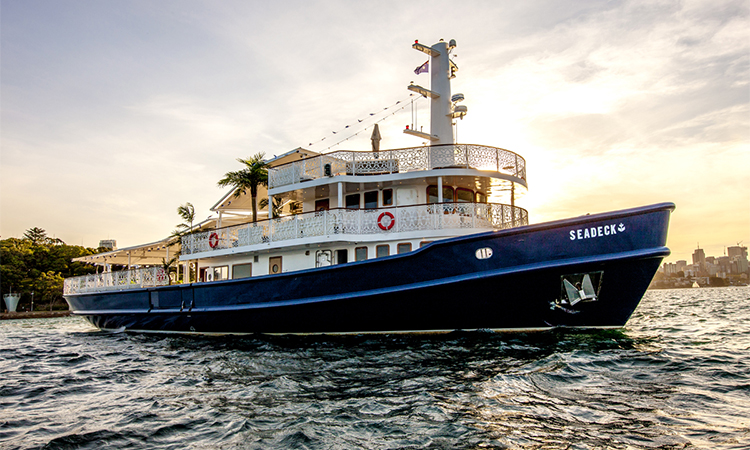 Image Credit: Seadeck Sydney Cruises
Boy, did we deliver. The ever-so dreamy, floating venue that is 'Seadeck' is a MUST SEE attraction during Sydney's summer months, boasting the perfect balance of elegance and functionality the Gatsby style harbour cruise is everything you've wanted and more! Once aboard the vessel, order all your PARTAY eats from the custom menu, coupled with specially crafted cocktails and unrestricted views of Sydney's stunning harbour.

Get in fast, because tickets sell out super quick AND this is a seasonal attraction! With some amazing Sunday sessions approaching real quick, general admission tickets start at as little as $33.50.
Where to stay: Sydney Harbour YHA, Sydney Central YHA or Railway Square YHA … honestly, whatever floats ya boat? If you catch my drift?!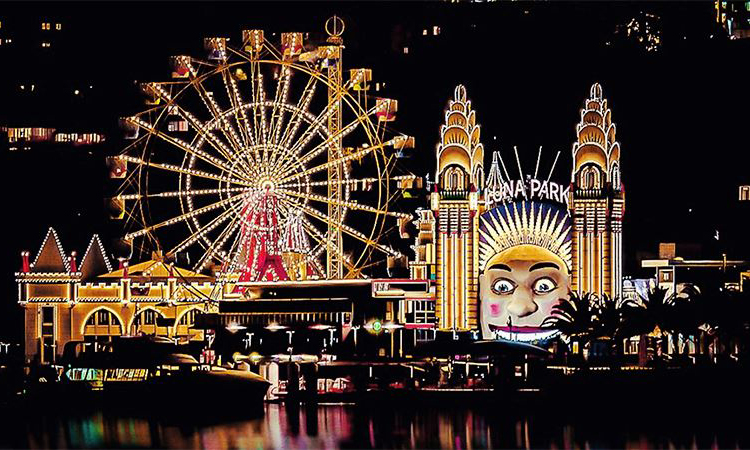 Image Credit: Luna Park Sydney
When was the last time you did something just for fun? Luna Park is by far one of the most gleeful ways to spend an evening! Delight your inner child for the night and take as many turns on the Rotor as your tummy can handle?! Yes, please. As if the huge slide in Coney Island wasn't enough, The Deck Sydney offers an extensive cocktail and wine list and an unparalleled view of the sparkly Harbour Bridge and Opera House without the CBD price tag. We're not clowning around here. Geddit?
Where to stay: Sydney Harbour YHA
YHA Sydney Central

Located in a heritage-listed building in the heart of Sydney, this bustling international hub is next all major train & tram lines for easy access to the city's top attractions.

YHA Sydney Harbour

This modern, sustainable property in The Rocks draws an international crowd with its world-class harbour views of the Sydney Harbour Bridge and Opera House.