All the reasons you should visit Sydney
Like, right now. Happy hours, boozy art classes, shows and dinners are of course assumed (and plentiful!), but we've sussed out all the golden bits that you'll only find on a trip to Harbour City.
Like most capital cities, Sydney boasts a coffee scene that could only be outdone by its cocktail offering, more boozy creative activity classes than you could point your paintbrush at, a smorgasbord of delectable breakfast, lunch and dinner haunts and a game-changing comedy, theatre, drama or cinema performance for every night of the week.
Great as all these may be, and believe us they are bloody great, they're not why you should come to Sydney. Oooh now you have to read on to find out why you should!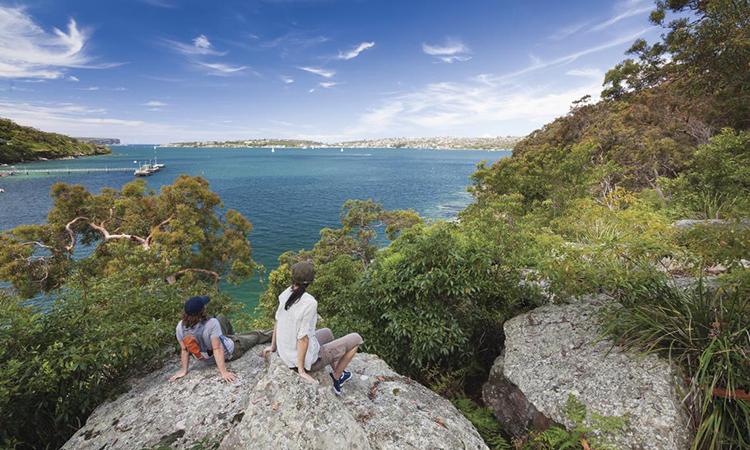 Image credit: Sydney
Stroll around Sydney
A city curled around a harbour and rugged coastline is sure to deliver some top-notch seaside walks, and Sydney does not disappoint. Here's our faves:
Think Sydney and you think Bondi Beach, but once you're done lazing the day away on the blazing sand we recommend donning the walkin' shoes and seeing it from a different vantage point. Set off from Bondi Beach, making sure to stop for the shot of Bondi Icebergs, and weave your way around the clifftops of several beaches and bays, awed by the azure hues all the way 'round, and find yourself finished in Coogee Beach (a baby Bondi to explore!).
This baby is more commonly known as the Manly to Spit walk, but we strongly suggest turning her on her head so you finish up in the beachside mecca that is Manly for a game-changing food, bevvy and pub scene. You gotta reward yourself after all those steps, right? A track suitable for most ages and fitness levels, you'll cop a view of the Harbour unseen when you're smack-bang in the city, plus come across ancient Aboriginal rock engravings and too many picture-perfect vistas.
This one's short, but we can't say it's sweet! A hop, skip and a jump (or a bus ride) from the CBD lies Palm Beach – yes, where Home and away is filmed and yes; more on this later), home to the Barrenjoey Lighthouse. You can go see her up close, if you dare. Predominately uphill, some bits much harder than others; but the view at the top is worth it tenfold. Bask in the glory of the Northern Beaches, Pittwater to your west, and your inflated sense of self for doing the whole damn walk!
Saved the most iconic 'til last, which is truly saying something given the other walks in this list! The Coathanger, as she's affectionately known, stands 134m above sea level at her peak and offers a 360 degree view the city to any walker brave enough to tackle her summit. For a truly unforgettable experience, go the Sunset Sessions; where you'll see Sydney bathed in neon colours you never knew existed.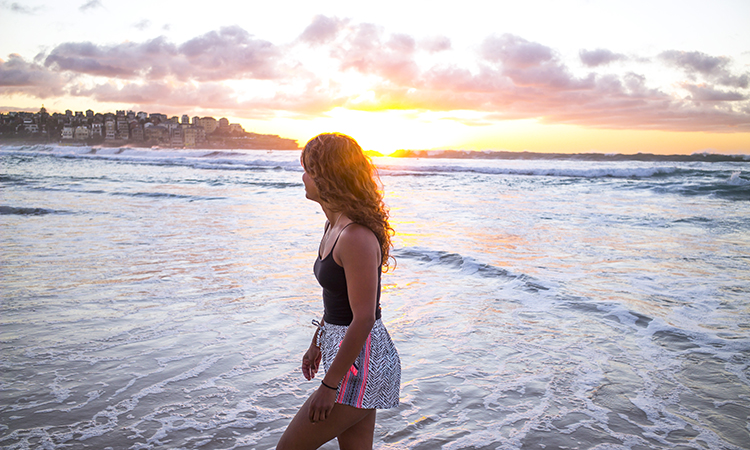 Take in the special sights
Bits and pieces you'll pinch yourself for not experiencing. Our advice? Don't do that, pinching hurts!
Beaches
Look, it wasn't going to be an article about Sydney if we didn't mention the beaches. The beautiful, iconic, varied, pristine beaches that intertwine with the bustling city and shimmy their way up and down the turquoise coastline. The beaches that are stupidly easy to access. The beaches dotted in walking distance to world-class spots for a sandy sundowner drink (or five). Yeah, you'll wanna get amongst them. You've already walked around her but it's time to take a dip at Bondi Beach in the eastern suburbs, dive into the Northern Beaches way of life, and swells, at Manly or Freshwater Beach; and then you can finally weigh in on the battle of East V West.
The Rocks, Circular Quay and the Opera House
Well well wellllll don't we have a heady mixture of old versus new here! Start your saunter perched up above Circular Quay in the historic The Rocks, originally home to convict settlements (head to Sydney Harbour YHA to see archaeological remnants!) and now boasting some of Sydney's oldest pubs, most sought-after restaurants and truly stellar Harbour views. Work your way down the cobble stones and artisanal markets, down past the MCA and into Circular Quay – the bustling main ferry terminal for the city whose edges glisten with quirky, hyper-talented buskers of all shapes and forms, ice cream shops and unrivalled views of the Opera House and Sydney Harbour Bridge.
Speaking of the Opera House – if you just keep walking (sang in a Dory voice, yes) you'll come face to face with this architectural marvel. 'The Sails' host over 40 shows a week, from intellectual talks to world-class concert performances and all that's in between, and the Opera Bar is a dazzling spot for a tipple or two post-show. You know the spot and the shot; ice-cold vino held in front of the Bridge with light beams artistically pouring into the shot. Spend some time doing that, then spend some time taking in the view. You're in Sydney!
The Manly Fast Ferry
It's rare to see public transport included on a Must-Do of any city, but we do things a lil' differently around here. Since you're already down by Circular Quay, you best jump on the Manly Fast Ferry, the magical 18-minute connection between barefoot beach living and corporate 9-5 working! Grab a beer or a glass of bubbly from the licensed bar and then head up to the very top for a windy but wonderful ride out of the CBD, past the bridge and the UNESCO World Heritage Site Cockatoo Island, over the seas to pull into the beachy mecca of Manly. Time to make the tough decision – will you drop your bag and dive straight into the ocean for a sundowner dip, or dive straight into Wharf Bar for a sundowner bev? Tough life over here in Manly.
Surely you've seen the infinite (geddit?) pictures of this spesh little spot. You'll find the Figure 8 Pools on the lower outskirts of the Royal National Park, about an hours' drive south of Sydney Central YHA. Punters have flocked to the pools in recent years due to their Gram potential, but it is worth noting that you'll only be able to see and swim in the pools on low tide. Make sure to check the official website for conditional warnings before making the drive and the two-hour walk. But, friends! Once you've checked the warnings and liberally applied sunscreen, get ready for sparkly day out in nature, and bragging rights that you've taken a dip in a literal infinity pool.
Palm Beach
Any Aussie worth their weight in Milo has acted as an extra, or dreamt of acting as an extra, on Home and Away. Tussled hair, sun-darkened skin, milkshakes at the Surf Club and those devil-may-care boys from one town over… the dream!
Well, kids, whilst we can't secure your role as Australia's next Sweetheart, we can take you to the very place the show is filmed. Here enters Palm Beach, about 1.5 hours from Sydney CBD on the bus at the very tip of Sydney's Northern Beaches (and home to the Barrenjoey Lighthouse!). In this sophisticated seaside town you'll find luxurious cafes, highly sought-after restaurants and wonderland-esque concept stores each more deliciously scented than the next. But, the real reason we're here is the one and only Palm Beach – visit on a Monday, Tuesday or Wednesday in winter months for the best chance of seeing the crew filming. Or, just don some linen and run up and down the beach screaming "closer each dayyyyyyyy, Home and Awayyyyyyyy!". Your call.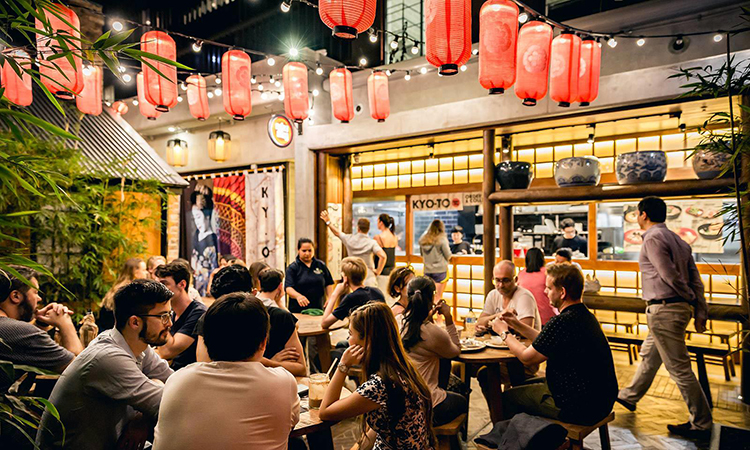 Image credit: Kensington Street
Top eats in Sydney
You'll find killer meals all over the city, but again we wanna talk about what you'll only find here.
Take a 10 minute stroll from Sydney Central YHA, chuck a left at Kensington Street and allow yourself to be transported to Vietnam. Then Korea. Then Japan. Then to Thailand. Over to Malaysia. Then, to heaven. This Asian-inspired hodge podge of authentic street food vendors is predominately outdoor, sheltered only by dimly lit lanterns and fairy lights. Grab a stool alongside one of the manly spectacular murals, pop a bottle of your best BYO vino and taste your way around the continent. Our personal modus operandi is to hightail it down the winding alleyway straight to KYO-TO for mind-blowing Nasu Dengaku and ridiculously well-priced ramen bowls.
China Town
Fun fact: Sydney's China Town is the largest of its kind in Australia! Dropped smack-bang between Central Station and Darling Harbour (and wonderfully walkable from Sydney Central YHA!) lies weaving, winding and wonderful streets brimming with Chinese deliciousness and delicacies; as well as Paddy's Markets if you're up for a post-feed shop. Every Sydney-sider has their favourite haunt, and trust us it's pretty hard to get it wrong, but you should head to Dixon Street if you're looking for formal dining, and straight to Chinese Noodle Restaurant for the special eggplant and 12 pan fried dumplings. Most spots 'round here are BYO – yes! – and you'll find tonnes of sweets during your post-meal stroll. Oh, pop into the Capitol Theatre for a show to top off a wonderful evening!
Oooh seafood lovers, rejoice! THE reason you're coming to Sydney is to visit the world's third largest fish market, right? Right. About 2km out of the CBD and easily accessible by public transport, here you'll find a new definition for the word 'bustling' – a working fishing port, live public wholesale fish market, plus a smaller-range sushi bar, delicatessen and lots and lots of tasters! Make it real spesh by booking yourselves into a class at Sydney Seafood School, who offer tonnes of different classes in a Masterchef-grade kitchen, plus you get to eat your wares and score a few glasses of vino. Yup. YHA Members (that's you!) score 25% off all classes, too. You're welcome.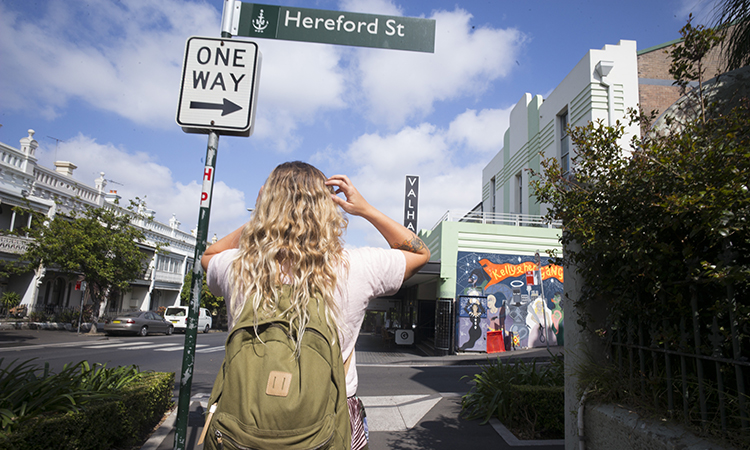 Best Sydney suburbs
The beauty of Sydney is how diverse each of her corners is. Here's a few superstars that needed mention from us, and need visiting from you!
Surry Hills - walking distance from the CBD
Named after Surrey, UK and still boasting wistful terrace houses; Surry Hills is the coffee and culture capital of the city. Think vegan all-you-can-eat, organic wine bars, coffee roasters, high-class pubs with super-fun trivia, more Miniature French Bulldogs than you can pat and that sense of elevation you feel in a place when everything you taste, smell and see is on point. Time your stay right and you can experience the monthly Surry Hills Markets, and immediately purchase more baggage for your flight home.
Newtown - 12 min train trip from the CBD
Every Australian-made musician has had a gig at the Enmore Theatre (fact, but don't @ us). The Theatre is plonked on Enmore Road in a thicket of adventurous, exotic restaurants, small bars and bric-a-brac stores filled with zany stuff you never knew you needed – but oh, you do. There's a vibrant pub scene and nightlife here, so take yourself on a stroll from afternoon into evening to sample the local goods – namely, Young Henrys brewery.
Glebe - 12 min bus trip from the CBD
Leafy. Bohemian. Artistic. Colourful. Glebe is nestled on the western outskirts of the city and keeps the vibes of Surry Hills and Newtown kickin'. This is the kind of place where the sunbeams shine through the leafy trees above, the streets smell like roasting coffee and the bookstores sell wine by the glass. Again, a heady pub scene filled with interesting, engaging locals as well as the craziest crab racing we've ever seen – BYO umbrella! Glebe Markets is somewhat of an institution on the Sydney scene, so head down on a Saturday to peruse the clothes, plants, books, furniture, knick-knacks and artisanal…everything. You'll be glad you came.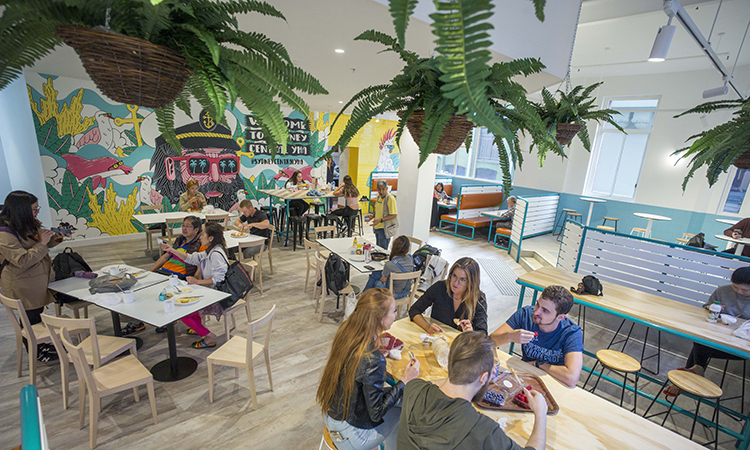 Where to stay in Sydney
Sydney Central YHA is literally across the road from Sydney Central Station and is the only choice for your Sydney escapades. Offering Multishare accommodation if you fancy sharing, Private Ensuite Rooms if you don't; plus a rooftop pool and spa overlooking the twinkling CBD, cinema room, completely kitted-out kitchen if you consider yourself a whiz (or if you're saving dosh) and a v. impressive mural by the one and only Mulga.
YHA Sydney Central

Located in a heritage-listed building in the heart of Sydney, this bustling international hub is next all major train & tram lines for easy access to the city's top attractions.

YHA Sydney Harbour

This modern, sustainable property in The Rocks draws an international crowd with its world-class harbour views of the Sydney Harbour Bridge and Opera House.