Field of Light at Uluru
The moon rises, silhouetting Uluru and giving life to 50 000 spindles of light. The NT's Field of Light has just been extended until 31 December 2020, and is, genuinely, one of the most spine-tingling things you'll ever witness.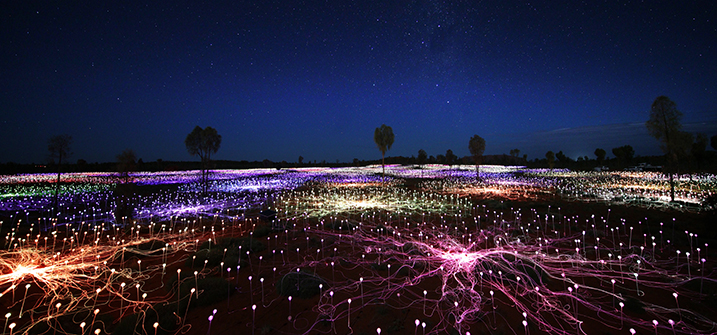 A spectacular art installation using fifteen tonnes of solar-powered lights with a backdrop of Uluru, the magical desert and the flickering night sky is waiting to give you a new perspective on this ancient landscape.
More than 50,000 slender stems crowned with frosted-glass spheres bloom as darkness falls over Australia's spiritual heartland. Standing between this and the incredible star show of the central desert will give you a never to be forgotten sensation.
The exhibition's Pitjantjatjara name, 'Tili Wiru Tjuta Nyakutjaku', translates to 'looking at lots of beautiful lights'; very aptly encapsulating this experience. Palpating rythums of colous span over seven football fields, illuminating the vast and unknown desert, and making your eyes, mind and heart twirl.

Of course, there are experiene packages involving glasses of bubbly and buffet-what-have-yous; but we just please that you take the time to include a sunset and sunrise, a walk around the base of the grand and spiritual rock and spend some quiet time at night watching, admiring and feeling this unique vista.
Now you can say you've truly been to Australia.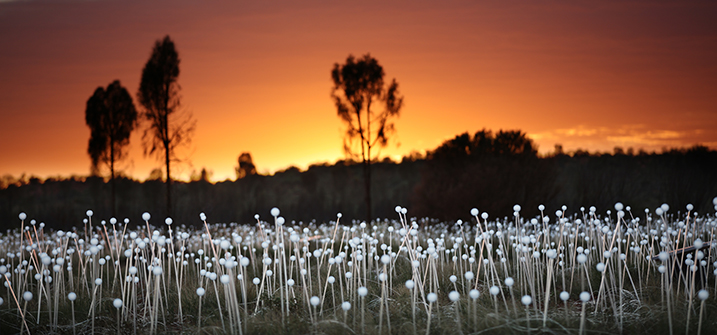 YHA Alice Springs

Located in the iconic desert town of Alice Springs, gateway to the Outback and Uluru, the historic YHA Alice Springs was once an open-air theatre and still hosts nightly movies.