Our fave top 10 Sydney Markets
From quirky boutique clothing and jewellery to fresh, local produce direct from farmers and growers, there's nothing like a wander through a market to take in the colours, smells and tastes of a place. It's organic goods galore, sweet and crunchy fruit and veg, antique treasures and handmade wares - and as a vibrant cultural hub of some 5 million people, it's no surprise that Sydney has it all in spades! Sounding up your alley? Read on to find out our top ten favourite markets in the Sydney region (in no particular order)...
10. Manly Marketplace - Manly
View this post on Instagram
Located just a stone's throw from the beach, Manly's open air weekend markets bring the cosmopolitan-flavoured suburb to life with a burst of vintage treasures, colourful arts and diverse flavours. There's a focus on ecologically-conscious, artisan goods here and the variety of handcrafted and ethically produced delights are guaranteed to part you with your coin.

When: Every Saturday and Sunday, 9am-4:30/5pm
Where: Sydney Road, Manly
Website: www.manlymarketplace.com.au


9. Cambridge Markets EQ - Moore Park
View this post on Instagram
Cambridge Markets at the Entertainment Quarter has run twice a week since 1991 and deals in handmade products, locally grown produce and artisan goodies from all over NSW and beyond. If you grow weary of perusing the many stalls, the food and family-friendly activities scattered throughout will give you plenty to recharge with.

When: Wednesdays & Saturdays, 8am-2pm
Where: The Entertainment Quarter, 122 Lang Road, Moore Park
Website: www.cambridgemarkets.com.au


8. Flour Mill Markets - Summer Hill
View this post on Instagram
One of the more recent arrivals to the scene, Flour Mill Markets has quickly grown into a bustling bi-monthly event. Focusing on environmentally sustainable wares, you'll find a mix of organic produce, fresh blooms, homespun clothes and handmade pottery on offer to name but a few. With its inner-west location, this is one we're expecting to grow in the coming years.

When: Every first and third Sunday, 9am-1pm.
Where: 18 Flour Mill Way, Summer Hill
Website: www.summerhillflourmill.com.au


7. Kings Cross Farmers Market - Potts Point
View this post on Instagram
Kings Cross is a true international hub, even post-pandemic, and the vibrant weekend markets that have sprung up around the iconic fountain are as bustling as ever. Lovers of fine foods and beautiful flora will thrive here, though the prices reflect the wealthier demographic of the residents. Still, wander over and you might find your next favourite local flavour - or a new shrubby friend to look after.

When: Every Saturday 9am-2pm and Sunday 10am-3pm
Where: Fitzroy Gardens, Macleay St, Potts Point
Website: www.organicfoodmarkets.com.au


6. Northside Produce Markets - North Sydney
View this post on Instagram
Packed into a relatively small piece of parkland in the centre of North Sydney, this grassroots-feeling Saturday affair is a wonderful place to find something fresh and tasty on the North Shore. Growers hail from all over the state to attend and offer up deliciously fresh produce with a smile. Also check out the nearby night market on summer evenings!

When: 1st and 3rd Saturdays of the month, 8am-midday
Where: Ted Mack Civic park, 200 Miller St, North Sydney
Website: www.northsydneycentre.com.au/markets


5. Kirribilli Art, Design & Fashion Market - Kirribilli
View this post on Instagram
The Kirribilli Markets are one of the oldest of their kind in Sydney and have been a fixure since 1976. With over 200 stalls in operation when the markets open each month, this colourful celebration of the quirky and kitsch trades in all kinds of fashion, jewellery, homewares and art. Many of the strange and wonderful handmade items here you won't find anywhere else on Earth. Also be sure to check out the General & Fashion Market held on alternating fortnights...

When: Second Saturday of each month, 8:30am-3pm
Where: Alfred St S, Milsons Point
Website: www.kirribillimarkets.com


4. Markets at Glebe - Glebe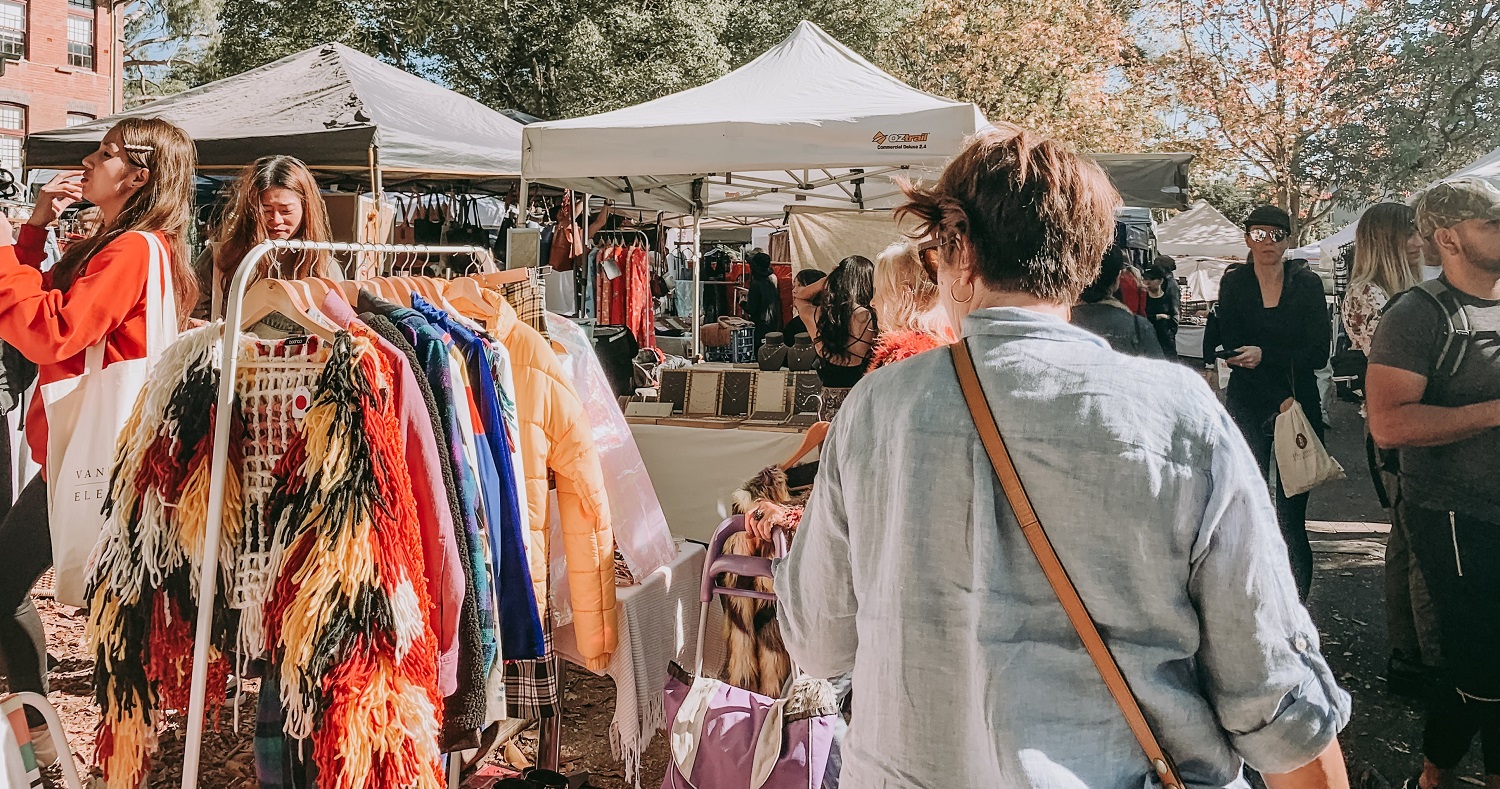 Glebe is one of Sydney's trendiest suburbs and its weekly markets play host to some of the finest vintage goods in the city. Amongst its maze of stalls you'll find an abundance of pre-loved clothing, books and shiny things - plus fresh produce and delicious food to tickle the tastebuds!

When: Open every Saturday 10-4pm.
Where: 45-56 Glebe Point Rd, Glebe
Website: www.marketsatglebe.com.au


3. Marrickville Organic Market - Marrickville
View this post on Instagram
Held every Sunday, Marrickville's Organic Food & Farmers Market is a big, bubbling pot of sights, sounds, smells and tastes from all over the world. With its unique cultural flavour and friendly community feel, the market serves up a super diverse range of tasty delights and farm-grown fruit and veg that you're near-guaranteed to find something new amongst. There's even activities for the kids, like pony rides and a jumping castle!

When: Every Sunday, 9am-3pm
Where: 142 Addison Road, Addison Road Centre, Marrickville
Website: www.organicfoodmarkets.com.au


2. Bondi Farmers Markets - Bondi
View this post on Instagram
Considered the quintessential Sydney beach suburb, Bondi has a sterling reputation for high-quality organic foodstuffs and the weekly Farmers Markets very much continue that tradition. Here you'll find a bevy of sustainably grown produce, organic cuisine and beverages, hand made homewares and plenty of vegan goodies. Leave the preservative-packed, plastic-wrapped, fare behind and support local with something delicious!

When: Every Saturday, 9am-1pm
Where: Bondi Beach Public School, Campbell Parade, Bondi Beach
Website: www.bondimarkets.com.au/farmers


1. Carriageworks Farmers Markets - Eveleigh
View this post on Instagram
Located in the hipster hamlet of Everleigh, just a short walk from Redfern station, Carrigageworks Farmers Markets is a bustling indoor bazaar packed with gourmet goods and delicious treats. The emphasis is very much on food here, and it shows - you'll be hard pressed not to walk away with a full stomach and a stack of high-quality pantry-fillers. Its under-cover nature makes it a great choice for a Saturday morning, even if it's raining.

When: Every Saturday, 8am-1pm
Where: 245 Wilson St, Eveleigh
Website: www.carriageworks.com.au
Visiting Sydney for your market shopping fix? Stay at one of our conveniently located Sydney YHAs!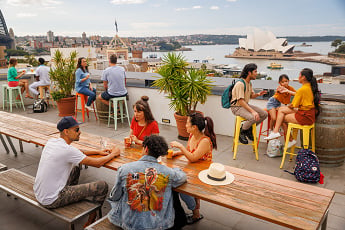 YHA Sydney Harbour
This modern, sustainable property in The Rocks draws an international crowd with its world-class harbour views of the Sydney Harbour Bridge and Opera House.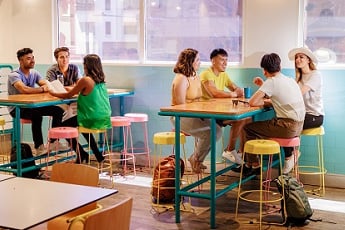 YHA Sydney Central
Located in a heritage-listed building in the heart of Sydney, this bustling international hub is next all major train & tram lines for easy access to the city's top attractions.