10 best small bars in Sydney
If a night-out is your thing, you've come to the right place! There's just something about a small bar that warms the soul, and it's not just the booze talkin'. Kitschy, underground and cosy small bars are one of the best things about Sydney, and we've got your ultimate guide. Whether you're stopping by for after-work drinks, a date night or a friendly catch up with friends – tick off all of these charming bars, and stay at one of our Sydney properties while you're at it.
Love Tilly Devine

Photo: Daniel Boud, Destination NSW
Though it may be named after the infamous English-Aussie crime boss, Love Tilly Devine isn't the least bit dodgy or suspect – but perhaps, it is a little ~naughty~. An intimate, ambient wine bar located in ultra-hip Darlinghurst, Love Tilly Devine is centrally located, yet slightly hard to find in a hidden laneway. But once you find Tilly, you'll immediately be reminded of European cobblestone alleys, where there's more revellers outside than inside, cradling glasses of every type of wine under the sun. Indoors, the classy décor and animated chatter of other diners will immediately appeal to your eyes and ears, while the European-inspired menu will make your tastebuds tingle. While the menu is small, it's all about quality over quantity - the selection is constantly changing based on whatever produce is at its absolute finest. But where the food menu is short and sweet, the wine list is long and luxurious, with over 300 different types to choose from. So if you're looking for a cheeky little nook for a catch up with friends or a date night in a vibrant area, Love Tilly Devine is the way to go.
Stitch Bar
Vintage, speakeasy-style bars bring some old school glamour to the city, and Stitch Bar on bustling York St is one of the best there is. Your unique experience starts right away – the entrance appears to be an old-timey dressmaker's shopfront, and this theme continues as you enter the bar and see that the walls are adorned with antique sewing machines. The cocktail list goes above and beyond the standard you've come to expect from a hip Sydney bar, all at budget-friendly prices - select your perfect bev with the assistance of the attentive, devoted staff. To soak it all up, the food menu consists of American diner favourites meets a tasteful hint of bougie – exhibit A, the house specialty, the Mack Ducky Dog: a duck, orange and pistachio sausage served with truffle sauce and curly fries. There's a range of seating options – sit at the bar and watch the seasoned bartenders do their thing, or you can book a comfy booth for an intimate dinner. Whatever you decide, get there early – this place can fill up fast, but boy is it worth it.
The Baxter Inn
View this post on Instagram
Adding a touch of sophistication to adventures out in Sydney's CBD, Baxter's is an old favourite of the city's more discerning denizens. With a distinct lack of street signage and an easily-missed location down some stairs in an alley off Clarence Street, this whisky-focused establishment has the vibe of a New York basement bar you might find in an old movie; feeling a little exclusive, if only because of the knowledge required to locate it. The decor within is distinctly old-world, and you'll find the period-attired bar staff super skilled and knowledgable about their product - which in terms of diversity and quality, is second to none, Coming in from the cold on a rainy night and into this warmth, music and atmosphere of this delightful subterranean den is like entering another world, and downing a lovingly prepared gin or scotch (or whatever your heart desires) here is an experience not to be missed. Assuming you can find the joint, that is.
Old Mate's Place
Melbourne ain't the only Aussie city that can put on a cracking rooftop bar or two! Old Mate's Place is only about a year old, but boy has she made a splash in Sydney. A stylish rooftop boasting brilliant views of Sydney's skyline, excellent service and an amazing menu with something for everyone – it's well worth the quad burn of walking up the one hundred odd steps to get to the top. The rooftop is indeed the perfect spot for a sunny Sunday sipping session, but the dimly lit speakeasy interior is the perfect vibe for an intimate date night or a Friday afternoon post-work gab with ya colleagues. Old Mate's Place is largely inspired by Japan's famous business bars, but with a more robust food menu (Philly cheesesteaks, anyone?) and more of an emphasis on cocktails, both classic and creative. With the staff ensuring your experience runs as smoothly as can be, the most trouble you'll run into is figuring out what to order from the leather-bound, deliciously thick menu.
The Swinging Cat
Secret entrances seem to be the rule of thumb for Sydney small bars, but once the secret's out, it's out – and we're all better for it. The Swinging Cat is hidden underneath a run-of-the-mill Subway shop, there's nothing ordinary about this clandestine bar. Touted as the best spot in Sydney to sip the famous New Orleans cocktail, the Sazerac, the Bourbon Street theme of The Swinging Cat is omnipresent, but still tasteful and subtle. You won't go hungry here - delicious toasties and extravagant charcuterie boards complement the spot-hitting, punch-packing cocktails. But if cocktails aren't your jam, the extensive list of single malt whiskys, bourbons and American ales will contain something destined to wet your whistle. But basically, you need to try everything. This spot is tiny so get there early, but if you do, it's perfect for a winter warmer nightcap, catch up drinks with an old friend or a date with a twist. Hey, if you run out of conversation, you can always discuss the slightly creepy – but cool - voodoo paraphernalia dotted around the place.
Barrio Cellar

Barrio Cellar has plenty of room for large groups so isn't necessarily "small," but earns a place on this list due to its amazing atmosphere on par with all the other lil' nooks we've mentioned. As soon as you enter this little slice of fun hidden amongst the suits of the bustling CBD, you're immediately smacked with neon lights that read "Everything with tequila" and TBH, that's pretty much the way it goes at Barrio Cellar. You'll soon learn that tequila isn't just to be had as a nightclub shot that's slightly more manageable than vodka. Barrio Cellar will show you that tequila is an art form – try The Naked Lady in pretty pink, or the famous Tommy's Margarita, made with the freshest lime and organic agave nectar. With dim lighting, hanging wire lamps and comfy booths, Barrio Cellar provides the perfect vibe for intimate chats over copious amounts of guacamole. Yep, the bar snacks are great, but the main meals deserve a huge wrap – especially the pollo burrito bowl and famous hamburguesa. Go for lunch, dinner or pre-drinks – just make sure you get there!
Uncle Ming's
Yet another hidden entrance, but the queue of people who appear to be super eager to enter a suit shop on a Friday night is pretty much a dead giveaway. Don't let the crowds put you off though – if you get here early enough there won't be any, and even if there is, the line moves pretty fast. Uncle Ming's is regarded as Australia's first underground dumplings and whisky bar, and like Mojos, is one of the veteran small bars of the city. Boasting a 1920s Chinese opium den vibe, its dim red glow, mismatched ornamental armchairs and mellow atmosphere makes it the perfect first date spot (especially if you're having a bad hair/face day and could use some flattering lighting). You'll find 90 different types of whisky including 60 from Japan, as well as sake, soju and plum wines – it's a mecca for Asian spirit connoisseurs. As for the dumplings, don't expect them to change your life, but they still go perfectly with the exotic bevvies and are a tasty alternative to your run-of-the-mill bar snacks. We recommend the prawn, pork and chive and chicken and coriander dumplings, as well as the BBQ duck buns. Scrumptious!
Grandma's Bar
Grandma's Bar uses one word to describe themselves: "retro-sexual." Let us just say – nail, head. Lit up by candlelight, this sexy, kitschy nook is one of the most popular small bars on this list, ever packed with small groups enjoying catch ups or loved-up couples. Delicious cocktails and rum-based tiki drinks are what you want here – if you're overwhelmed by choice, refer to the first page of the menu, dedicated to bartenders' favourites. These guys are professional mixologists who love what they do and won't sell you anything that's not delicious. Fresh, homemade ingredients means a simple drink such as the Paloma – grapefruit soda, tequila, and lime – tastes like a dream. Peckish? The toasties on offer are more than just stomach liners – classics like the baked bean and cheese jaffle provide the perfect tasty comfort food to complement the eclectic cocktails. The exposed brick and pared-back feel of this popular den is what Sydney's small bars are all about. Your grandma may not necessarily hightail it here after a bingo win, but you definitely should.
Door Knock
Door Knock Bar is one of the most raved aboiut bars in Sydney, but – and by now this shouldn't be a surprise - you have to find it first! While most of the bars on this list have secret entrances (soz), Door Knock takes it to the next level. Enter a fire door next to a sandwich shop on Sydney's bustling Pitt Street and follow a corridor so bloody long, you'll be sure you're lost. But soon, you will see a bizarre pineapple door knocker – enter and you're in! Boasting an exciting cocktails menu, you'll fall head-over-heels in love with the warm atmosphere here, described as "feeling like you're in a mate's place"...but like, if your mate happened to be a world-class mixologist and chef. You definitely can't neglect the food - if you love the classics, the mac and cheese croquettes are mouth-watering, but if you like to experiment, try the exotic, Japanese-fusion delicacies. With sexy mood lighting, it also makes it a perfect spot to take that special someone you want to woo with your impressive knowledge of Sydney's secret drinking dens...thank us later.
Golden Age Cinema and Bar
The aptly named Golden Age Cinema and Bar hits two birds with one stone: experiencing the glamour of old time cinema, as well as getting a taste of what it was like to have a drink during the decadent, Gatsby-esque golden era. If you're coming for a flick, you won't find Avengers or Star Wars, but you will find a range of new independent movies, much-loved classics and forgotten childhood favourites. But if you're just here to get your drink on in a unique setting, you've also come to the right place. The Golden Age Bar is all polished wood and plush lounges - sit your tush in a booth and enjoy cheeseboards and gourmet toasted sandwiches as well as an impressive collection of wine, beers and both inventive and classic cocktails. Keen for dessert? The Messina sundae is a must. One visit to the Golden Age Cinema and Bar, and you'll be longing for a time machine for Way Back When.
So...where do I stay?
Glad you asked!
Located right in the heart of Sydney, Sydney Central YHA is walking distance from all of these brilliant watering holes, which are all within Sydney's vibrant CBD.
With a range of room types including fun multi-share rooms and dapper private ensuite rooms, Sydney Central YHA is the perfect base for an affordable cheeky getaway or staycation in the Big Smoke of Sydney.
If you decide to frequent one or all of these bars, your comfy bed is a mere ten-minute drive or 20-minute stroll away! Party the night away, crash with us, enjoy a hangover cure in the on-site cafe and chill out by the rooftop pool. How. Good.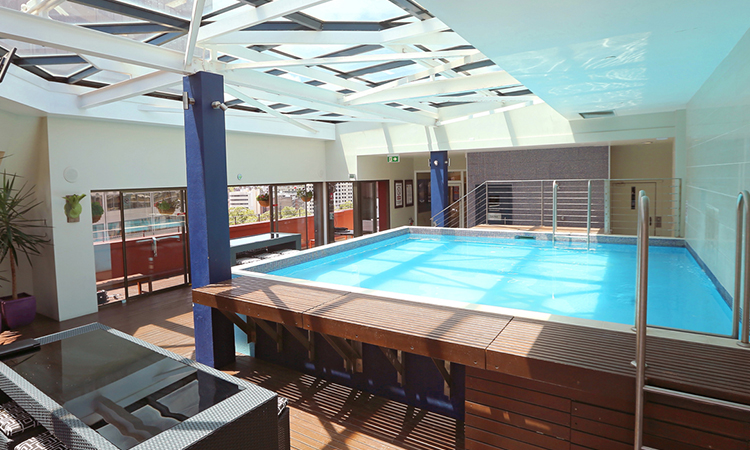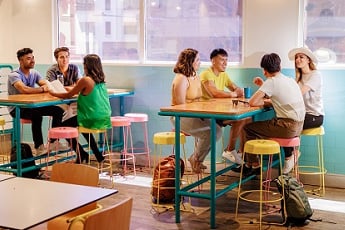 YHA Sydney Central
Located in a heritage-listed building in the heart of Sydney, this bustling international hub is next all major train & tram lines for easy access to the city's top attractions.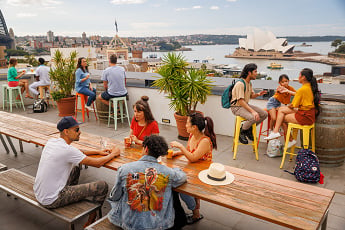 YHA Sydney Harbour
This modern, sustainable property in The Rocks draws an international crowd with its world-class harbour views of the Sydney Harbour Bridge and Opera House.