10 First Date Spots in Sydney
So you're in Sydney and you've found yourself a hot Tinder date…or you're looking for somewhere to go with a new friend that's a change of scene from a dive bar! These 10 unique spots are equal parts chill and stimulating – absolutely perfect conditions for getting to know someone. Take a break from hiding behind alcohol and doof doof music, and connect with your fellow humans! Side note: Sydney Central YHA is the perfect spot to access all these places!
Spice things up at Spice Alley
One of the fastest killers of a date or a hangout is not being able to decide where to eat! Thankfully, just a short walk from Sydney Central YHA there's Spice Alley – dozens of hawker-style Asian eateries under a canopy of glowing lanterns. Highlights include Japanese dining hall KYO-TO and Vietnamese delicacies from Viet. You and your companion can soak up the atmosphere, breathe in the smells and experience a touch of Asia right in the heart of Sydney, before deciding on somewhere to eat. If you're feeling Chinese and your eating partner is feeling Malaysian, no worries! Get what you both want and then settle into a couple of the 350 seats available. Converse and connect as you munch on some of the best Asian food in the country.
PICNIC WITH A VIEW
Five-star views of Sydney harbour and fairy garden vibes, for absolutely nothing. Secluded and private, in spite of its popularity. Peace, quiet and zen. Located in North Sydney - just a few stops on the train from Sydney Central YHA - Wendy Whiteley's Secret Garden is a no-brainer for a unique and special romantic or social date. Bond over picking out items in the supermarket to prepare, make the scenic walk down the steps together, and find a table or a lovely patch of grass to settle into for the afternoon. For a date, it provides a truly romantic backdrop – especially as the sun is setting. For friends, it is the perfect hideaway for stimulating conversations and an all-round relaxing catch-up. You can't go wrong.
SATURDAY NIGHT FIREWORKS AT DARLING HARBOUR
You don't have to wait until New Year's Eve to be dazzled by fireworks upon Sydney's skyline. Every Saturday at 9pm, the unique area of Darling Harbour puts on a fantastic short-and-sweet display of fireworks, delighting all diners and drinkers in the area. It makes for a fantastic night out with a new flame or friend – find somewhere to eat (you'll be spoilt for choice), and settle into an outdoor table. Before you know it, your deep chat will be interrupted by pinwheels and sparkles lighting up the Sydney night sky, reflecting down onto the harbour. Pause and share the experience together – then think about what you'll do after dinner. Bowling? Karaoke? Laser-tag? Drinks? A movie? You can do it all in the King Street Wharf Area. Travel one stop on the train from Sydney Central YHA or stroll for 20 minutes.
HAVE A LAUGH AT THE COMEDY STORE
Nothing breaks the ice like some good comedy, and Sydney is a brilliant hub for both amateur comedians to find their feet and professional comedians to do their thing. You can't go past The Comedy Store – located in the Entertainment Quarter just a ten-minute drive from Sydney Central YHA. There's guaranteed to be something happening any night you go – whether it's a showcase of aspiring comedians new to the game, or a more established artist ready to bring the house down. Add the on-site cocktail bar, and you're got the perfect atmosphere for bonding with your companion. Just don't sit right up the front unless you want to be roasted! Afterwards, explore the Entertainment Quarter for dinner, drinks, bowling or anything you fancy, really!
SEE AN AFL OR NRL GAME
Come on, surely at least one of you has a vague interest in either AFL or NRL! That's all you need to enjoy a night or afternoon out watching one of these iconic Aussie sports play out, live and up close. Sydney is home to all sorts of stadiums that fuel the atmosphere, from giant showstoppers such as ANZ Stadium and the famous Sydney Cricket Ground, to much loved suburban venues like Leichhardt Oval and Redfern Oval. All these are easily accessible from Sydney Central YHA. Grab your companion, hop on the train or bus, consider buying some merch to really get into the spirit and settle in for the spectacle, armed with your hot dogs and beers. If you aren't too interested in the game itself, no worries! People-watching the diehard fans is pretty much just as exciting.
PAINT AT CORK & CHROMA
The latest craze taking Australia by storm is learning to paint with the added bravery of a few wines – and Cork & Chroma in Surry Hills (an 11-minute walk from Sydney Central YHA) is one of the best places to do it! With absolutely zero artistic experience required, pay one price for your supplies and canvas (it's BYO booze, and nibbles can be bought at an extra cost). You can then sit back and relax as experienced artists take you through your painting, step by step. Allow yourself to relax, be social, laugh and have fun with your companion, as you share the experience together and go through the wines! You'll find that even people who don't have a creative bone in their body are able to create something worthy of hanging up at home. So, if things don't work out, well, at least you'll both have a souvenir from your time together!
EXPLORE ROYAL NATIONAL PARK
Why not start things off on a high note and go on a full-on adventure? An easy day trip from Sydney Central YHA towards the south, the Royal National Park in NSW is packed full of wonders to discuss with your date or mate. Boasting walking tracks, lookouts and landmarks such as the famous Wedding Cake Rock, you and your companion will never run out of things to see and do together, and memories you will have in years to come (if all goes well!) The unmissable attraction is the Figure 8 pools: get to know each other on the 6km trek each way, and be rewarded for your efforts when you reach the pools – a stunning Insta opportunity or glorious spot to cool off after a long walk.
HAVE AN ANIMAL EXPERIENCE
First dates and friend hangouts are a happy occasion, and nothing sparks joy like seeing some Aussie animals. Thankfully, there's plenty of spots right in the heart of the city where you can meet animals, from the outback to the plains of Africa. If you don't feel like going far from YHA Sydney Central, you can make your way back to Darling Harbour and spend the day at Wildlife Sydney Zoo to meet Davey the quokka (pictured), followed by being wowed at SEA LIFE Sydney Aquarium. If you fancy an unforgettable ferry ride from the city, check out Taronga Zoo in a leafy suburb in Sydney's north – to meet the largest collection of Aussie and exotic animals in the city. Nothing provides chat topics like weird, wacky and wonderful animals!
Check out the Golden Age Cinema and Bar
Movies generally aren't a great way to get to know someone, but exceptions can be made for this boutique, one-of-a-kind spot in Surry Hills - a ten-minute walk from YHA Sydney Central. You won't find Avengers or Star Wars here, but you will find a range of new independent movies, much-loved golden classics and also forgotten cartoon favourites such as Spirited Away. Before or after your flick, you and your companion can enjoy delicious food such as cheeseboards and gourmet toasted sandwiches at the bar, as well as an impressive collection of wine, beers and cocktails – so there's still as much time to chat as there is to shut up and watch the movie. Sometimes there will even be live music playing. All in all, a visit to this iconic spot is an experience in itself, providing good vibes all round.
Check out MCA
Abstract art and drinks – they go together like you and your new beau or friend (hopefully!) Open from 10am – 5pm every day, and open until 9pm on Wednesdays, the Museum of Contemporary Art provides a stimulating and non-pretentious art environment to bond with your companion. Enjoy countless immersive exhibits and installations from Australian, indigenous and international artists. Once your minds are filled and eyes are dazzled, stimulate your taste buds at the famous MCA Café, offering a seasonal, gourmet menu which is given as much thought and love as the exhibits. Enjoy the delicacies and drinks on the rooftop terrace, enjoying the experience and each other's company. Hop on a train from YHA Sydney Central and travel a few stops to Circular Quay, and you're set!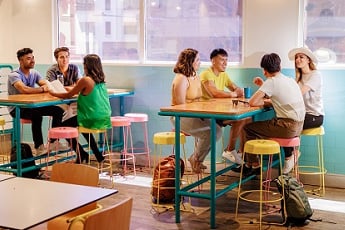 YHA Sydney Central
Located in a heritage-listed building in the heart of Sydney, this bustling international hub is next all major train & tram lines for easy access to the city's top attractions.