10 Unique Things to Do in Sydney
It's time to take back your city and remember why you fell in love with it in the first place. Book your favourite restaurant and bar, stay over night with YHA and enjoy as many of these top 10 as you can!
Picnic at Wendy Whitely's Secret Garden
View this post on Instagram
Five-star views of Sydney Harbour and fairy garden vibes – for absolutely nothing! Secluded and private, in spite of its popularity, and awash with a peaceful, zen atmoshphere, this is a spot so special, locals are loathe to share it around. Located in North Sydney – just a few stops on the train from YHA Sydney Central – Wendy Whiteley's Secret Garden is a no-brainer for a unique and special romantic or social date. Bond over picking out a picnic at the supermarket, make the scenic walk down the steps together, and find a table or a lovely patch of grass to settle into for the afternoon. For a date, it provides a truly romantic backdrop – especially as the sun is setting. For friends, it's the perfect hideaway for stimulating conversations and an all-round relaxing catch-up. You can even go by yourself for the ultimate relaxing experience and feel your worries float away. Honestly, you can't go wrong with this spot.
Immerse yourself in a wildlife wonderland at Taronga Zoo
View this post on Instagram
Located on a peninsula in the leafy suburb of Mosman and overlooking the harbour, Taronga Zoo is, without a doubt, one of the most beautiful wildlife menageries in the world. Famed for its industry-leading conservation work, WAZA-certified Taronga is a powerhouse of zoological education and makes for the perfect half or full-day outing for animal lovers of all ages. Despite its relatively compact layout, it's easy to get lost amongst its jungle-like landscape gardens as you weave in and out of exhibits featuring everything from giraffes to Sumatran tigers to ring-tailed lemurs and quokkas. To complete the experience, catch the ferry for Circular Quay to travel direct to the zoo, and soak in priceless Sydney views as you go.
Find your next fave at the Glebe Markets
Just as a local, suburban market should be, Glebe Markets are diverse, colourful and full of life. Meander through stalls of fashion, books, jewellery, artwork, furniture, bric-a-brac and pretty much everything you can possibly imagine. The most popular stalls are the rows upon rows of colourful vintage clothes; both new and handmade, and pre-loved. You very well may find your next perfect pair of jeans or statement tee here! Recycling is a strong theme here – turning something old into something new and fabulous. When you get peckish, take your pick from the countless stalls, ranging from the best gozleme in Sydney to Hungarian donuts. Grab your nosh and find a lovely stretch of grass to enjoy live music and soak up the atmosphere as you eat. Rain, hail or shine – you can always rely on Glebe Markets to fill your Saturdays with fun, food and fresh discoveries.
Spice things up at Spice Alley
View this post on Instagram
Just a short walk from YHA Sydney Central is Spice Alley, where dozens of street-food-style Asian eateries ply their trade under a canopy of glowing lanterns. You and your companions can soak up the buzzing atmosphere, breathe in the smells and experience a touch of Asia right in the heart of Sydney, settling into a couple of the 350 seats available and diving into some delicious culinary fare from Vietnam, Japan and plenty more. This is a fantastic stop off for any evening out on the town near Central.
Check out the Golden Age Cinema and Bar
Head for this boutique, one-of-a-kind spot in Surry Hills – a ten-minute walk from YHA Sydney Central. You won't find Avengers or Star Wars here, but you will find a range of new independent movies, much-loved golden classics and even the occasional animated classic, such as various Studio Ghibli favourites. Before or after your flick, you and your companions can enjoy delicious food such as cheeseboards and gourmet toasted sandwiches at the bar, as well as an impressive collection of wine, beers and cocktails – sometimes there will even be live music playing. All in all, a visit to this iconic spot is an experience in itself, providing good vibes all round.
Explore (the haunted) Q-Station
View this post on Instagram
If you're an adventurer and water-baby at heart this is a must-do! Hire a kayak from Manly Kayak Centre (or bring your own!) and push off from a little beach right near Manly Wharf. If you're not confident on your nautical navigation skills, Manly Kayak Centre also hosts a tour, so you can relax and enjoy knowing you're in safe hands. The difficulty of this kayak depends on a number of a factors, but it's always best done with a buddy to ease the workout, and for maximum fun! Hug the coastline as much as you can. When you need a break, steer into secluded and peaceful Store Beach to rest and refuel. When you're ready to head off again, you'll scoot around to the famous (and allegedly haunted) Q-station – where you can snorkel and frolic around Quarantine Beach, or take a ghost tour if you're game!
Sip cocktails in an underground bar
But first, you have to find it! Enter a fire door next to a sandwich shop on Sydney's Pitt Street and follow a corridor so long, you'll be sure you're lost. But soon, you will see a polished brass pineapple door knocker – enter and you're in! Boasting a diverse and delectable cocktail and nibbles menu with a distinct Japanese feel, you'll fall head-over-heels in love with the cozy atmosphere at Door Knock Bar, described as "feeling like you're in a mate's place." With dim mood lighting, it also makes it a perfect spot to take a first date (wink wink).
Take fish and chips to the next level at Sydney Fish Market
View this post on Instagram
As a big island, it's no surprise that Australia's seafood is absolutely glorious, and there's one major place the Sydney locals go to get it: the famous Sydney Fish Market. The largest fish market in the Southern Hemisphere and the second-largest seafood market in the world outside of Japan, the Sydney Fish Market offers you the opportunity to sample the freshest of the fresh. Browse the countless seafood retailers and pick up some seafood to cook up at YHA Sydney Central later, or let others do the work for you and enjoy an endless array of fantastic dining experiences. From a casual eat at the sushi bar to an epic seafood platter overlooking the water, there's something for every seafood lover. If you're into upskilling, book a class at Sydney Seafood School – where some of Australia's leading chefs teach you how to perfectly cook anything from canapes to BBQs!
Take in a show at the Capitol Theatre
It'll take you more time to wait for an uber than it will to walk from the Capitol Theatre back to your bed at YHA Sydney Central. With world class musicals such as Beauty and the Beast, Alice's Adventures in Wonderland, Grease and Chicago playing, there's something for everyone, and enjoying an evening of song and dance will put the pep back in the step of even the weariest traveller. Book tickets here.
Leave Sydney entirely...
View this post on Instagram
Now, this one will actually put you a step ahead of the locals! Aussies tend to be creatures of habit – working hard during the week and generally spending our weekends in our own backyards. As an adventurer, you're of course going to spend your weekends discovering hidden gems outside of Sydney that are mere train rides away! The cream of the crop has got to be the Blue Mountains – a world away, yet only two hours from Sydney's CBD. Enjoy the most exquisite landscapes you'll ever see, from the iconic Three Sisters rock formation to gliding above lush canopies at Scenic World. You're definitely going to need to crash overnight here, so secure your bed at the cosy and homely YHA Blue Mountains - just a stone's throw from terrific pizza, lively pubs and cute cafes!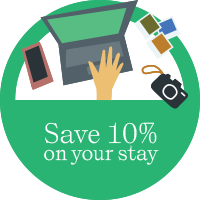 Book direct and save
By booking direct with MyYHA you'll receive our exclusive discounted rates. Sign up or login to get 10% off at select properties.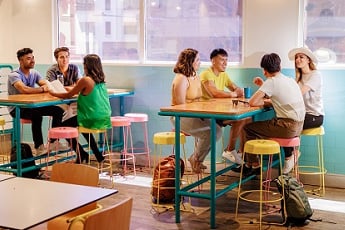 YHA Sydney Central
Located in a heritage-listed building in the heart of Sydney, this bustling international hub is next all major train & tram lines for easy access to the city's top attractions.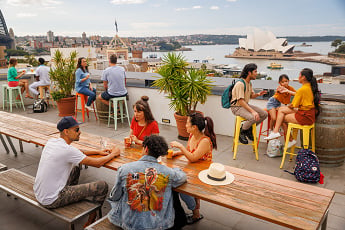 YHA Sydney Harbour
This modern, sustainable property in The Rocks draws an international crowd with its world-class harbour views of the Sydney Harbour Bridge and Opera House.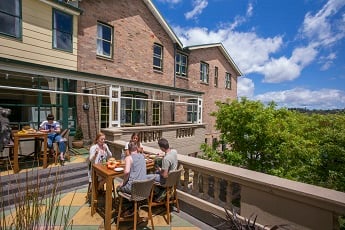 YHA Blue Mountains (Katoomba)
This historic lodge located right in the middle of Katoomba is as cosy as it is hospitable. Escape the city and make it your base for your next outdoor adventure.