20 free things to do in Hobart
You don't need to dig deep into your pockets to have a stellar time in Hobart. Across an array of free outdoor adventures and cosmopolitan detours, you'll find out why locals pride themselves on the city's "Slowbart" reputation, savouring the leisurely pace of life compared to the mainland. Ready to plan your visit? Check out these activities for budget-conscious travellers.
1. Wander the historic Hobart waterfront

Image:

Samuel Shelley
Don't miss the opportunity to stroll along Hobart's centuries-old waterfront. Flanked by historic architecture, modern eateries and fishing vessels big and small, Constitution Dock and Brooke Street Pier punctuate this lively marina. Munch on takeaway fish and chips along the water's edge to experience a favourite local pastime.
2. Find inspiration at the Tasmanian Museum and Art Gallery
The Museum of Old and New Art isn't the only creative masterclass in town. The Tasmanian Museum and Art Gallery (TMAG) is a top-quality free alternative with an expansive collection totalling almost 800,000 pieces. Check TMAG's exhibition schedule or drop in for an artistic surprise.
3. Explore the famous Salamanca Market

Image:

Tourism Australia
It's no surprise Salamanca Market appears on nearly every Hobart travel itinerary. The market bursts to life each Saturday with over 300 stallholders spruiking handicrafts, fashion and cuisine just off the waterfront. Recline on the Salamanca Lawns to take in live busker performances.
4. Admire First Nations creativity at Art Mob
Art Mob has been Hobart's go-to destination for Aboriginal art for two decades, thanks to long-standing relationships with some of Australia's leading Indigenous artists and regional art centres. Exhibitions feature works by new and established names and you can chat with the in-house experts for a free gallery tour.
5. Roam the Royal Tasmanian Botanical Gardens

Image:

Tourism Australia
Overlooking the Derwent River on the fringes of Hobart CBD, the Royal Tasmanian Botanical Gardens features 14 hectares of immaculate horticultural landscape. Biodiverse and colourful in equal measure, each peaceful space – including a Japanese garden and the sub-Antarctic conservatory – is ripe for a laid-back mosey.
6. Catch the sun at Bellerive Beach Park
Hobart isn't exactly known for sweltering weather, but don't underestimate the pleasant spring and summer conditions. Across the Tasman Bridge, Bellerive Beach Park presents a picture-perfect shoreline ideal for swimming and sunbathing. Here you'll find great facilities, including BBQs, shady picnic tables and playgrounds.
7. Hike to the summit of kunanyi/Mount Wellington

Image:

Samuel Shelle
Immerse yourself in Hobartian nature at kunanyi/Mount Wellington. Rising to 1,271 meters above sea level, the picturesque summit showcases incredible views across the nearby city and mountain range. For those seeking a challenge, try the Ice House Track's steep 6.1-kilometre trek to the peak, complete with ever-changing scenery and terrain.
8. Relish panoramic views at Mount Nelson Signal Station
Perched high above Hobart to the south, Mount Nelson Signal Station offers a breathtaking vantage point over the region's natural beauty. Only a 10-minute drive from the CBD, it's a simple journey to the summit via Nelson Road. Feeling active? A 90-minute return hike meanders through the Truganini Conservation Area's native bushland.
9. Experience the charm of Battery Point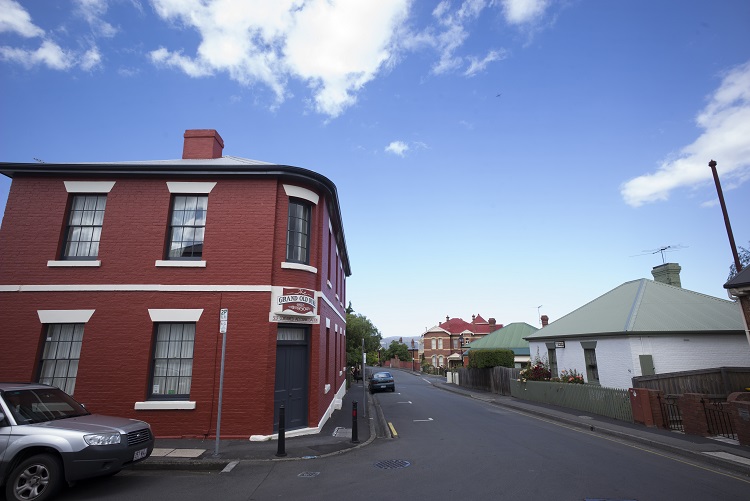 Recognised as Hobart's first suburb, Battery Point emanates with colonial-era history through its storied architecture. Dating from the mid-1800s, restored worker cottages, heritage storefronts and English-style pubs resonate with old-world charm. Head to this quaint maritime village to step into the Hobart of yesteryear.
10. Relax amid Seven Mile Beach
Need a break from history and culture? Decompress in the idyllic surrounds of Seven Mile Beach. Situated a 20-minute drive from Hobart, here towering sand dunes and a lush nature reserve shelter diverse bird species, kangaroos and wallabies. You might even spot a leopard seal dozing in the sand.
11. Wend your way through towering fern trees

Image:

Dearna Bond
In the foothills of kunanyi/Mount Wellington, Fern Tree Park features serene forest walks and picnic spots. The Fern Tree to The Springs Loop is a popular route, traversing 3.9 kilometres through moss-covered gullies. Admire the cascades at Silver Falls before reaching The Springs – a historic lookout point over the city.
12. Consider modern works at Contemporary Art Tasmania
Contemporary Art Tasmania slots nicely into the trendy surrounds of North Hobart. Featuring stimulating exhibitions dedicated to modern and experimental art, the gallery is a crucial cornerstone for Tassie's creative community. Open during exhibition dates, six major shows are presented yearly at no cost to the public.
13. Picnic in St David's Park

Image:

Alastair Bett
Bordering the city centre, St David's Park is unbeatable for a sunny afternoon picnic. Loaded with history (it was Hobart's first burial ground!) and adorned with pristine gardens, you won't find many better spots for al fresco snacking. Also of interest, the Free Hobart Walking Tour departs from this very location.
14. Capture the scenery at Strickland Falls
You don't have to trek deep into the wilderness to see striking waterfalls. At a 15-minute drive from Hobart CBD, Strickland Falls is ideal for the not-so-adventurous. If you have more energy to burn, walk a little further up the Rivulet Track to reach the impressive O'Gradys Falls.
15. Get to know local artists at Salamanca Arts Centre

Image:

Alastair Bett
Located in Hobart's historic wharf, Salamanca Arts Centre has formed part of the city's creative bedrock since 1976. Many of Tasmania's most respected artists now operate from within its walls, and a selection of dynamic exhibition spaces welcome visitors to admire their work. Most exhibitions are free to visit.
16. Discover platypus along the Hobart Rivulet Walk
Reaching from the CBD to the base of kunanyi/Mount Wellington, the Hobart Rivulet Walk is perfect for an easygoing trek on foot or two wheels. Follow along a waterway that once provided locals with drinking water while keeping your eyes peeled for platypus in the riverbed.
17. Chat with artisan producers at Farm Gate Market

Image:

Tourism Australia
Held weekly on Sunday mornings, Farm Gate Market is the best place to meet and greet Tassie's top makers and producers. Set along Bathurst Street in the CBD, you'll find eclectic stalls dedicated to fresh produce, artisan goods, international street food and more.
18. Escape the city at Waterworks Reserve
Developed in the 1860s, Waterworks Reserve is where many Hobartians reconnect with nature. While swimming isn't allowed in either dam, bushland tracks teeming with native birds and marsupials sprawl in every direction. Plus, on-site barbecues let you make the most of the tranquillity with a tasty feast.
19. See breathtaking views along Tasman Bridge

Image:

Events Tasmania and Alastair Bett
The Tasman Bridge is one of Hobart's defining landmarks, connecting its east and west shores. At either end, parks and lookout points provide spectacular river and mountain views. Meanwhile, the bridge dazzles onlookers after dark with almost 2,000 colourful LED lights.
20. Challenge yourself on the Cathedral Rock Track
While there are plenty of beginner-friendly treks to explore near Hobart, the Cathedral Rock Track is bound to give experienced hikers a stern test. Winding your way up a craggy 8.7-kilometre out-and-back trail, the summit's dolerite columns and sweeping views will fully reward your efforts.
Words: Hudson Brown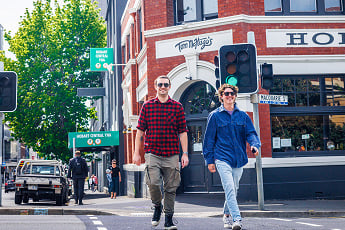 YHA Hobart Central
A perfect gateway to Hobart and the rest of Tasmania, this friendly, centrally-located property is barely two blocks from the waterfront and the city's best cultural attractions.