48 Hours in Sydney
With a stunning harbour, countless beaches and plenty of trendy cafes, bars and markets, a visit to Sydney keeps you on your toes. But with plenty of tourist appeal comes a tonne of tourist traps. We look beyond the clichés to bring you the top insider attractions for 48 hours in Sydney. Jennifer Ennion dodges the tourist traps and unveils some hidden gems in the harbour city.
Day One
Breakfast at The Grounds of Alexandria
There's a reason Sydneysiders love The Grounds of Alexandria - it's where design meets secret garden meets top-notch food. With multiple spaces, both indoors and out, The Grounds, as the locals say, is somewhere to hang awhile. It gets busy, so visit early for breakfast. The main cafe serves a delicious platter of fruit, nuts, granola and organic yoghurt (among other dishes), and does a perfectly spiced chai tea. You can also grab takeaway muffins, pastries, cronuts (croissant-donut pastries), donuts, plump strawberries and loaves of sourdough - great for snacking later. If you ride a bicycle there, you'll get free coffee, too.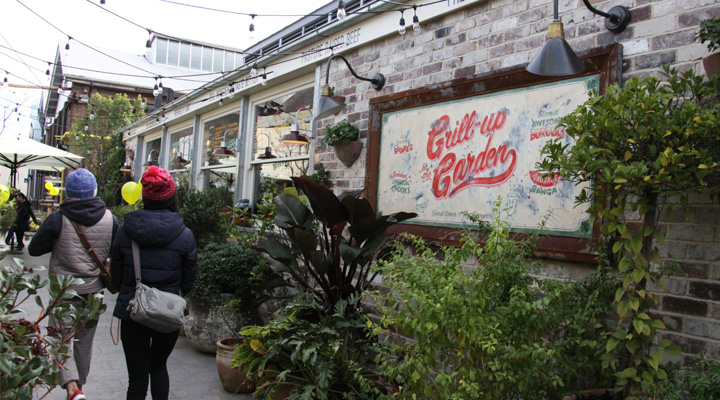 Go shopping
Just around the corner is The Grounds Markets, held on weekends. They're small but a good place to pick up a stylish souvenir. Soul & Ark sell beautiful soy candles in fragrances such as pink champagne and coconut lime. They come in lightweight tins, too, making them easy to fit into a backpack. You'll also find jewellery, children's books and cards.
Afterwards, walk to Green Square station (10 minutes) and catch a train to Bondi Junction, via Central. Then catch a bus (333, 380, 381, 389) to Bondi Beach. Once in Bondi, head to Hall Street, home to local favourite Gertrude & Alice Cafe Bookstore. There are more than 25,000 second-hand books for sale, making it the perfect place to pick up your next read. Bondi Markets, in Bondi Beach Public School, is your best bet for affordable clothing, but if you're in the mood to splurge, head to Gould Street's high-end boutiques. Once you're shopped out, stroll down to the beach for a dip, before wandering up the hill into North Bondi.
Bondi to Coogee Walk
Follow one of Sydney's most stunning trails, the Bondi to Coogee Walk. Saunter for six kilometres along cliff edges, over headlands and across beaches as you visit the beautiful postcodes of Tamarama, Bronte and Clovelly. Stop for a swim at Bronte and, if the ocean is calm, don't forget to carry snorkelling gear for Gordons Bay. Reward yourself at the end with a swim at family friendly Coogee Beach. Catch a bus from Arden Street to Oxford Street, Surry Hills (about 30 minutes), then walk to Butter, on Hunt Street.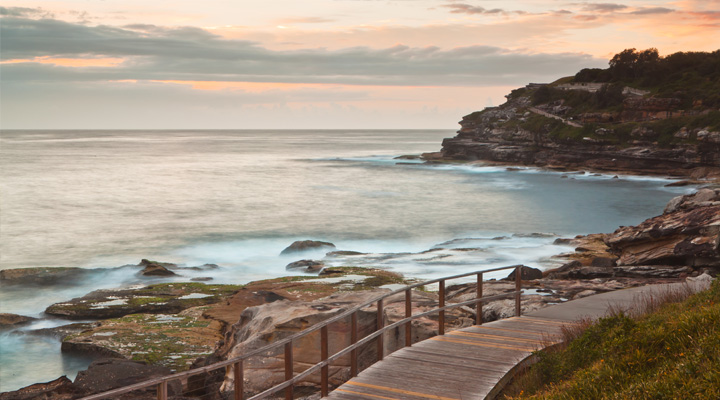 Dinner and drinks at Butter
It may look like a sneaker store from outside, but Butter is a new small restaurant/bar making its mark on the Sydney after-dark scene. Perch on a stool behind the shopfront of high tops and hoe into a basket of spicy fried chicken as you tap your toes to the great soundtrack of hip hop tunes. With black decor, laid-back staff and a beer and champagne menu, this place will make you linger. It's a popular spot, so arrive about 6pm to avoid queues.
Day Two
Breakfast at Reuben Hills
For breakfast with a difference, start your day at Reuben Hills, in Surry Hills. Quirky creations include porridge with Milo, sultana syrup and charred mandarin, and a broken omelette roll with fried shrimp and bacon jam. This cafe is also a great spot for people-watching. Once your belly is full, walk to Central Station (10 minutes), catch a train to Circular Quay (8 minutes), and board a ferry to Cockatoo Island (27 minutes).
Ferry trip
A ferry trip to Cockatoo Island is a harbour "tour" without the price tag. Aside from the views of the Harbour Bridge and waterside suburbs, the island has an interesting history. It was settled as a convict prison in 1839, and was later home to reformatory school and one of Australia's biggest shipyards. Visitors can learn about it all on a self-guided audio tour. After about two hours, return to Circular Quay and explore The Rocks by foot.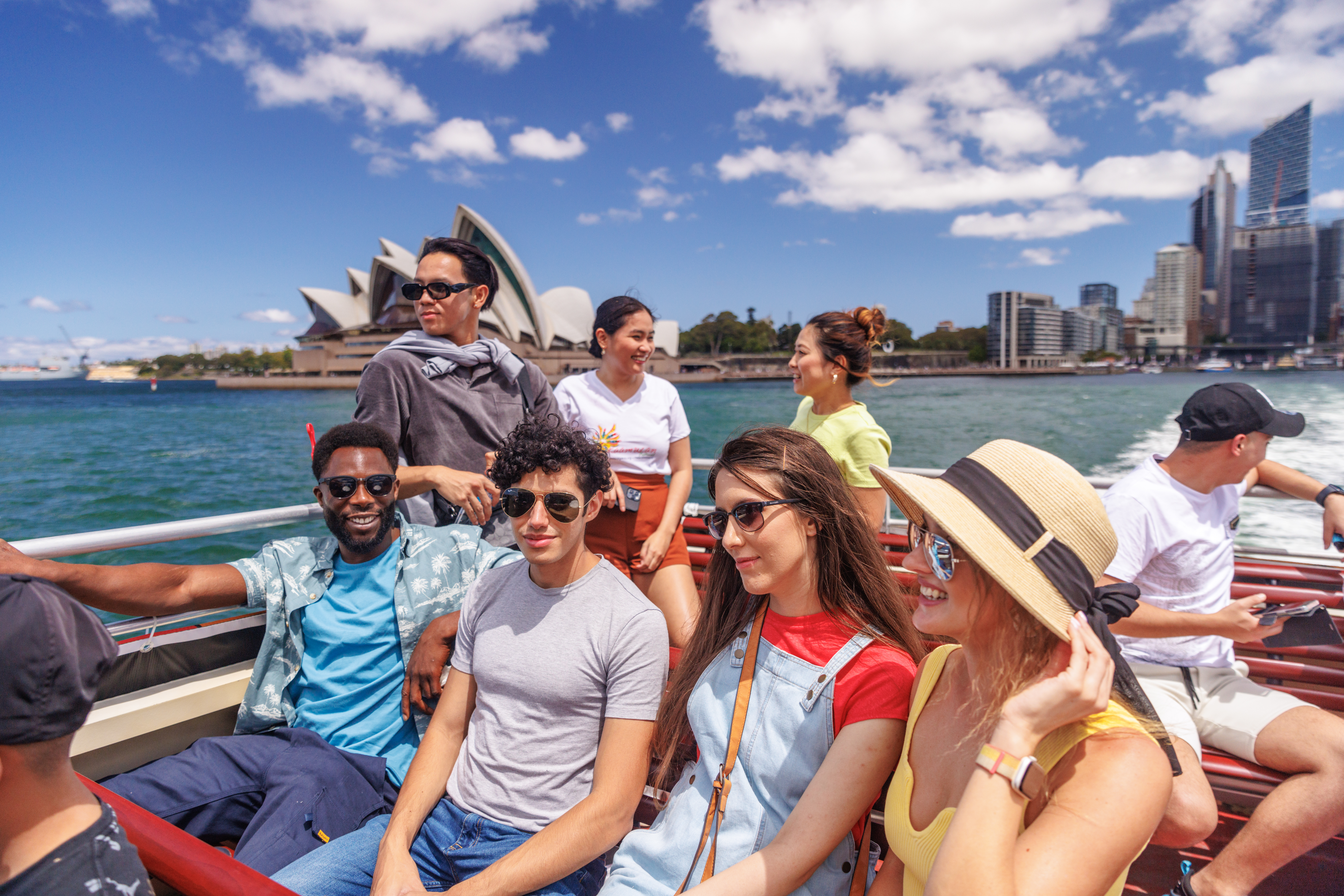 Lunch in The Rocks
The Rocks is one of Sydney's most treasured suburbs, with its history rooted in European settlement. Today, its biggest drawcard is the numerous old Aussie pubs, and The Glenmore is one of them. Built in 1921, it has a narrow, soaring stairwell to a rooftop bar with stellar views of the Opera House. Private parties can reserve the best seats at night, so call in at lunchtime when it's less crowded and dishes such as barbecue beef ribs are on the menu. Walk back down the hill to the impressive Museum of Contemporary Art (MCA) on the harbour.
Visit the Museum of Contemporary Art
Culture vultures will love the MCA, which showcases works by contemporary Australian artists. You'll find a wide range of mediums on exhibition, from painting, photography and sculpture to moving image, and works on paper and bark. The MCA is also a good place to view Indigenous art, with pieces from Arnhem Land from the 1950s. Learn more about the collections on one of the free daily tours, and download the free MCA Australia app.
Dinner and music
It's loud, crude and definitely hip, which makes Frankie's Pizza, on Hunter Street in the CBD, all the more attractive. Snap up a booth in the tiny cavern of a restaurant, where the young crowd dines on pizzas in dim light. Then move into the main bar, where freshly squeezed orange and apple juice is served with spirits as the screams of a rock 'n' roll band reverberate across the poster-plastered room. The biggest selling point is the row of pinball machines in the back corner - they're a blast and a great find in Sydney's white-collar district.
Hip Hangs After Dark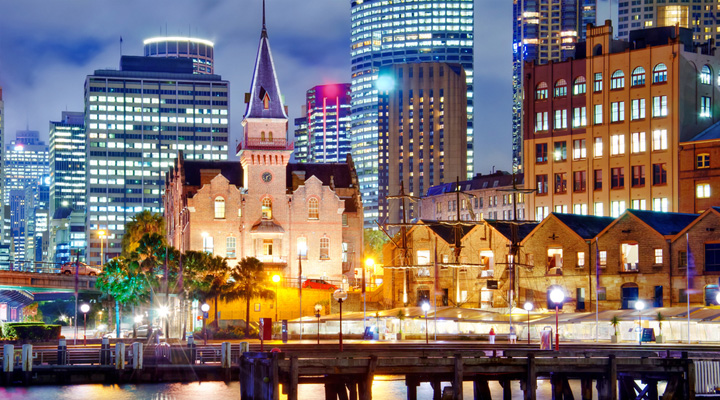 Shady Pines Saloon - If you're hankering for some cowboy culture, head to this North American-style drinking hole located in Darlinghurst.
Opera Bar - Attracting Sydney's "it" crowd, Opera Bar is the place to be seen. It's also on the doorstep of the Opera House and has awesome bridge views.
The Enmore Theatre - From comedy shows to rock 'n' roll, if you're keen to see a live show, The Enmore Theatre, in Newtown, has a decent dose of acts to choose from.
Schirrmo's Bar - If you're hankering for some old-fashioned fun, visit Schirrmo's Bar, underneath YHA Sydney Central. It is a unique underground escape where paths cross and stories are shared over a cheeky drink or two.
Pools Worth Dipping Into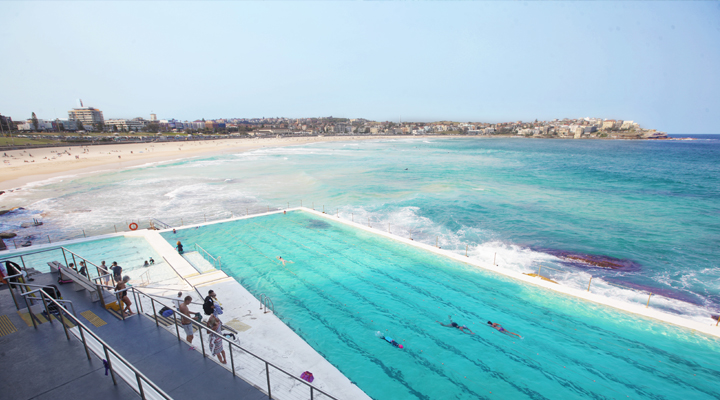 Bondi Baths (aka Icebergs) - It's one of the most Instagrammed attractions in Sydney, and the famous Bondi Baths is the place to hang when the ocean's too rough for a surf.
Whylie's Baths - A short walk around the corner from Coogee Beach, Whylie's Baths has been drawing Sydneysiders since its opening in 1907.
Dawn Fraser Baths - Built in the 1880s and well off the tourist trail is the charming Dawn Fraser Baths, in the trendy inner-city neighbourhood of Balmain. Whilst closed over winter, they reopen 1 October for summer.
North Sydney Olympic Pool - Located in one of the city's most expensive suburbs, and within a swimmer's splash of the Harbour Bridge, North Sydney Olympic Pool is an attraction in itself.
Andrew (Boy) Charlton Pool - For more views of Sydney Harbour, check out Andrew (Boy) Charlton Pool, on the edge of the Royal Botanic Gardens and just a skip from the CBD.
Where To Stay
You are spoilt for YHA options in Sydney. YHA Sydney Central is a great choice for transport links, and exploring Chinatown and Darling Harbour. You can't beat the harbour views from the rooftop at YHA Sydney Harbour in The Rocks. There's always a warm welcome and a warm bed for you at our YHAs!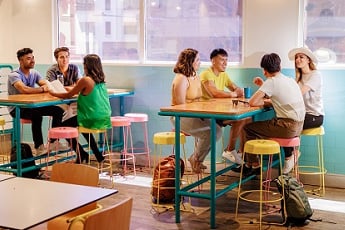 YHA Sydney Central
Located in a heritage-listed building in the heart of Sydney, this bustling international hub is next all major train & tram lines for easy access to the city's top attractions.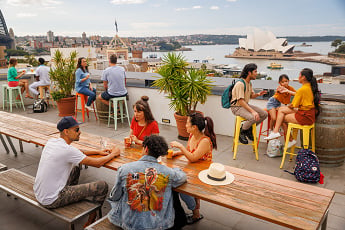 YHA Sydney Harbour
This modern, sustainable property in The Rocks draws an international crowd with its world-class harbour views of the Sydney Harbour Bridge and Opera House.