50 hostel conversation starters that are less boring than, 'So where are you from?'
"Oh you're from Australia? My college room-mate's cousin lives in Canberra, I think". Everyone who's slammed into this conversational brick wall when they're travelling knows how tedious the 'Where are you from?' chat can become after a couple of weeks on the road. Spare your new travel mates the common room clichés and break the ice with these more interesting talking points instead.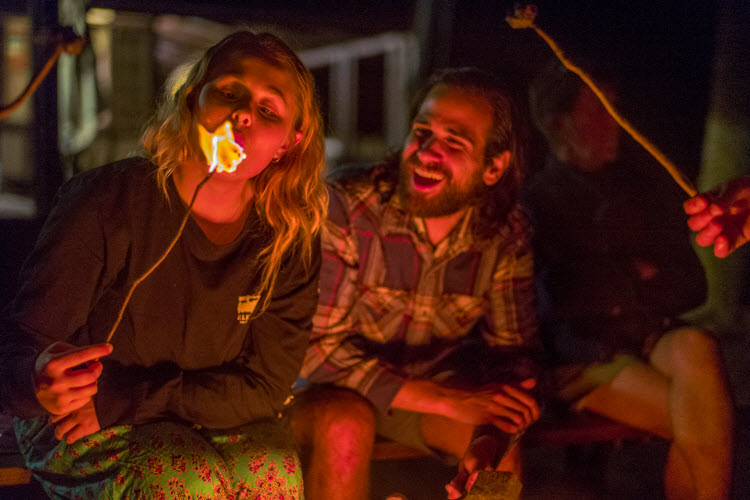 Having a chat at Pittwater YHA
1. What's been the highlight of your day, the lowlight of your day, and what have you learned from your day?
2. Tell me an app I need on my phone?
3. Pineapple on pizza – yes or no?
4. When was your first overseas trip?
5. Do you have any tattoos? I got this portrait of David Schwimmer on my shoulder blade when I was travelling through Caracas…
6. What's your favourite way to waste time?
7. Never have I ever…
8. Mmmmm, that smells good – what are you cooking?
9. Give me a local secret for visiting your home country?
10. What's better: fruity lexia or crisp dry white?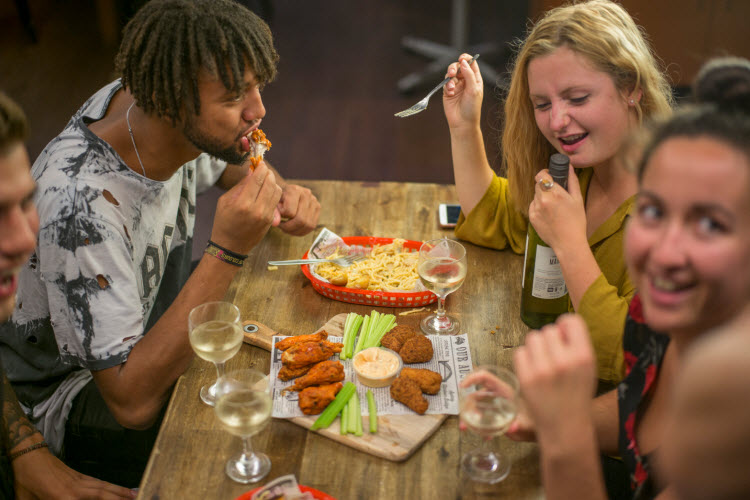 Spinning a yarn at Brisbane City YHA
11. What's your next challenge?
12. I really like your bag/T-shirt/Havaiianas – where did you buy them?
13. What's your favourite naturally occurring thing? Mine is cumulus clouds…
14. What type of music is big in your home country?
15. Show us your party trick…
16. Do you prefer to travel alone or on an organised tour?
17. Have you ever done a Tim Tam Slam?
18. New York or London?
19. What's the weirdest job you've ever had?
20. Would you rather be attacked by one horse-sized duck, or one hundred duck-sized horses?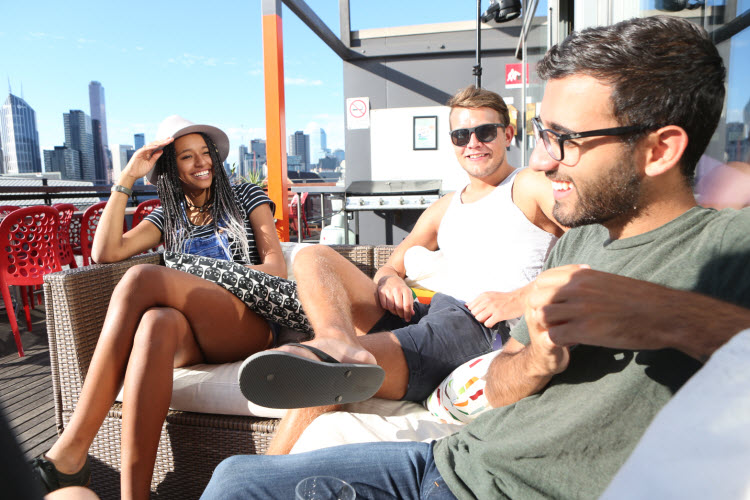 Chewing the fat on the Melbourne Metro YHA rooftop
21. Do you know the Wi-Fi password?
22. Who has had the biggest impact on your life?
23. What's the worst holiday you've ever been on?
24. Is jam a liquid or a solid?
25. What do you miss most about home?
26. We're off to the beach/market/pub/Harry Potter themed escape room – want to join us?
27. Vegemite or Marmite?
28. How about this weather, eh…
29. How do you cure the hick-ups?
30. What's the best hostel you've ever stayed in? Ah yes, I'd love to visit that YHA!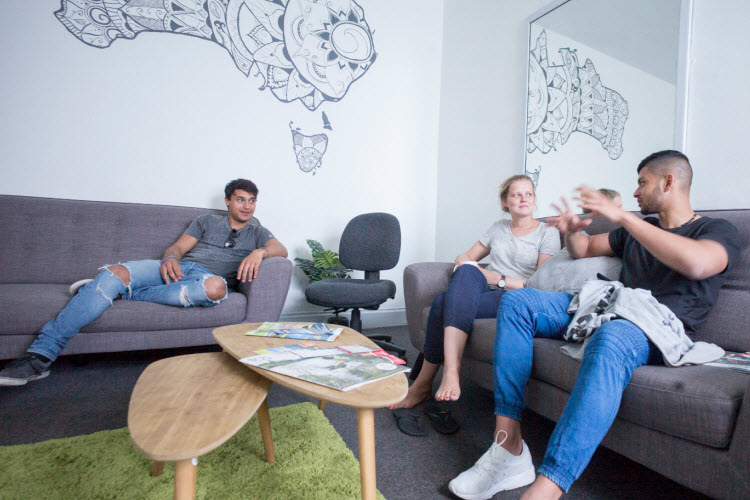 Enjoying a chin-wag at Hobart Central YHA
31. What's your favourite word? Mine's mellifluous…
32. What did you have for breakfast?
33. Wanna play cards?
34. Have you ever been to Berlin/Marrakech/the Cup Noodles Museum in Japan?
35. When you were a kid, what did you want to be when you grew up?
36. Shoot, shag or marry…
37. Tell me something surprising about yourself?
38. What's been the favourite meal you've ever eaten?
39. What would surprise people about your home country?
40. If you could have dinner with three fictional characters, who would you invite?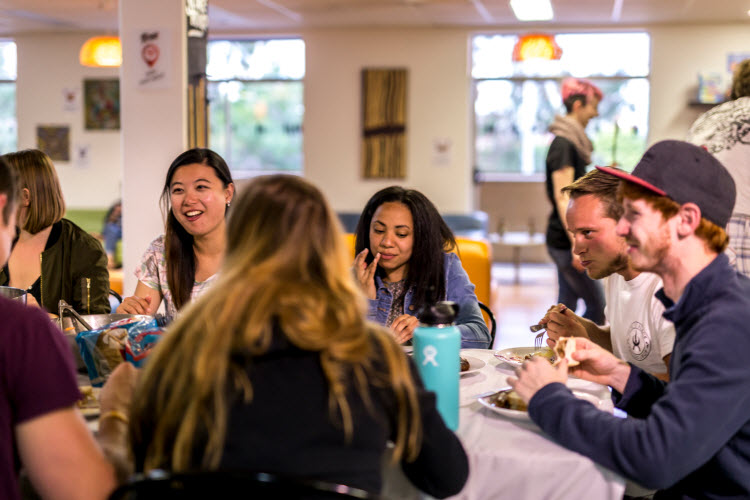 Shooting the breeze at Adelaide Central YHA
41. What's the best Christmas present you've ever received?
42. Who was the most interesting person you met today?
43. Best gig you've ever been to?
44. How do you get rid of a bad mood?
45. Who's the most interesting person you follow on Instagram?
46. Where's next on your bucket list?
47. Can I borrow a cup of sugar? (Works better if you're actually cooking something in the hostel kitchen)
48. Most overrated TV show of all time?
49. Where would you recommend I travel next?
50. Is this seat taken?
Still stumped? Check out HI USA's HI Cards, the perfect conversation starters for when you're mingling with a group of people.
Where to stay?
There's a world of new friends – literally – to meet in the kitchens and common rooms of YHA's network of 70-plus properties around the country. Book direct through yha.com.au for the best price, guaranteed.