6 Amazing Things to do in Alice Springs
There's nothing quite like the town called Alice, and if you're wondering about what things to do in Alice Springs, we've got six great suggestions! Don't forget to do some quick research before heading out, we try to make sure to only share experiences that are open, but things change fast, and it's always great to be certain.
Explore Alice along ANZAC Hill


If there was ever a time to slap on your walking shoes and spend your time outdoors, it's in the Red Centre. Fresh air, expansive views, pristine horizons – you don't get this stuff in the city. Pop to the top of Anzac Hill, a lookout and war memorial, for the very best views of not only the entire town but also the sweeping MacDonnell Ranges and beyond.

It's a relatively flat and accessible walk, a gentle stroll up to the 360 degree view. Pro tip, head up for sunset to watch the sky paint itself with neon colours and understand why it's called the Red Centre. Add on a cheecky #YHAOz to your shots to get a shoutout too!



Get closer to nature at the Alice Springs Desert Park

View this post on Instagram


The ever-popular Alice Springs Desert Park is open, and if you're a Territorian exploring the red centre, you can get a sweet deal on your visit and stay with YHA using your Tourism Voucher. Learn more and book here. If you're an out-of-towner visiting, you won't be able to use a tourism voucher, but we pinky promise it's worth it!

Hang out with dingoes, emu's, kangaroos and more, with tours that'll teach you that our Aussie animals are so much more than just a cute face. That being said, you definitely want to bring your camera along, there's plenty of free and paid photo ops available throughout the park.



Soar high on a hot air balloon ride




The 360 degree view from Anzac Hill is incredible, yes; but why not elevate your trip to new heights by floating over the sun rise across the wild and wonderful West MacDonnell Ranges? The flora and fauna in these parts are so unique that you want to see them from every angle; including birds' eye. There are two Hot Air Balloon tours operating out of Alice, both offering 4 hour round trips from Alice Springs YHA, a comprehensive and confident pilot and, best yet, a glass of post-flight bubbles while you're basking in the glory of what you've just seen.

YHA Australia members (that's you, when you stay at any YHA around the country!) score 10% off Spinifex Ballooning (currently closed due to COVID-19, but when they re-open, use SPXYHA at checkout) and Outback Ballooning (use OBBYHA at checkout) so there's really nothing else to do but book yourself in for a breaking of the dawn that you'll truly never forget.



Be amazed by the MacDonnell Ranges


The adventurer in you is going to want to get up close and personal to the Ranges having seen it from above – and we know just the trick! This Day Trip departing and returning to Alice Springs YHA introduces you to the magnificent gaps, gorges and chasms that comprise the grand MacDonnell Ranges, and gives you the opportunity of immersing yourself, literally, in Ellery Creek Big Hole. All meals and entry fees are covered on the trip, so all you need to do is gaze in wonder out of your window as the ranges transform before your eyes as the sun rises and sets.

Watch a movie with all the stars



The year 1942 heralded the opening of the Pioneer Theatre, an open air cinema to solve the issue of no air-conditioning in the Northern Territory at the time! Also known as the 'Walk-In', the cinema's screen faced south to avoid lighting from the sun and moon. The house attached to the theatre is now known as Alice Springs YHA – a place where the premiere of A Town Like Alice was held in 1956 and where guests still watch films under the stars each night.

Grab a complimentary blankie and pull up a seat in the courtyard each evening for an al fresco film. Lush.

Grab a cold one with an NT take on the classic Pub Feed





Now now now, we know you're not the kinda traveller to adventure to exotic locations only to order something your Mum used to make you three times a week as a kid. Right? Right. Beeline for Bojangles Saloon and Restaurant to sample their vast menu offering camel, emu, crocodile and kangaroo (all of which taste way, way better than you think they will!). This is the kind of bar where your drink order is remembered and served up ice cold, every time.

Speaking of cold, you're not going to feel it during your time in Alice; which makes the Gap View Hotel so damn sweet. Offering up all the familiar pub fare, The Gap View has had the ingenious idea to install an outdoor pool for patron use, as well as cold-mist seated areas so you can spritz yourself while ordering your next Spritz. You know where to find us!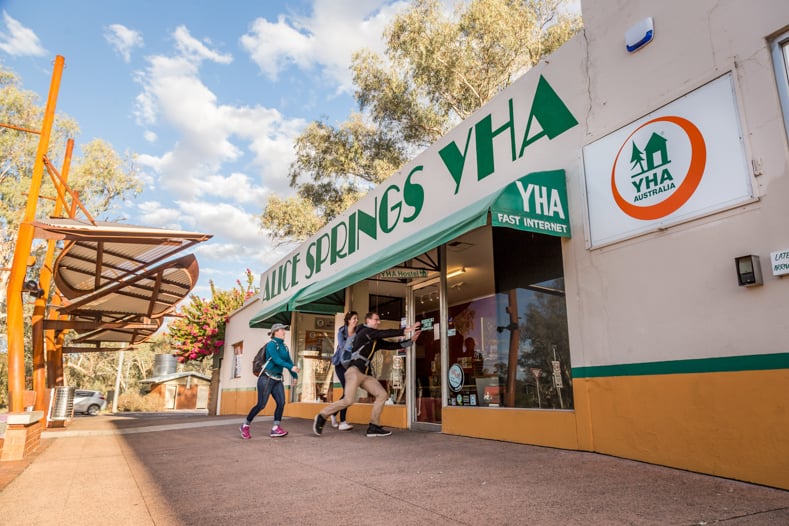 YHA Alice Springs
Located in the iconic desert town of Alice Springs, gateway to the Outback and Uluru, the historic YHA Alice Springs was once an open-air theatre and still hosts nightly movies.