6 best wine regions in Australia
Wine. It relaxes the mind, brings smiles to faces, is packed with antioxidants and can even reduce your risk of developing life-threatening diseases. Australian wine is fast becoming a force to be reckoned with, but is still pretty underrated. We've got the best wine regions in each state for you to sip and swill away, sample local produce, get back to nature and even meet some Aussie wildlife. If you're a wino, you'll be in paradise in one of these breathtaking spots. If not, the key to loving wine is to find that one perfect pinot noir or chardonnay that makes your body and soul go "Ahhhh..."
Hunter Valley, New South Wales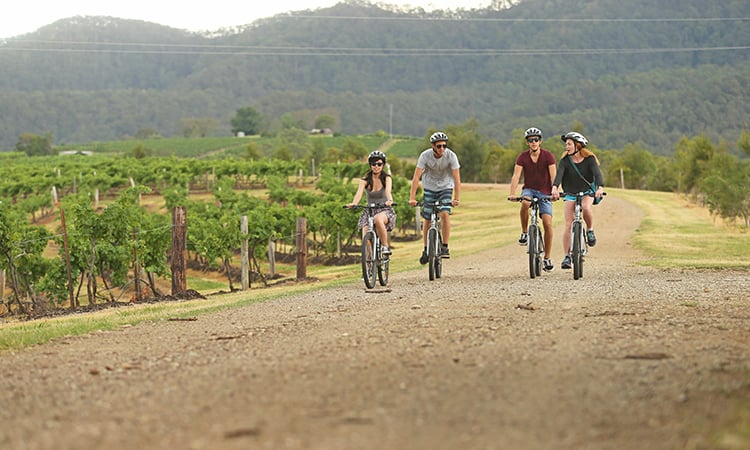 Australia's oldest wine region is conveniently located right on Sydney's doorstep, but you'll find it hard to believe you're only two hours outside the big city as you fall in love with the magical tranquility of the Hunter Valley. The perfect option for a cheeky romantic getaway, the Hunter region is renowned for its quiet country charm with all the modern perks. As you explore the wine region, you'll find 120 wineries where you can sample the famous Hunter Valley Sémillon. You'll also be surrounded by gourmet restaurants and eateries where you can fall upon a plethora of delectable local produce, from truffle salami to creamy camembert. There's always some live music or ultra hip festivals happening, plus a hot air balloon or helicopter ride can give you unforgettable views of the gorgeous scenery. Book your stay now at nearby YHA Newcastle Beach and explore everything the enchanting Hunter region has to offer.
Stay at: YHA Newcastle Beach
Barossa Valley, South Australia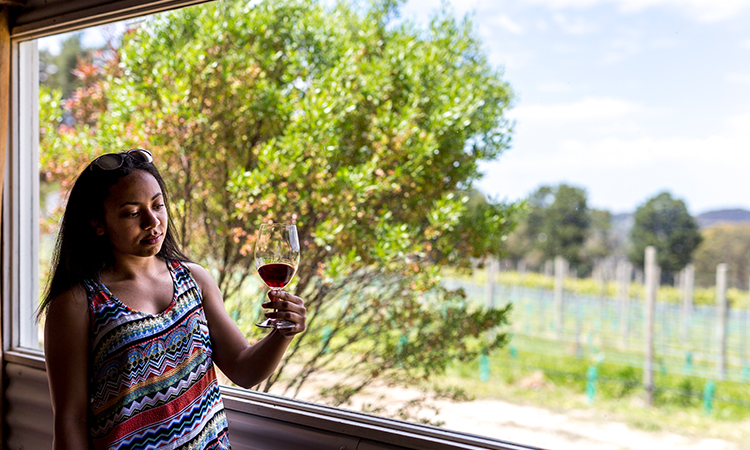 If shiraz is your poison, the world-renowned Barossa Valley is the place to be. A breezy 50-minute drive from Adelaide, the Barossa encompasses a whopping great 150 wineries and 80 cellar doors, surrounded by villages, stone churches and lush hills. It is the home of Australia's most famous red wine, Penfolds Grange, as well as household names such as Jacob's Creek or Wolf Blass. The history of the Barossa is incredible and visible today, you'll find seven generations of growers and winemakers with German, Prussian and British heritage. You'll also find the finest produce in the country; pick up a gourmet picnic basket filled with wine glasses, a cheeseboard and a condiments dish and fill it up as you explore the mouth-watering Butcher, Baker and Winemaker Trail. The Barossa is an unforgettable experience that the staff at YHA Adelaide Central can help you plan perfectly. Do it by bicycle, motorbike, vintage car, hot air balloon or helicopter, just make sure you do it!
Stay at: YHA Adelaide Central
Margaret River, Western Australia
View this post on Instagram
Three hours outside of Perth, the town of Margaret River is the stuff of fairy tales, a coastal paradise renowned for surf, native forests and caves of epic limestone and crystal formations. As if that wasn't enough, the wine region is one of the finest in the country. Margaret River wines make up less than 3 per cent of Australia's wines, but make a up a huge 20 per cent of our premium wines! You'll find hugely popular Stella Bella, Voyager Estate and Evans & Tate wineries here, offering a huge range but specialising in sauvignon blanc and cabernet sauvignon. If beer is more your game, you're in luck, head to Eagle Bay Brewing Co. for an outstanding selection of craft beer and woodfired pizzas. On a Saturday, the Farmer's Market is a must do, the finest and freshest produce you could hope for. When you're all wined and dined out, kick back and watch the one-of-a-kind sunset over the Indian Ocean at Surfers Point in Prevelly. YHA Margaret River is conveniently located a few hundred metres from the town centre, and if you're looking for casual vineyard work, we have a dedicated Jobs Desk! But whether it's work or play you're after, there's something for everyone in this truly spectacular region.
Stay at: YHA Margaret River or YHA Dunsborough
Yarra Valley, Victoria
Less than an hour's drive from the hustle and bustle of Melbourne, you'll find the Yarra Valley, a wine region as unique and unforgettable as the big city. The cool climes of Victoria mean that this is the place to go if you love a pinot noir, chardonnay or bubbly, and who doesn't?! The Yarra is also jam-packed with unique things to do. Visit the Blue Hills Berries and Cherries farm from November to April to pick your very own juicy Australian cherries. Check out the Buxton Trout and Salmon farm and be guaranteed to snare a juicy rainbow trout for your dinner. Get up close and personal with elusive Australian platypuses and other adorable animals at the Healesville Sanctuary. You can even pat and feed some fluffy alpacas at Omaru Alpaca Stud on the third Sunday of every month. Feeling pooped after a long day of exploring? Take a load off and pamper yourself at the incredible Piaf Day Spa, set amongst a rainforest paradise.
Stay at: YHA Melbourne Central
Tamar Valley, Tasmania
One of the most underrated Australian wine regions in one of the most underrated Australian states, the Tamar Valley epitomises everything that is unique and beautiful about Tasmania. Here you'll find wines typical of cooler climates, where chardonnay and pinot noir reign supreme. If you're a beer drinker, you can enjoy a unique experience of beer and good food at the famous James Boag's Brewery. There are more than 30 vineyards lining the shores of the Tamar Valley, nestled amongst enchanting orchards, forests and fertile pastures. You can explore them all when you follow the Wine Route. But how are you going to take all these amazing wines home with you, right? Never fear! At the last winery you visit, you can present your collection and have them mailed to your home. Just don't forget to keep one to enjoy with dinner. Take a day trip to Launceston from YHA Hobart Central and be swept away by the landscapes, fresh produce and crisp air of the incredible Tamar Valley.
Stay at: YHA Hobart Central
South Burnett, Queensland
View this post on Instagram
Queensland's up-and-coming wine industry is one of Australia's best kept secrets, and if it's Queensland wine you're after, South Burnett is the place to be. South Burnett is the largest and fastest-growing wine region in Queensland and is barely more than 20 years old! Traditionally a peanut-growing area, over time, droughts and uncertainty led to some farmers growing grapes. The rich volcanic soil, hot dry summers and cold winters proved to be prime growing conditions, and a wine indsutry was born. A lovely day trip from Brisbane or the Sunshine Coast, you'll find large bodied chardonnays and award-winning shiraz in South Burnett. Feeling peckish? Gorge on local cheese, olives, preserves and capers and enjoy the bliss of the unique flavours. There's nothing like uncovering a hidden gem - and this charming regional town and its budding wine industry is just that.
Stay at: YHA Brisbane City or YHA Noosa Heads | Halse Lodge