Backpacking Bolivia
Discover beautiful Bolivia for backpackers as Emma Wheaton did!
En route to Bolivia I recall an excited backpacker giving his tips on travelling the land-bound nation. Stories of adventure, jungle and mountains abound, and I vividly remember his words: "Bolivia is SO cheap. It's so cheap that it's pretty much free!" This was music to the ears of a backpacker part way into a seven-month trip of South America. And although Bolivia may be cheap, this is more like an added bonus to a beautiful, chaotic country overflowing with incredible experiences that will stay with you forever.
My first taste of Bolivia is in the back of a four-wheel drive hurtling through the arid Salar de Uyuni. The infamous salt flats and its surrounds are a must-see for mind-bending landscapes of sandy Salvador Dali-esque deserts, picture-perfect mountains and brilliantly coloured lakes. With flat, white expanses of salt stretching as far as the eye can see it's a fun spot to try some trick perspective photography. The salt itself is mined and exported, as well as being handily used for some of the local buildings we come across and I am tempted to lick their walls. Jutting curiously out of the plains, we visit an ancient island of fossilised coral covered in giant cacti.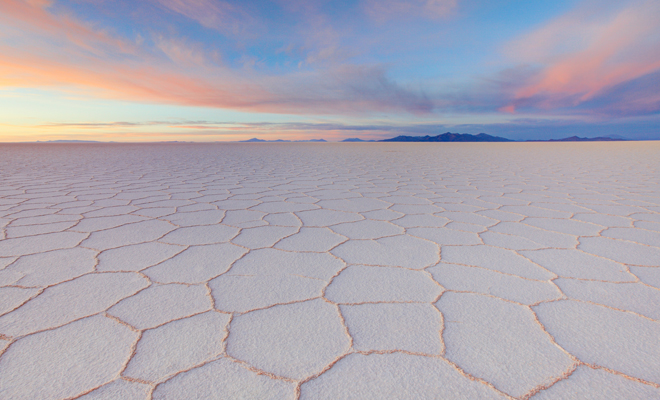 Image: Shutterstock
Isolated, dry and windy, life on Bolivia's Altiplano is remote and tough. Aside from an abundance of llamas and flamingoes, even the wildlife seems to be sparse. Thousands of the pretty pink birds feed in the shallows of the lakes and when these lakes are bright turquoise (Laguna Verde) or red (Laguna Colorada), with a backdrop of volcanic mountains, it makes for an unforgettable sight.
Another unforgettable Bolivian experience is a visit to a second mining site, the city of Potosi. Whereas the Salar de Uyuni is mined primarily for salt, once-rich Potosi is famous for its silver mining history, dating back to the 16th century.
Another unforgettable Bolivian experience is a visit to a second mining site, the city of Potosi. Whereas the Salar de Uyuni is mined primarily for salt, once-rich Potosi is famous for its silver mining history, dating back to the 16th century.
Sitting at a breathtaking (literally) 4,000 metres above sea level, Potosi is the highest city in the world. Though there are impressive buildings still standing from its colonial days, seeing the city today it is hard to imagine its steep, cobblestoned streets once rivaled the likes of Paris and London.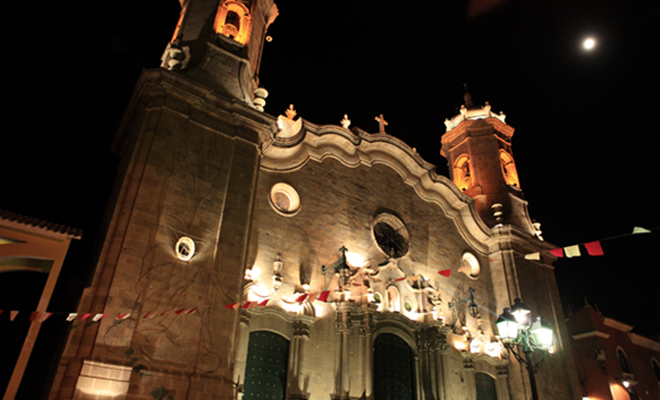 Image: Shutterstock
Cerro Rico ('rich hill') looms large over the city and its dusty mines are still in operation, though the wealth of silver is no more. Pulling on a helmet and head torch I get an insight into the treacherous lives of Potosi's miners by going underground. It's a thrilling and terrifying experience scrambling through dirty, narrow tunnels in the dark. Once back in the safety of daylight the locals happily show us how to set off dynamite. I feel fortunate that it is a once-in-a-lifetime kind of experience and not my everyday occupation, as is the harsh reality for many of Potosi's residents.
The country's unofficial capital, La Paz, is dirty, crazy and beautiful all at once. As seems to be the norm in Bolivia, the city is at great altitude and hugs the steep surrounding mountainsides. The Witches' Market is worth a look, filled with all sorts of curious things from tiny bottled charms and herbs to dried llama fetuses (to bury under your house for good luck). I discover the nearby streets have more markets and restaurants as well as the Coca Museum.
Further down is the uniquely inmate-run San Pedro Prison, made famous among backpackers from Rusty Young's book, Marching Powder. Just when I think nothing could intrigue me more in La Paz I hear about the Cholitas Wrestling. Inspired by Mexico's Lucha Libre masked wrestlers, this entertaining 'sport' sees masked men of all sizes, and in all kinds of costumes, including one guy dressed as a skeleton, battle it out with Bolivian women in traditional dress – long plaited hair, bowler hats and big, full skirts. It's a Sunday event not to be missed.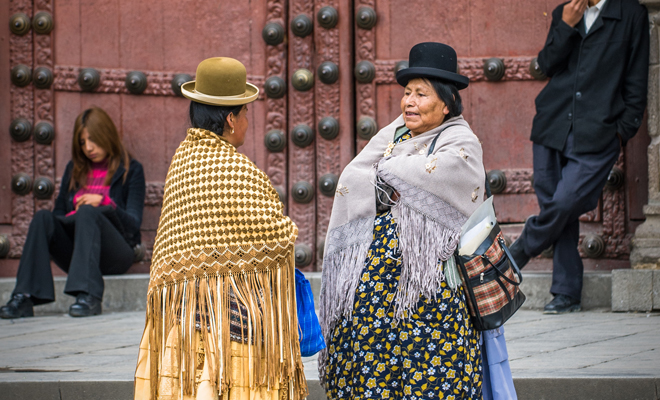 Image: Shutterstock
Finally, what would a South American trip be without a taste of the Amazon? And the most cost-effective country to see it in is Bolivia of course. The catch is that the gateway to the jungle, Rurrenabaque, is only accessible via a small, scary plane trip or a long bus ride down Death Road. I opt for an overnight bus, figuring the darkness means I won't be able to see the sheer cliff dropping away below. Rurrenabaque has a cool, laidback vibe but I don't stay for long, booking trips to the pampas and Madidi National Park to swim with pink river dolphins, spot caiman, spider monkeys and wild pigs, fish for piranhas and listen to the haunting racket of howler monkeys.
I've only scraped the surface of this country's highlights yet I've experienced bizarre, salty landscapes, lofty cities with stunning mountain views and a balmy town bordered by rainforest. And that's Bolivia for you – wild, unique and full of contrasts.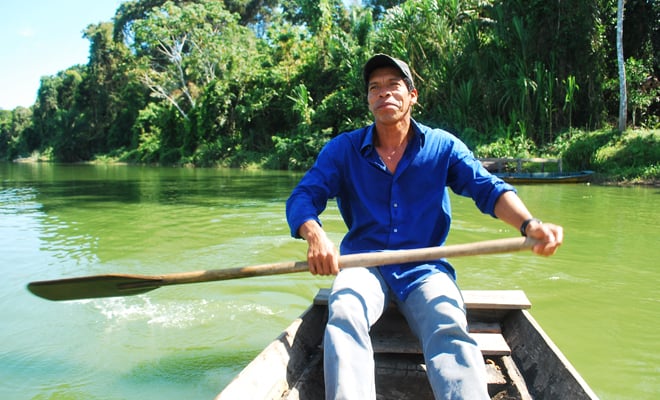 DID YOU KNOW?
The salt plains are the largest in the world and for the majority of the year are crusty and dry, up to 10 metres thick with salt.
The flamingoes apparently get their colour from feeding on pink algae.
In La Paz, pedestrians are helped across zebra crossings by… people wearing zebra suits. Seriously!
Rosa Maria Ruiz is an incredible woman who was important in the establishment of Madidi National Park in 1995. She has fought for conservation of the diverse park (almost 20,000 square kilometres in size) for more than 20 years. Today she focuses on sustainable tourism through her work with Madidi Travel.
Journeying from the Andes to the Amazon, Death Road is narrow, steep and muddy and is known as the world's most dangerous road. If you're game you can join a tour group and ride a mountain bike down it.
Bolivia is home to the world's highest altitude lake, Lake Titicaca. This lake is large and surrounded by stunning scenic mountains. From here you can take boat trips to see its islands, such as Isla del Sol (birthplace of the Incan Sun God), and traditional Aymara villages.
Sucre is Bolivia's official capital. A beautiful city of whitewashed buildings, it's a UNESCO World Heritage listed site and a good, affordable place to learn Spanish.
WHERE TO STAY
There are 14 HI hostels in Bolivia including all the main areas like La Paz, Potosi and Sucre. Find out more and book at hostellingbolivia.org.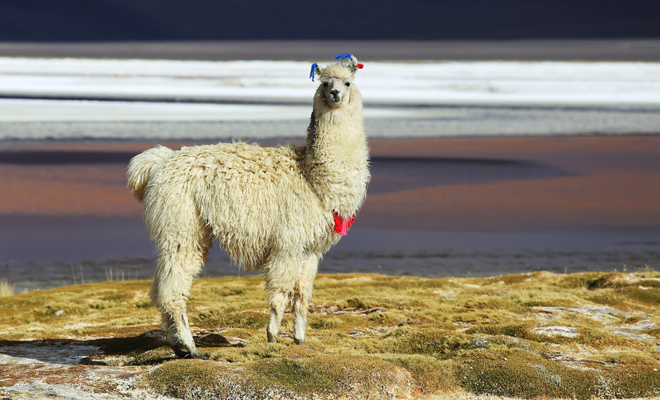 Image: Shutterstock
This article was originally published in the August 2015 edition of Backpacker Essentials. Download the current edition now!