Best mountain biking trails in New South Wales
New South Wales is Australia's most populous state, and as home to the country's premier mountain destination, Thredbo, as well as hundreds of smaller parks and trail networks, the state is fantastically equipped to provide endless weekends of fun for the mountain biking enthusiast. The majority of the below locations (aside from those in the Snowies) are located within driving distance of the Sydney Basin, but rest assured that whereever you look in NSW, there'll be plenty of opportunity for two-wheeled action.
View this post on Instagram
Thredbo Mountain Bike Park (All Abilities)
With its breathtaking scenery and phenomenal track construction, Thredbo is a truly world-class location for Mountain Biking. Due to its primary function as a ski resort, Thredbo features an overwhelming prevalence of gravity trails and downhill racing tracks. But that also means CHAIRLIFTS, and thus no more wheeling your bike up to the top of the hill! Thredbo also features heaps of linked cross country trails, a pump track and plenty of skill parks for technical riders. As with skiing, you'll want to be approaching intermediate level to get the most out of the steep descents on offer here, though there are runs for riders of all abilities and it's worth mentioning that Thredbo also has bike hire and MTB clinics to help beginners get started. For any MTB action in the Kosciuszko National Park, YHA Thredbo is a fantastic value place to stay.
Mill Creek and Tyrolean trails (Easy/Intermediate)
Thredbo may be phenomenal, but nearby Jindabyne has some high quality trails of its own that are worth checking out. Unlike Thredbo, which is closed to riders in the winter for obvious reasons, the trails of Mill Creek and Tyrolean are viable for biking all year round. You'll mostly find cross country-style trails here, and it should be a bit less taxing on beginners than the slaloming sidewinders of the nearby mountain resort, but for more hardened riders, it'll be little more than a warm-up for the main event.
Glenrock State Conservation Area (Easy/Intermediate)
Just south of Newcastle, Glenrock is a tranquil slice of protected wilderness that just happens to be stacked with singletrack-style cross country mountain bike trails. Hidden amongst dense forest and within occasional viewing distance of the sea, this is mostly higher intermediate-level stuff, but there's also some lovely rides for kids and beginners. YHA Newcastle Beach is a great nearby choice for accommodation if you're looking to stay the night.

Image: Tyson Mayr
Awaba Mountain Bike Park (Intermediate)
The Hunter Valley Region in general is absolutely overflowing with fantastic mountain biking experiences, so take this one as a representative of the region (since we can't list them all here). Awaba itself has an excellently rugged 12km cross country loop, plus a set of long and exhilarating downhill sections that are mostly suitable for riders with at least intermediate levels of skill. Keep an eye out, too (so you know what to avoid!), for the nearby unsanctioned riding area of Killingworth.
Wylde MTB Trail (Easy/Intermediate)
Located in South-West Sydney, Wylde is run by Western Sydney Parklands and has been recently upgraded. Consisting of a 12km loop of relatively flat intermediate level (at MOST) cross country track, as well as shorter 6km and 3km loops with the harder parts cut out, this trail is a great place for beginners to start picking up skills without heading too far out of Sydney. Be wary riding in high summer due to hard-baked ground and the lack of tree cover.
Hornsby Mountain Bike Trail aka Old Man's Valley (Intermediate)
Right in the centre of Hornsby, in Sydney's North, Old Man's Valley is home to an admittedly short but very well made set of flowing single track courses with a lot of interesting and fun features and technical sections. It's definitely more geared towards confident riders, but many of the more difficult obstacles have B routes to allow the meek to skirt around them.
Royal National Park/Loftus (Easy/Intermediate)
Featuring upwards of 30km of trails and fire roads, Southern Sydney's Royal National Park has rides for various skill levels, though most of it is on the gentler side. Be aware that the gnarlier rides and jumps are usually not officially sanctioned, so ride at your own risk when it comes to these. Also keep in mind that being a National Park, there's an entry fee.
Blue Mountains National Park (Easy/Intermediate)
Due to its topography and protected status, purpose-built mountain biking areas in the Blue Mountains are surprisingly thin on the ground. Despite this, the rideable fire trails and singletracks that are on offer are very lengthy, well maintained and utterly breathtaking on the back of the setting alone. The Blueys can make for an excellent day out for any mountain biking enthusiast, or with YHA Blue Mountains nearby, a great choice for a long weekend in the mountain air.
Honourable Mentions:
Tathra area, Mt Canobolas/Kinross State Forest (Orange), Manly Dam, Bomo Creek (Nowra), Ourimbah Forest
Be Prepared!
Make sure you know how to tweak your seat, handlebars etc, and make basic repairs to the bike. Always bring a pump and mini repair kit.
Bring plenty of food and water, as well as some emergency cash. You may well be out of mobile range, so make sure you have what you need to take care of yourself.
You're in Australia - don't let it put you off, but there's a good chance you'll encounter snakes somewhere in the bushland you'll be riding in. Know the types to look out for in the area, and make sure you have an evacuation plan just in case!
Useful Links:
This website is an absolute goldmine for finding places to ride anywhere in Australia, with community reviews and condition reports.

Check out our other articles featuring outdoor adventures you can have down under!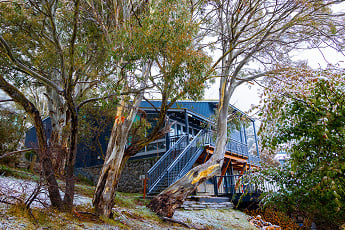 YHA Thredbo
Situated in Mt. Kosciuszko National Park, YHA Thredbo provides the ideal stay for hikers, skiers & mountain bikers looking to experience the Snowy Mountains.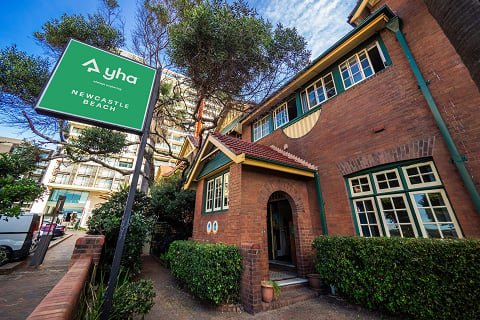 YHA Newcastle Beach
Opposite Newcastle Beach, and right in the centre of town, this friendly YHA is perfect for travellers looking for affordable accommodation.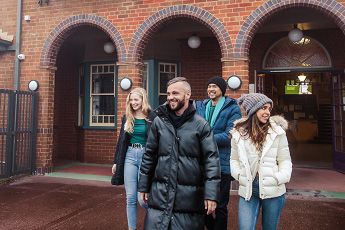 YHA Blue Mountains (Katoomba)
This historic lodge located right in the middle of Katoomba is as cosy as it is hospitable. Escape the city and make it your base for your next outdoor adventure.