Best mountain biking trails in Tasmania
Tasmania is still undisputed champion of natural beauty and outdoor adventuring activities in Australia, so it should come as no surprise that amazing mountain biking locations are overrepresented across the island state. An impressive number of world-class purpose-built parks have opened in the last 6-7 years, and with more in the works, the state is shaping up to be a truly essential destination for riding in the Southern Hemisphere.

Image: Tourism Australia
Blue Derby (Intermediate/Expert)
Opened in 2015, Blue Derby features a staggering 125km of riding, most of which is fully sculpted singletrack. Located in the puny town of Derby (pop. ~200), the remoteness of the network is the one of its only downsides, but the forest backdrop is incredibly beautiful and the peaceful vibe of the region is a large part of its charm. Expect smooth, fast trail design with lots of cheeky (but optional) jumps and tons of fun natural rock surfaces. Perfection.
Wild Mersey (All abilities)
At the time of writing, the brand new $4.5 million Wild Mersey network is yet to be fully completed, but what already exists is fantastic. Once it's all done, over 100km of trails will grace the area, including downhill plunges, technical climbs, flow tracks and beginner-friendly playpens. Plus, it's only 15 minutes away from the ferry terminal in Devonport, meaning you can hop off a boat from Melbourne and be riding nearly instantly.
Maydena Bike Park (Intermediate/Expert)
Located 'just' an hour and a half west of Hobart, Maydena Mountain Bike Park offers some of the best downhill mountain biking in the country. Although there are 'green' runs to be had here, even these can be pretty steep and liable to leave true beginners a bit nervous. Full-face helmet and pads are recommended if you're planning on gunning it.
Hollybank Mountain Bike Park (Easy/Intermediate)
Hollybank is great for a couple of reasons: it's only a short drive out of Launceston and its trails are very, very high-calibre. It's another example of the wave of mountain biking investment in the 2010s, and its machine-cut twists and turns are super fun and engaging. There's only three runs, but they're long - No Sweat for rookies, and Tall Timbers and Juggernaut for intermediate riders, totalling 20km of trail all up. Beware of fallen trees, though - they're a bit of a trend.
Clarence Mountain Bike Park/Meehan Range (All Abilities)
Right across the river Derwent from Hobart, the Meehan Range is home to a very enjoyable network of trails wedged between an urban area and the Tasman highway. Managed by the Clarence City Council, the network is constantly expanding, with plans to turn its 50km of rides into over 100km. It's worth noting that there's more trails at nearby Shag bay, Geilston Bay and Waverly Flora Reserve, plus even more across the water in Hobart proper. For any of these spots, YHA Hobart Central will be ultra-convenient and stupidly affordable.
Mt Wellington aka Kunanyi (Intermediate)
Hobart is fortunate enough to not only have the cornucopia of trails at Meehan Range within touching distance, but also a huge mountain towering over it on the other side. Mt Wellington has some excellent and picturesque routes for two-wheeled enthusiasts, including the famous North South traack, which takes you on a 9km-long descent from the slopes of the mountain itself. In the foothills of the mountain is also Glenorchy MTB Park, which has some nice trails and skills sections.
Rosebery Area (Intermediate)
It's a little bit in the middle of nowhere, but the region surrounding Rosebery, near Tasmania's western shore, is stunningly beautiful and has a very untamed feel. There's great cross-country biking to be had here, with the Montezuma Falls (14km) and Sterling Valley (12km) trails offering unique and exhilerating rides through dense temperate rainforest that are well worth the trip alone. Montezuma Falls tends to get pretty wet, but this is proper jungly riding, so suck it up!

Image: Tourism Australia
Honourable Mentions:
Blue Tier Forest Reserve, Tangara Trail, Flagstaff (St. Helens), Penguin MTB Park
Be prepared!
Make sure you know how to tweak your seat, handlebars etc, and make basic repairs to the bike. Always bring a pump and mini repair kit.
Bring plenty of food and water, as well as some emergency cash. You may well be out of mobile range, so make sure you have what you need to take care of yourself.
You're in Australia - don't let it put you off, but there's a good chance you'll encounter snakes somewhere in the bushland you'll be riding in. Know the types to look out for in the area, and make sure you have an evacuation plan just in case!
Useful links:
This website is an absolute goldmine for finding places to ride anywhere in Australia, with community reviews and condition reports.

Check out our other articles featuring outdoor adventures you can have Down Under!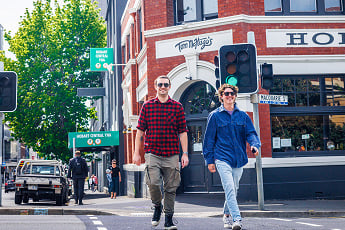 YHA Hobart Central
A perfect gateway to Hobart and the rest of Tasmania, this friendly, centrally-located property is barely two blocks from the waterfront and the city's best cultural attractions.