Choose Your Own Adventure: Sydney Light Rail
Sydney's newest light rail has launched and it's made travel through Sydney easy as!
Hop the light rail and find yourself at the doorstep of Sydney's best locations, from the Harbour at Circular Quay to Chinatown and right by some of Sydney's best beaches. We've planned out your perfect light-rail route to get you all across this big city in no time at all.
Central station is the heart of the transport network, with buses, trams and trains all meeting in one spot. It's also just across the road from Sydney Central YHA, with its own light rail stop right out the front!
Once you've checked in, met your new hostel friends, and dropped off your bags, pick up an 'opal card' for travel at the convenience store right next to the hostel. If you don't want to buy an Opal travel card, you can use your credit or debit card! For the Harbour Bridge, jump on the L2 to Circular Quay, or if you're heading for the beach grab the L2 to Randwick.
Once you're on the light rail, get comfy and keep an eye out for some key stops for a great detour on the way to your end destination. Fees are capped at $16.10 a day, and $2.60 on Sundays so there's plenty of time to hop on and off to explore the city and its secret treasures.
Central (Haymarket) -> Circular Quay
This route takes you along six stops and right to the iconic Sydney Harbour; travelling through the heart of Sydney. Make sure to stop off at Chinatown to explore some of Sydney's cheapest and most delicious Asian eats, you can't miss out on the Emperor's Cream Puffs, it's only $5 for 18!
Head into Chinatown on a Friday night to catch the street markets all along Dixon Street, with food and gifts you won't find anywhere else, just make sure to bring cash as many stalls don't take card.
If shopping's your style, you can't pass up the boutiques at the Queen Victoria Building (QVB.) Built in 1893, this heritage listed building is perfect to window shop, with three floors of designer brands and delicious cafes. Make sure to go to the top floor to view the hanging Royal Clock and have the best vantage point to see Sydney's tallest Christmas tree, decorated with Swarovski crystals.
Hop off at Wynyard Station for some of the cities sleekest bars. A short walk from Wynyard you'll find bars like the experimental and neon-lit PS40, York Lane for all your lunchtime tapas and tequila needs, or head under the bridge to Barangaroo for harbour views while sipping cocktails at Barangaroo House and downing $2 oysters. Wander by between 4-6pm to find happy hour deals, the views are free.
Checking in to Sydney Harbour YHA? Bridge Street is where you want to hop off. A short walk from Bridge Street and you'll be safe and sound at your new home in the historic district of The Rocks, with views of Sydney Harbour that are simply unbeatable. Make sure to pop into the Australian Hotel next door for a true Aussie pub feed once you're all settled, and watch out for ghosts said to haunt the laneways of The Rocks!
Ah, Circular Quay, the place where both travellers and locals stop to marvel at the beauty of Sydney. With the sounds of buskers and smell of salt water, it truly is a sensory experience to just sit and watch the world go by. Walk over to the Sydney Opera House to catch anything from stand-up comedy from award-winning Aussie Hannah Gadsby, to a rock concert, or simply head to the Opera Bar to soak up all the atmosphere over a glass of sparkling.
Feeling more adventurous? Brave the Sydney Bridgeclimb, just a short walk from Circular Quay, to summit the top of Sydney's most famous landmark. Tours run all day, so you can catch the sunrise or sunset from the Sydney Harbour Bridge! Book here, and don't forget to wave at the passing ferries!
Central (Haymarket) -> Randwick
Before you start any journey through Sydney, it's essential that you're well caffeinated. Here in Australia, we pride ourselves on having the some of the best coffee in the world, and when you stop off at Surry Hills, you can see why! With a coffee shop on nearly every corner, notable mentions go to Rueben Hills for having the most decadent avo toast anyone could dream of, and Sample Coffee, with locally roasted beans for the freshest brew around. Make sure to take some time to wander through Surry Hills to discover vintage stores, hole in the wall coffee haunts and secret bars from Foveaux to Crown Street.
For sports of any and all kinds, Moore Park is the stop to jump off and catch a game or two. It's the home of the Sydney Cricket Grounds (SCG) and there's usually cheap tickets that you can grab in the nosebleed seats or last minute tickets available just before the game starts. Moore Park is also home to the Sydney Vegan Market, run every third Sunday at the Entertainment Quarter. Shop sustainably and pick up some vegan delights so tasty that your mates won't realise they're plant-based!
Once you've headed off from Moore Park, it's a straight shot to Randwick. One stop away is Randwick Junction, and from here, you're a 10 minute walk from the cool waters of Coogee Beach, or 10 minutes by bus from the incredible surf waves at Maroubra.
Hang around Randwick for some great thrifting (or op-shopping as we like to call it,) then head to The Ritz Cinema, one of Sydney's first movie theatres. Built in 1937, the Ritz still runs movies every night, and the occasional film premiere! If you've got a local student card with you, or an ISIC card, make sure to visit on a Monday night for $6 movie tickets.
If you're up for a bit of adventure, you can hike the coastal walkway from Coogee to Bondi Beach, or Maroubra to La Perouse.
No matter where you're travelling using our newest form of transport, make sure to tag your pics with #YHAOz for your chance to be featured!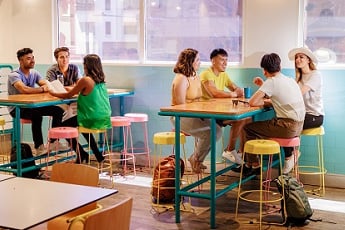 YHA Sydney Central
Located in a heritage-listed building in the heart of Sydney, this bustling international hub is next all major train & tram lines for easy access to the city's top attractions.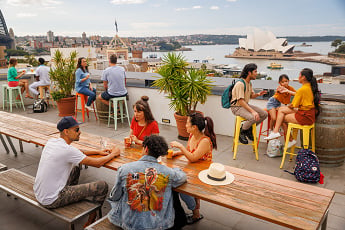 YHA Sydney Harbour
This modern, sustainable property in The Rocks draws an international crowd with its world-class harbour views of the Sydney Harbour Bridge and Opera House.