Discovering the best of Gariwerd and YHA Grampians
On a recent visit to the Gariwerd/the Grampians, globetrotting Nathan Sawaya and his mate Callum found out first hand what makes this stunning region of Victoria such a special place for a getaway. In this article, they share some tips for the best bush walks in the area, plus their thoughts on YHA's very own ECO-certified hideaway in the heart of the National Park...

Image: Nathan Sawaya/@nathsway
A bushwalker's playground

With its rugged mountain ranges, beautiful native flora and fauna, and seemingly endless swathe of outdoor recreational opportunities, the Grampians National Park is one of the best weekend destinations Victoria has to offer. Known as Gariwerd by local Indigenous people, the region has been home to the Djab Wurrung and Jardwardjali people for at least 20,000 years and contains the largest number of rock art sites in southern Australia.

Nestled in the heart of the Grampians, the charming town of Halls Gap is located about 250km from Melbourne's CBD. Part of the town's charm lies in its variety; there are trendy eateries, outdoor adventures, gorgeous wildlife and striking vistas to explore — and of course, this extends to a great selection of accommodation options (one of the best of these being the incredible YHA Grampians Eco).

With more than 100 nearby bush walking trails to choose from and a growing slate of activities, you will never run out of things to do while staying in the Grampians. To save you time, I have sifted through the easiest (and toughest) tracks in the region to bring you a curated selection of the most unique spots for any level of proficiency.
Venus Baths (Easy)

Length: 1 hour return
Distance: 2.3km return

A roadtrip to the Grampians is not complete without a cheeky dip at Venus Baths. These naturally formed rockpools have been a popular spot for tourists since the early 20th century and are just as spectacular today. To discover these hidden rockpools, take the short 2 minute drive or 14 minute walk from YHA Grampians Eco to the lush Halls Gap Botanic Gardens. Once you have made it to the car park, wander through the short 1km track through the gardens and discover various native flowers and sculptures. Soon you will start to hear the rushing sound of Stony Creek flowing in the distance and it won't be long until you spot the rock pools of Venus Baths. The track is flat with no obstacles and makes for an enjoyable walk and great scenery for all ages.

Image: Nathan Sawaya/@nathsway
The Pinnacle (Moderate)

Length: 2 hours return
Distance: 4.2km return

For one of the best vantage points in the Grampians National Park, you really can't go past The Pinnacle. The easiest (and safest) way to reach The Pinnacle is by starting at the Sundial Car Park which is a short 12 minute drive from YHA Grampians Eco. Once you reach the trail head, you will start to see plenty of signs directing you along the track. Although this walk is pretty moderate, it is recommended that you wear some sturdy shoes as it includes some water crossings and rock hopping. For the really adventurous, you can park your car at the Wonderland Car park and check out the Grand Canyon or stop past Silent Street to take in unique Australian rock formations.
Mt Abrupt (Challenging)

Length: 3 hours return
Distance: 6.3km return

Up for a challenge? The gruelling 6.3km trek to the summit of Mt Abrupt can include rock scrambling so it is suitable for fit and energetic walkers. To find this offbeat track, drive 43 minutes South from YHA Grampians Eco towards Hamilton and look out for the car park to Mt Abrupt on the side of the road. The steep track winds its way through heathy woodland to a ridge and follows over rock slabs to the summit. Once at the top, you will discover unobscured views of the Serra Range to the north and over Dunkeld in the south. Keep an eye open for wedge-tailed eagles, nankeen kestrels and peregrine falcons! Make sure to wear plenty of layers as it can get fairly windy up there!
A perfect base for adventure

Image: Nathan Sawaya/@nathsway
We've all dreamed of packing up our hiking gear and going off-grid somewhere away from the city, and there's no better place to experience that dream at YHA Grampians Eco. Nestled in the heart of Halls Gap within the rugged mountains ranges of the Grampians National Park, this eco-friendly hostel is a truly immersive nature escape. Wake up with the birds chirping, watch the stars twinkle as you enjoy the outside firepit, and enjoy the slower pace amongst the local wildlife and surrounds.
Whether it's long-overdue family escape, group hiking trip or exciting solo adventure, YHA Grampians is the ultimate base for next nature getaway. This stylish and award-winning eco property was architecturally designed with the environment in mind. The building features systems for water conservation, waste minimization and energy reduction to have the smallest footprint possible on the environment.

When it comes to value, YHA Grampians Eco is unrivalled. It boasts two self-catering kitchens complete with two ovens, four hotplates, two microwaves, two fridges and plenty of places to store your food. Here you will also discover two lounge rooms that are packed with comfortable couches, toasty wood fires, board games and big screen TVs. The dining room features plenty of space to relax and take in the view of the everchanging colours of the front garden and tranquil water feature. Keep your eyes and ears peeled for kangaroos, ducks and even frogs!

Image: Nathan Sawaya/@nathsway
Up top, there is a wide variety of room configurations to suit just about any sized group. The upper level contains private and shared rooms for whiling away a cosy night in. Wake to the building's leafy exterior, before packing your belongings in your own personal locker and going downstairs to sit next to the fireplace with a warming cup of tea.

The comfort level and cleanliness of this place make it feel more like a highly rated hotel than hostel-style accommodation, and you can make the most of your Grampians experience with free on-site car and coach parking, herb garden, free Wi-Fi and fresh eggs from the on-site hostel chickens. Plus the friendly staff can assist you with local insider knowledge and tips in organising a range of adventure activities in the Grampians, such as abseiling, rock climbing and canoeing!

The hostel is perfectly situated for access to a host of local cafes, restaurants and tourist information and you'll also be pleased to know that some of the main attractions are only a short walk away, including Venus Baths, The Pinnacle and many more. Be sure to stop past the Brambuk Aboriginal Cultural Centre for more insight into the region's Aboriginal culture.
Words: Nathan Sawaya – check out @nathsway on Instagram to follow Nathan's latest travel adventures!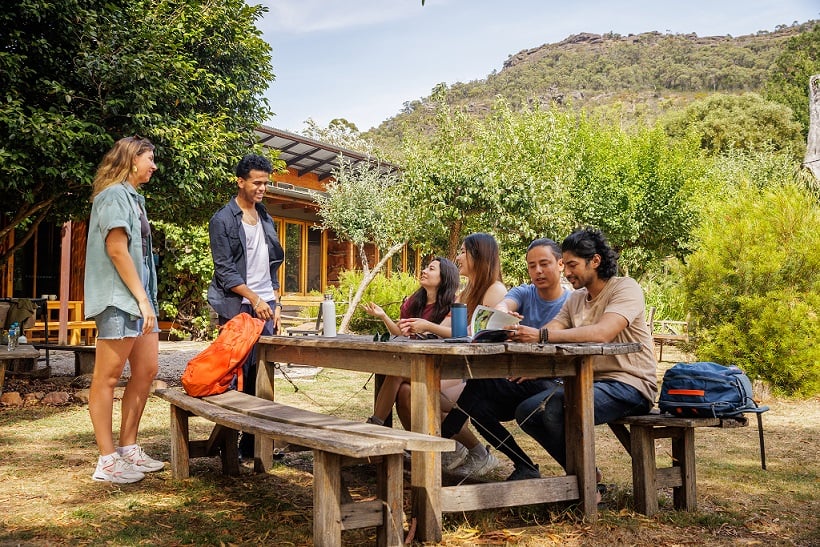 YHA Grampians Eco (Halls Gap)
YHA Grampians Eco is a stylish eco-certified property. Watch wild kangaroos relaxing on the lawn and explore the stunning Grampians National Park.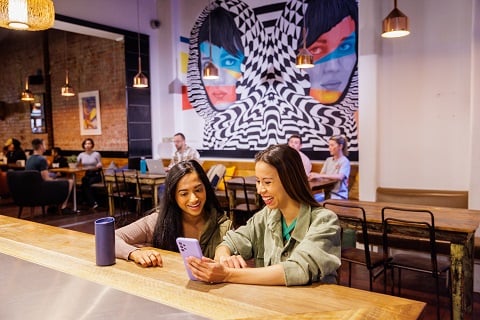 YHA Melbourne Central
Tucked between the downtown Melbourne highrises and with trams on its doorstep, this heritage-listed YHA is the perfect platform for exploring Australia's trendiest city.